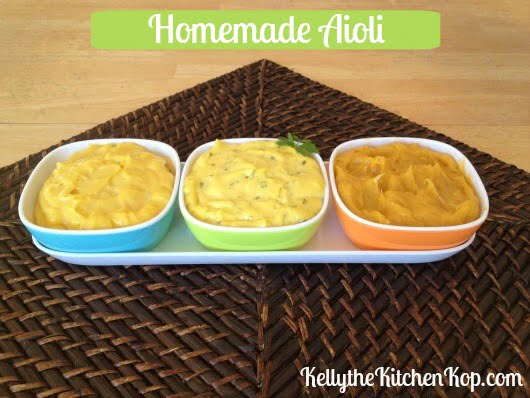 Homemade Aioli
When you're a die-hard mayo girl like I am, and ALL the store bought mayonnaise is full of disgusting soybean oil plus other frightful ingredients, what do you do?
And when you're having a shindig, you can jazz things up like I did for a birthday celebration we hosted recently:  I made mayo three different ways for homemade aioli to go on the grilled sub sandwiches we were having.  (With fermented organic buns from a local bakery, grilled 'til golden in ghee on my favorite big pan; better quality, but not perfect, lunch meats; and organic lettuce and tomatoes.)
First, click here to learn how to make homemade mayonnaise, and then I'll show you my variations:  Finally – homemade mayo that tastes great!
And if your mayo flops, which it might once in a great while, then here's help, this fixes it:  What to do when your mayonnaise won't set – how to thicken failed mayo
Here is how to make homemade mayo into 3 yummy variations for homemade aioli:  
Original Homemade Aioli – See the above recipe link.  For mine this time I used apple cider vinegar to get the flavor as close as I could to what my guests would be used to in store bought mayo.  The range in the recipe says 1/2 to 1 Tablespoon vinegar, and I used 1/2 Tablespoon so it was mild.
Citrus Herb Homemade Aioli – Make the original mayo using fresh lemon juice (instead of ACV as mentioned above), and I also used an orange infused oliveoil.  If you can't find it, just use whatever oil you like in your mayo and also squeeze in a little lime and/or orange juice.  Mix together 1/2 cup of this mayo with your herbs of choice.  I used fresh chopped parsley and oregano in mine.
Spicy Homemade Aioli – Make the original mayo with either lemon juice or ACV, and stir in the following:

1/4 teaspoon garlic powder
1/4 teaspoon onion powder
1/8 teaspoon red pepper
For all of the above spices, feel free to add more to your taste, but some people are so finicky about anything spicy that you have to be careful if you're entertaining.  I like it to have a nice flavorful bite so I added more of all three!
Here are 2 more aioli options from other posts:
You'll also love this Ancho-chile Lime Mayo and this Garlic Aioli.
What to do with your Homemade Aioli?!
Dip homemade fries in it, spread it on homemade sub sandwiches, or use it as a potato chip dip!
Let me know if you try any of these and what you think!  Or if you have your own fun variations, please share!
Just want to buy some?
If you just don't think you would make homemade mayo, or sometimes need a quicker option, here's the only jar of mayo I buy in a pinch.