When you want to use the healthiest oil for frying, what do you get?
Can you guess what the above picture is?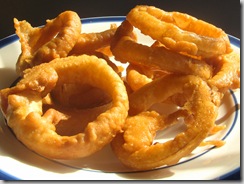 It's beef tallow from grassfed cows, my favorite fat and the healthiest oil for frying, or at least one of them!  (I also love pastured lard and pastured butter to name a couple.)  It's what has made it possible to deep fry again and enjoy things like onion rings and chicken "nuggets".  No more worries about how I'm going to feel after eating fried food, or what the fat might be doing to my body.
Here's why it's the healthiest oil for frying:  it contains omega 3's (which are anti-inflammatory), fat-soluble vitamins (great for mood and for the immune system), and CLA too (cancer fighter among other things) when it comes from grassfed cows. The omega 6:3 ratio is similar to fish!  Remember: real foods tastes best when made with healthy fats too.  🙂
Have you seen this post:  4 Keys to Deep Fried Heaven and Guilt-free Frying!
More about CLA:
CLA is a newly discovered good fat called "conjugated linoleic acid" that may be a potent cancer fighter. In animal studies, very small amounts of CLA have blocked all three stages of cancer: 1) initiation, 2) promotion, and 3) metastasis. Most anti-cancer agents block only one of these stages. What's more, CLA has slowed the growth of an unusually wide variety of tumors, including cancers of the skin, breast, prostate, and colon. (1)
Few people realize that CLA is also found in nature, and this natural form does not have any known negative side effects. The most abundant source of natural CLA is the meat and dairy products of grassfed animals. Research conducted since 1999 shows that grazing animals have from 3-5 times more CLA than animals fattened on grain in a feedlot. Simply switching from grainfed to grassfed products can greatly increase your intake of CLA. (4)  Source
Where to get the healthiest oil for frying…
Buying this beef tallow online is even less expensive than rendering it yourself!  (Or here's the Beef tallow in a smaller tub, which is still a good deal.)
Did you know this is what McDonalds used to cook their fries in before healthy fats were demonized?
I recently priced it out:
I bought 2.5 pounds of beef fat from our local farmer at $4.11/pound.  After rendering, it made 5.5 cups (44 oz.) of beef tallow, which comes to 23 cents/oz.  The time before I got a little more and it came out to 21 cents/oz.  So we'll say it averages at about 22 cents/oz.
But get this:  this large tub of tallow works out to be only 19 cents/ounce.  Update October, 2017, now it's 18 cents/ounce!   (Or again, click here if you just want the smaller size.)  
The smaller size does cost more than rendering it yourself, but since the big tub stores well in the freezer, why not get that and split it with friends?  Or split it into smaller containers before throwing into your own freezer?!
Rendering your beef fat isn't difficult (read how here) but it's gross and sticky and smelly, and the batches seem to take forever to boil down.
Read about that rendering fiasco here.  This last time it took a week. Don't ask me why, my batch before that took only a couple days.  OK, maybe it was because I didn't want to cut it all up small like I did last time, but that was so disgusting.  I know, I said to put on your big girl panties and just do it, but it wasn't JUST that it was gross and sticky, it also took for EVER to get all the gunky pieces out.  I'm so excited that I won't have to render beef fat again – it's not very often that buying something ready-to-use is cheaper than doing it yourself!
A couple questions about tallow, the healthiest oil for frying, for John at U.S. Wellness Meats:
1.  Does tallow need to be refrigerated or frozen?
We suggest you convey it to smaller containers upon arrival and keep one out and freeze the balance for smarter long term storage.  If you use a high volume, you can take from the large container at room temperature.  The product will oxidize from the surface.
2.  Are you saying we shouldn't use the top layer after it's been stored?  Is this only for room temp tallow or for frozen tallow, too?
There is no effect on frozen tallow. If it is sitting on the kitchen counter, the top 1/4 inch will turn color as it is exposed to oxygen.  You simply scrape that off and get down to a fresh white layer.  If you use off of the container daily, you will not see the oxidation. Keep in mind our pioneering ancestors did not have refrigeration.
3.  Does it need to be stored in an airtight container?
No, regular seal-top-type containers will work fine.
4.  How many times do you recommend that it can be safely reused?
I reuse mine 3-4 times, but don't have any research to show how many times is "OK", and what exactly happens when it "goes bad"…?  The food safety rule is "never", but our pioneer ancestors sure did.  Use your own judgment based on your own experience.
Get this healthiest oil for frying, so you too can enjoy guilt-free frying again!
Side note:  Have you ever wanted to try a TO YOUR DOOR meal service for crazy busy days?
I finally found one that I can recommend (I'm sort of picky ya know), just click here to check it out.  It all comes in a box (with an ice pack for the meats) and it's actually pretty affordable especially compared to eating out, and even more when you consider the food is higher quality than any restaurants, since it's rare to find one that has pastured meats and organic ingredients!  It only takes 30 minutes or less of prep work before you eat, but there's no shopping, no planning, just pick out your meals online that look good to you (the two we got were really tasty!), then just spend a very few minutes in the kitchen and you're done.  Click here to learn more.
Or just get some meal planning help!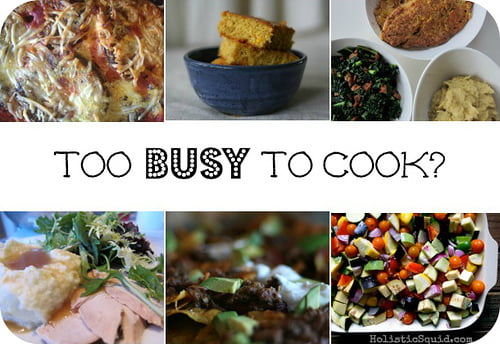 Sick of planning meals and answering the question, "What am I going to feed these people?" No matter what kind of eater you are (traditional, GF, paleo, vegetarian)… Check out these affordable interactive easy-to-use meal plans where the work is done for you.  NOW recipes also available from Nom Nom Paleo, The Paleo Mom, and Wellness Mama all in one spot!  You can read over my review here.
More you might like: