Statins and Memory Loss
We were out to eat with friends recently and the issue of statins came up.  Since the topic of fats and cholesterol brings out my bulldozer tendencies in full force, especially because of the way docs shove statins down almost everyone's throat nowadays, I was trying to reign myself in a bit, but it turns out I didn't have to.  Kim already hated statins, and when I asked about the statins and memory loss issue, she claims they caused significant memory loss in her husband…
I can't believe how much clearer Don's mind is since I finally got him to quit taking them.  I'm starting to refer to the time he was on statins as his "lost years" because he has so few memories from that 4-5 year time frame.  It's really sad.  And I had the same issue with anti-depressants, by the way.  I was only on them a couple of years, but his brain came back a lot quicker than mine did.
I'd already known about the muscle aches statin drugs can cause (another friend felt like an achy old lady getting out of her chair and was right back to normal after going off of her statin — stories like this one are very common), so now I really wanted to look into the issue of statins and memory loss…
First, from the Wall Street Journal:
Cognitive side effects like memory loss and fuzzy thinking aren't listed on the patient information sheet for Lipitor, the popular cholesterol-lowering drug. But some doctors are voicing concerns that in a small portion of patients, statins like Lipitor may be helping hearts but hurting minds.

"This drug makes women stupid," Orli Etingin, vice chairman of medicine at New York Presbyterian Hospital, declared at a recent luncheon discussion sponsored by Project A.L.S. to raise awareness of gender issues and the brain. Dr. Etingin, who is also founder and director of the Iris Cantor Women's Health Center in New York, told of a typical patient in her 40s, unable to concentrate or recall words. Tests found nothing amiss, but when the woman stopped taking Lipitor, the symptoms vanished. When she resumed taking Lipitor, they returned.

"We have some compelling cases," says Beatrice Golomb, the study's lead researcher. In one of them, a San Diego woman, Jane Brunzie, was so forgetful that her daughter was investigating Alzheimer's care for her and refused to let her babysit for her 9-year-old granddaughter. Then the mother stopped taking a statin. "Literally, within eight days, I was back to normal — it was that dramatic," says Mrs. Brunzie, 69 years old.

Doctors put her on different statins three more times. "They'd say, 'Here, try these samples.' Doctors don't want to give up on it," she says. "Within a few days of starting another one, I'd start losing my words again," says Mrs. Brunzie, who has gone back to volunteering at the local elementary school she loves and is trying to bring her cholesterol down with dietary changes instead."     (Source)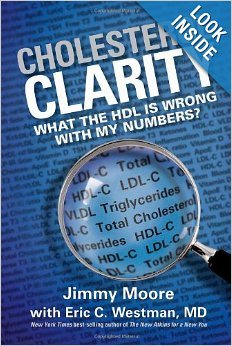 Jimmy Moore addresses the issue of statins and memory loss in his book, Cholesterol Clarity — What the HDL is Wrong with My Numbers?:
There is no way these statin drugs can block cholesterol without at the same time blocking such vital biochemicals as CoQ10 and dolichols," Dr. Duane Graveline says. "The effects of cholesterol on memory are fully documented. Cholesterol is vital for both the formation and function of each memory synapse in our brains. As thousands of people can testify, when you have no cholesterol, you have no memory." (Page 65)

In May 2007, Dr. Beatrice Golomb, a researcher at the University of California–San Diego, released the results of her independently funded "Statin Effects Study," the first of its kind to examine and compare patient feedback on the effects of these FDA-approved drugs. After sifting through the responses from the over 4,100 participants, Dr. Golomb and her research team found that typical reactions to statin drugs include trouble remembering things." (Page 68-69)
Even the FDA admits the problem!
The FDA is advising consumers and health care professionals that cognitive (brain-related) impairment, such as memory loss, forgetfulness and confusion, has been reported by some statin users."  (Source)
What drives me most crazy is the mainstream thinking that lowering cholesterol helps your heart at all!  
Have you heard of the "fireman analogy"?
Your house is on fire so you call the fire department.  Firemen come and put out the fire.  Wherever there is fire, there are firemen, so firemen must cause fire."
That's dumb, right?
It's the same with cholesterol.  Wherever there is inflammation in your arteries, cholesterol comes to do the job of repairing, but the presence of cholesterol isn't the problem.  Inflammation is the problem, so instead of getting rid of the healer, we should find out why it's happening in the first place so the arteries can be cleared of the dangerous areas at the root cause.
For some it's the fast food and processed foods full of chemical preservatives, heart-killer vegetable oils, fake colors and flavors, and other mystery ingredients.  For others it's the soda pop or foods loaded with sugar.  Or maybe for you it's stress or some other reason.  The point is, the solution isn't to pop a pill.
Click here to read more about healthy fats and cholesterol, and here's a warning:  you won't find the typical mainstream advice there.
Time for a Disclaimer:
It's important for you to understand that I'm not a doctor, there's a lot I don't know, so don't stop taking your statin based on what you read here.  (Especially if you're not going to make any other lifestyle changes to address the root causes of inflammation!)  Instead, use what you learn here to research it more for yourself.
What diet and lifestyle changes do you need to make? 
Talk to your doctor, although we all know what they will likely say, because drugs are what they do, so even better, perhaps visit a naturopath or other natural-minded professional.  Find out what's best for your body, don't blindly trust anyone with your health or the health of those you love!
More posts you might like:
More articles on cholesterol for your research: