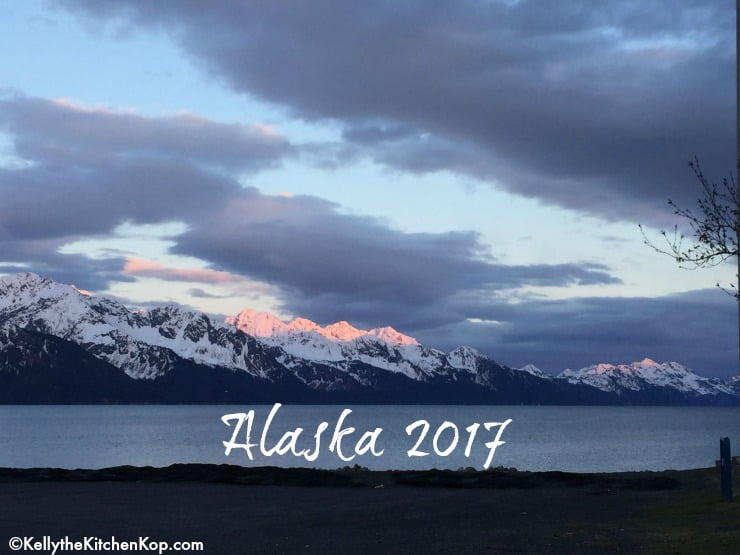 Are you taking family trips this summer?  Need help finding real food on vacation?
We recently took a family vacation to Alaska of all places.  Our son who is graduating from high school this year had dreamt of going there for pretty much his whole life, so even though heading out of here for a tropical vacation in the dark of winter sounded better to me, we chose Alaska in the spring.  We all loved this trip more than expected, speaking for myself especially — I thought it would be cold and not real exciting, and didn't expect to find much as far as real food there.  Wow was I wrong!
By the way, if you want to know how we could afford an Alaskan vacation, check out this post:
How to Take FREE Vacations (or DIRT Cheap) and Save More Money for Real Food.  I tell you there how we got flights to Alaska from Michigan for $89 each!  Which is pretty exciting when there are 6 of us.
Also, if you want to see what I do in the airport instead of going through the cancer machines, go here:
I'm Not Normal When I Travel.   Getting a pat down is really no big deal if you ask me, and Kent doesn't mind either.  The kids however, do NOT like to draw any attention to themselves (3 of our 4 kids anyway) and weren't happy with me that I made everyone opt-out.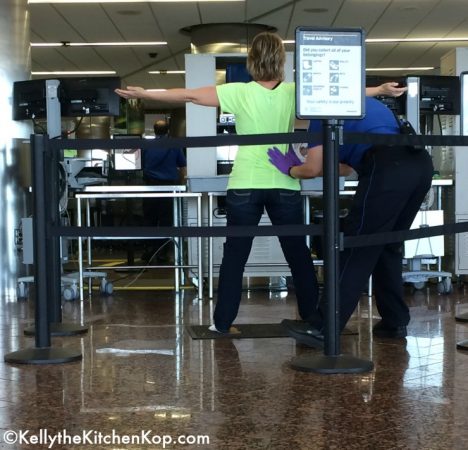 Finding real food on vacation — How we did it
Two of the three places we stayed had a kitchen, but making our own meals here was trickier than when we drove to Florida for a vacation, because obviously when you fly it's not as easy to bring things like your own condiments, my favorite frying pan, or a cooler of frozen meat.  (Read more here about this pan we love:  Bye-bye Dangerous Teflon Skillet!)  There were lots of items I could've brought if we'd had room, but our suitcases were pretty full with hiking boots and warm clothes for everyone.
I also honestly didn't think we'd find many choices for real food in Alaska beyond fresh seafood, and surprisingly, there wasn't as much of that available in restaurants as I expected.  One person told us, "Everyone cooks that at home so they want something different when they go out."
But also surprisingly, finding real food was much easier than expected!  
I was anticipating Alaska to be a lot like the Upper Peninsula in Michigan, with very few of the foods we normally buy, no stores with organic options, and not many restaurants with local, fresh foods.  Thankfully I was wrong!
Here are a few of our "real foodie" experiences in Alaska:
Look at what was on the table at one of the restaurants in Anchorage — organic condiments!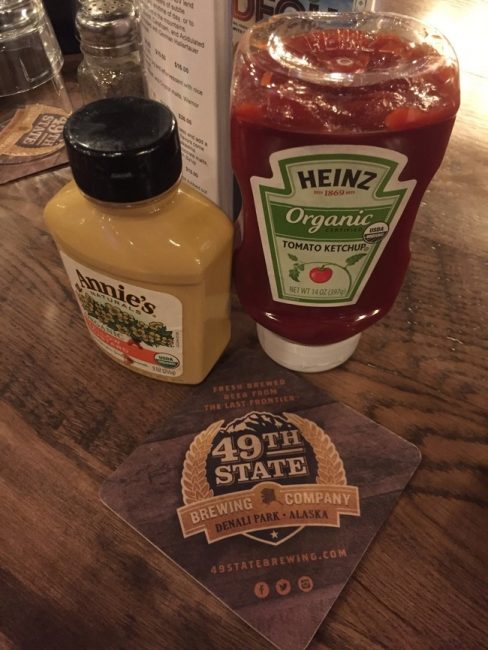 Our son tried a Yak burger there: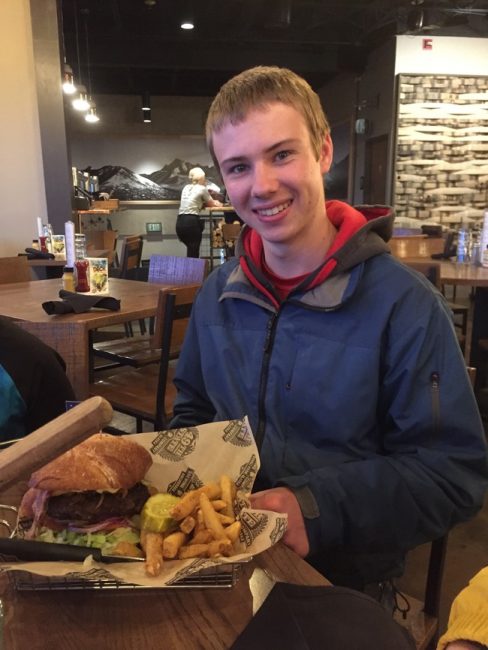 A cabin we stayed at in Talkeetna only had Teflon pans for cooking, and this really bothered me.  However, I had no choice, so I went ahead and made us a yummy skillet breakfast: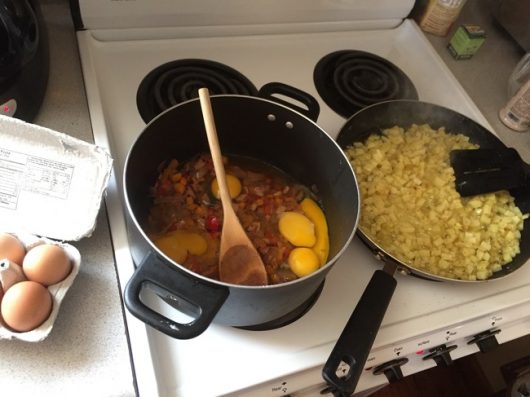 Apparently Alaskans are pretty serious about good coffee because it wasn't hard to find there.  Check out the shirts for sale in this teeny remote coffee shop we found, they also had organic breakfast items for sale too: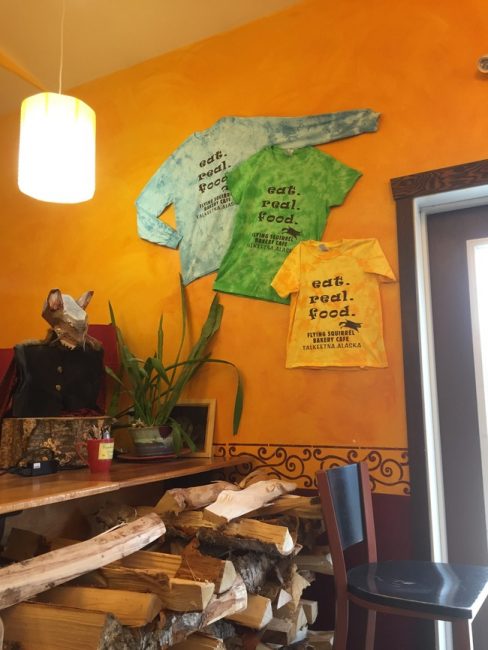 This was one of our grocery hauls: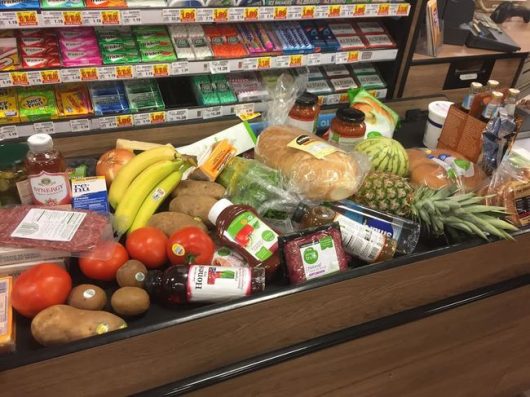 Their Fred Meyer grocery stores (different than the Fred Meijer stores by us, funny huh?) had nice food selections and I was so pleasantly surprised.  I couldn't find local farms with meat for sale (although thanks to the sweet people in Talkeetna where we had our glacier view plane ride, they hooked us up with pastured eggs!), but the store had organic pastured ground beef and bison!
My best tip for finding real food on vacation:
Our daughter and I made two grocery store runs and we'd begin with finding the best meat we could and build meals around that.  Then we'd see what we could find for organic produce to put with it.
So one night we had spaghetti (they even had this pasta there, again, I can't even find that in my store here!), another night we had grass-fed bison burgers and baked potatoes.  I found organic lunch meats so we made sub sandwiches a lot, with lettuce, cheese, tomato, and I even found this mayo at the store!  Another night we made a big batch of mac and cheese and ate that as leftovers for lunches.  I also made some fried organic chicken with some organic French bread on the side dipped into olive oil and butter with herbs.  We usually had some fruit on the side too.  For breakfast we had skillet one day, as I mentioned, and on the other days just fruit and toast or bacon and eggs.  I made popcorn for snacking.
I even found organic cream there that was NOT ultra-pasteurized — read at that link how to tell and why it's so bad
Obviously we filled in with restaurant meals, but those were extra expensive in Alaska.  These are some delicious salads we had at one: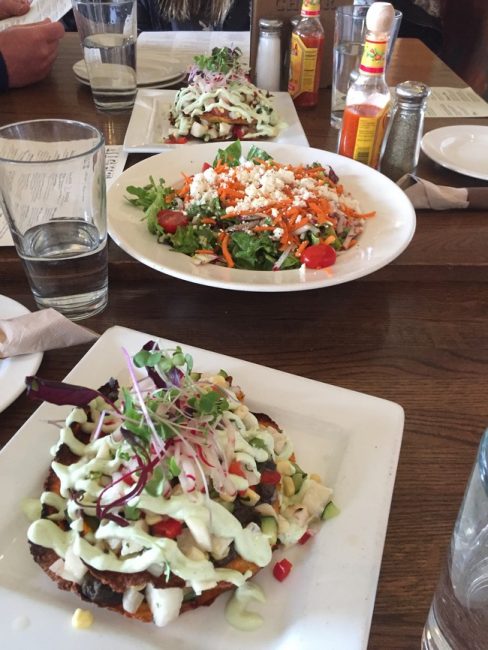 Here's a slideshow below of pics from our trip if you're interested.  
If you have any questions, feel free to ask me in the comments.
Video plays after the ad: 
My FAVORITE parts of Alaska:
The look on our son's face — pure joy.
THERE ARE NO SNAKES IN ALASKA.  As in NONE.  Well, except for the ANACONDA on the loose (I'm not looking it up to see if that's the correct spelling because I'm not going to risk having a picture pop up) — we heard on the news that someone lost their PET in Wasilla, a town we had just been through the day before!!!  Besides that though, I was surprised how freeing it was for me to hike everywhere, even around piles of rocks, and not have to worry about seeing a snake!
Getting together with some friends from Michigan and Kent's cousins.
The jets flying RIGHT over our heads in Anchorage.  You can see one in the slideshow, LOVED that!
The WHALES we saw on our boat trip, oh my gosh you guys, SO cool.  Not to mention all the other wildlife we saw on that boat ride.
The peaceful quiet.
The beauty everywhere.  As in EVER-Y-WHERE.  You can't help thanking God for thinking of it all!
So yes, this was truly a trip of a lifetime and I want to go back someday.  🙂
More you might like: