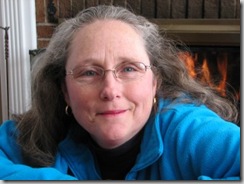 Today I'm giving you a sneak peak at my friend, Anne Sergeant's, talk for the upcoming Weston A. Price / Wise Traditions Conference in November. She'll be speaking about budgeting for nutrient-dense meals, and today specifically you'll learn about what she calls the "3 legged stool" of good nutrition.
You may remember Anne's popular article in the Weston A. Price Foundation's quarterly journal, Wise Traditions, on how to feed your family nourishing foods on a budget, which I posted here not long ago:  "Eating Healthy Shouldn't Cost an Arm & a Leg".
The 3-legged stool of Good Nutrition
When Anne and I spoke recently, she shared her concern that many in the Nourishing Traditions/Real Food movement seem to be focused on organic foods and getting the junk out of the meals we feed our families, but they may be missing other important parts of what she calls, the "3-legged stool" of good nutrition:
Keeping the bad stuff out of our diets. (Eating more organics to avoid things like HFCS, trans fats, MSG, GMOs, additives and preservatives, avoiding grocery store meats or reduced fat foods, etc. – but "organic" doesn't mean you're providing necessary nutrients…)
Putting the good stuff into our diets.  (Healthy fats full of fat soluble vitamins, raw milk, cod liver oil, bone broths full of minerals, coconut oil, grass-fed meats/organ meats, pastured eggs and poultry, etc. – all of these are very nutrient-dense.)
Properly preparing our meals to get the most nutrients from our foods as possible.  (Properly preparing grains, cultured/fermented foods, crispy nuts, condiments, etc. – some foods need their nutrients unlocked before our bodies can use them correctly.)
Just like a stool with one (or two) bad legs cannot support us, a diet weak in one of these elements cannot provide good overall nutrition.
Let us know what you think!
Have you been "guilty", like I have at times, of focusing more on #1 than on #2 or #3?