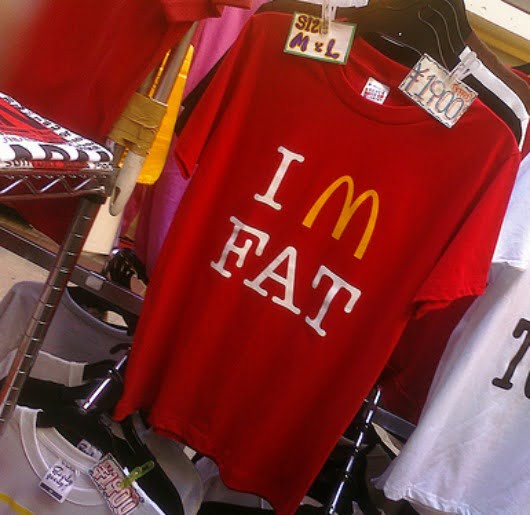 Is the obesity crisis the government's fault?  Are fast food restaurants to blame?  Is it because Americans are lazy?  Is it caused by our screwed up food supply that messes with our hormones and body chemistry?
The other day my friend, Ellie, emailed with this request:
"I am writing an argument paper for my lit class and the topic I have chosen deals with obesity in the U.S. and who is at fault for this epidemic.  My essay requires an interview with someone who would have legitimate knowledge on this topic (health related), and I thought of you."
Of course I agreed to help, but I'm hoping you'll also share your thoughts in the comments to give her a wider range of responses to learn from and then share with her class.
Here are the questions:
Who do you feel is to blame for the problem of obesity in the U.S.?
In your opinion, what should Americans be doing more of to combat obesity?
In your opinion, what should Americans be doing less of to combat obesity?
Do you feel that Americans are willing to put in the effort to live a healthy lifestyle?
My answers:
1.  Who do you feel is to blame for the problem of obesity in the U.S.?
I believe it is a mixed bag, perfect storm situation.  First look at this chart I found: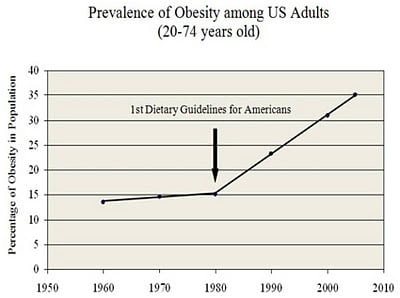 When the government gets involved, things go haywire.  They jumped into the arena and started telling us to eat low-fat, fat-free, sugar-free, fake foods which tasted terrible, so food manufacturers loaded them with chemicals to improve taste and texture so people would eat them.  (By now hopefully you all know that the healthy fats are the exact fats the government tells us to avoid!  Saturated fats from pastured animals keep us full and provide crucial nutrients like vitamin A, D & K, along with omega 3's, cancer fighting CLA, and more.  And I also hope you know how deceiving and dangerous the sugar-free trend is.)
At the same time all of this nonsense hit the streets and took hold like wildfire, they started paying farmers good money to mass produce crops like soybeans and corn that we should either be eating none of (soy), or only moderate amounts of (corn).  So these foods started showing up ALL over the place, in sodas and junk food galore, because they were, and are, cheap to produce.  These crops are also almost all genetically modified, so who knows what that big chemistry experiment is doing to all of us.  (If possible, donate to the Monsanto Money Bomb campaign to get GMOs labeled in California, so that the rest of the U.S. will be next, and we can knock those foods right out of the food supply, just like we did with hormones in the milk and trans fats!)
Then the CAFO (confinement operation) farms became "the" way to raise animals, again, because it was more profitable, so now the top of the food chain became polluted as well.
The storm is gaining momentum…
Life has gotten busier and busier through the past few decades, so of course making meals at home became trickier, and the convenience of fast food joints became the norm.  These restaurants understandably had to follow the advice from our government, and they need to make a profit, too.  Needless to say, nutrient-dense meals are not high on the priority list.
And the storm kept brewing…
Combine all of that with our increasingly sedentary world full of too much TV, video games, and computer time (I'm the pot calling the kettle black on that one).  Also, parents are working so much and stressed with life that they're often too overwhelmed to get out and be active with their kids, or teach them healthy habits…
And the perfect storm rages out of control.
2.  In your opinion, what should Americans be doing more of to combat obesity?

Eat more whole foods (only one ingredient), go take a walk with your kids or your friends, talk about this stuff with your friends and family (but don't shove it down their throats because that doesn't work, trust me), share this post with others, organize a group to watch Farmageddon
together or
Food, Inc., and this one is very important:  vote with your food dollars!  The more organic and whole foods you buy, and the less junk, the more food manufacturers will get it.
3.  In your opinion, what should Americans be doing less of to combat obesity?
They should be drinking waaaay less soda pop, preferably NONE (try making this homemade kefir soda!), and less food that comes in bags, boxes or fast food restaurants.  (Try these at-home fast food meals instead.)  Eat more foods from local farms so you know how your food was grown and raised.  Just those few things would make a huge difference!
4.  Do you feel that Americans are willing to put in the effort to live a healthy lifestyle?
Some just won't.  I remember how it was to think that what we ate didn't really make that much of a difference.  How wrong I was.  And in many ways I was lazy, because change takes work.  Some may be too stressed out by life or already too sick or lacking in energy to have the ambition to make lasting changes – it's like they're drugged by the junk.
I also have a hunch that for some who have been sick for years and years, their body chemistry and hormones are so screwed up that even if they are doing everything right, it still might be nearly impossible to "reset" themselves.  All the chemicals and weird stuff in our food, not to mention the huge number of pharmaceuticals many are taking, that has to make any effort at getting healthy much more difficult, right?  I'm curious if any of you are with me on this one.  Obviously, this isn't the case for everyone, because I hear stories all the time of people who have been sick and/or overweight their whole lives, and then when they go back to Real Food and a more natural lifestyle, they get better.  But I also know of some who, try as they might, just can't get their body back.
Others will listen and will finally be ready to get off the crazy train that leads to sore joints, digestive issues, anxiety, heart disease, diabetes, chronic pain, cancer, and much more.  When they get overwhelmed with all the changes they want to make, as we all did in the beginning, you can be there to encourage them to keep taking baby steps, and show them ways that eating Real Food doesn't have to take up all of their time and money.  Maybe you could even get them a spot in my Real Food for Rookies online class, where I teach others in a few weeks what it took me years to wrap my brain around.
Now let us know what you think in the comments – this is a huge issue, and I'm sure there are many facets that I didn't even touch on!
Do you have a favorite Weight Loss Book?  Look around at that link and please email me with your recommendation, along with what you loved about it, and I'll include your suggestion in a future post.  Thank you for your help!