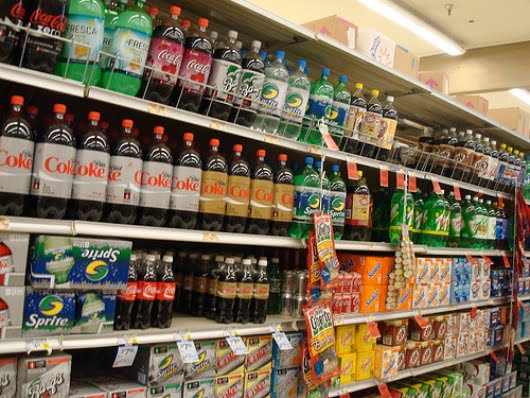 How many people do you know who are addicted to soda pop?  Whether it's regular or diet soda, the number just in my own circle of friends and family is astounding, so I can't imagine what the official stats are (and couldn't find a reliable source to quote).  Seems to me that Mountain Dew and Diet Coke are the ones I hear about most often, but consumption of "energy drinks" are on the rise, too.
Is it a "real" addiction?
When researching for this post, I found one news video where they said soda pop addictions aren't "real addictions."  Tell that to my brother in law who can't quit Mountain Dew even after a couple very serious heart scares.  He was able to quit smoking but just can't get off Mountain Dew long term.  (Read about his heart scare and the shocking follow-up appointment with his heart doc.)  Yes, liquid candy can be a very real addiction.
Need some hope?
I know there are people out there who have broken these addictions, though, and I want to hear from you!  Please tell us how you did it in the comments.
Be sure to check out these links for more, including WHY we shouldn't drink pop:
Easy ways to break your soda addiction – I like all these except the one that recommends drinks with Splenda.  Yet another fake chemical sweetener isn't the answer.
How to make your own homemade kefir soda pop – a probiotic beverage that is much better for you!
Just how bad is Mountain Dew? – scary indeed.
How diet soda is ruining your diet – think your diet soda is better for you than regular?  Nope.  It's full of chemicals and this link shows how it sabotages a diet,  too.
Aspartame is by far the worst food additive on the market – this one is by Dr. Mercola, it's the first time I've linked to him since this fiasco:  Dr. Mercola is on my nerves.
Sugar, the bitter truth – have you seen this YouTube video by Dr. Lustig?  It's an hour long, but he shows why fructose is so detrimental to our bodies.
More 2011 Weight Loss and Wellness Adventure posts!