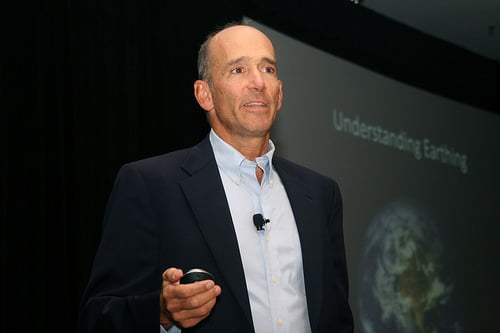 Before I tell you why Mercola is bugging me, first let me say that a lot of my growth in the area of health and nutrition was thanks to him.  He stretched my thinking and got my brain waves cooking so that I just had to track down the truth on various topics.  I never completely went along with every single thing he said, but a lot of his information is dead-on.  After I had been reading for a while, though, he started really pushing his products (not to mention flooding my inbox emails – 2 or 3 each day), so I ended up unsubscribing.  Not that I'm against earning money from information on a website (read #3 at this FAQ post about how I earn a little from my site), but geesh, he laid it on pretty thick.  Maybe he doesn't do that anymore, I don't know.
A couple months ago I quoted him in this post, Dr. Mercola & Dr. Cannell's Cod Liver Oil Bashing – the Source Matters!  Well now I've gone in to remove his quotes I used, and here is why…
Last week I received an email from one of Dr. Mercola's peeps.

If you care to read the whole conversation, I'll include that below, but if you want the condensed version, here you go:
Basically, she told me that if I quote Mercola, "according to their terms of service", besides including a link to his site (which I did and that is all that is required under copyright laws), I need to also include this ad for him on my post!  (It would look like this only bigger.)

I said, yeah, thanks anyway but I don't do free ads on my site.  So I took the quotes off and won't be mentioning him again.
What gall!
The guy has tons of readers, I don't get why they'd care what's on a little site like mine, and why they don't instead spend their time going after those who quote him but add no link back to the source.
Now begins the "long story"
If you're interested and want to read our email exchange, that begins here:
Hi Kelly,
To Whom It May Concern:
We have learned that your site at URL https://kellythekitchenkop.com/2009/01/dr-mercola-and-dr-cannells-cod-liver-oil-bashing-the-source-matters.html currently cites comments by Dr. Mercola. We appreciate you using the content that we offer at Mercola.com on your site.  We do however, request that you include the updated cite at the end of this blog.  In our terms of service, it is stated that the use of his content must be accompanied by citing the source which of course is Mercola.com, as well as adding the promotional graphic listed here: https://www.mercola.com/Citations/index.htm
Please contact me with any questions regarding compliance with our request.
The information in this notification is accurate, and under penalty of perjury, I state that I am authorized to act on behalf of Dr. Mercola, the copyright owner.
Best Regards,
"P" (I took her name off, because none of this is her fault.)
Copyright/Affiliate Manager
Mercola.com
Hi P,
I actually already DID include the link to his site with the two short quotes that I included in my post.  It's in the link where it says "Cod liver oil" up at the beginning of the post.
Thanks,
Kelly
Indeed you did.  Let's be clear, there are no claims being made that you incorrectly cited your source.  However; we have updated the way Dr. Mercola is to be cited in our "Terms of Service" which in addition to your direct link included a promotional link as well.  Although this was updated post your blog we respectfully request it be included. Thus, your reader can stay abreast of new info from Dr. Mercola ultimately acting as a catalyst for discussion on your site.
Best Regards,
P
Hello again P,
I am assuming that Dr. Mercola isn't willing to pay me for running his ads in my post, so instead I took out all quotations from him and will be sure not to quote him again at my site.
I know you are only doing your job, and that you probably have no say in Dr. Mercola's policies and terms of service, but please pass along to whomever it may concern that this is a bunch of baloney.  I was in complete accordance with current copyright laws in the way I added short quotes from Mercola in my post and then linked back to his site, however, just to avoid the hassle, I went ahead and took them out.
It is perplexing to me, with the whopping readership he already has, that he would care whether or not one post at my blog had another of his ads running, and that he would request such a thing under his "terms of service."  I would think his time would be better spent going after the sites who quote his content with no link back.
Again, I know none of this is coming from you personally, but please share my comments with the appropriate people.
Thank you, P!
Kelly
photo credit (this picture cracked me up!)