If it was someone you loved, would you be for or against them taking statins after a heart attack? Recently someone I'm very close to had a heart attack…
Have you ever met someone who everyone loves? Men or women, young or old. Mike is that kind of guy. You could be telling him the most boring story in the world, in the most monotonous voice there is, and he would be looking into your eyes, asking questions, and making you feel like he's always been wondering about that very topic. He's got a huge heart and is always ready to help someone; and get this ladies, he's been known to jump up after dinner to help clean up at big family gatherings. (He likes sports, too, so it's not that he's uninterested in heading to the TV like the other guys are, he just comes in to help first!)
Mike had a heart attack recently, and thank GOD his chest pain got him to the ER in time so docs could find and fix some pretty severe blockages before a he had a massive attack. There is some heart disease in his family, so genetics could very well have played into this, but also, I believe his lifestyle led him straight to his new heart disease diagnosis. I've told people for years, "I'm going to miss him so much." He's not just my brother in law, he's always been a very close friend, too. When I got the call I cried with thankfulness to God that it happened the way it did, instead of with my sister finding him dead on the floor.
What kind of lifestyle you ask?
He smoked for years, but quit about a year ago. He is a Mountain Dew-aholic, and has been known to drink two 2-Liters a day, this is after a typical breakfast of sugar-bomb cereal, and a candy bar for a snack. The only bright spot is that after not eating all day, he goes home to my sister's great home-cooked meals. She's tried for years to get him to eat a decent breakfast, and to pack himself a lunch. "Our kids pack their own lunches before school, there's no reason you can't pack a lunch!" He just wasn't in the habit, and he also works too much – it's not easy to be motivated to add new steps to your daily routine when you're tired. I get that, but a body can only take so much. So now we're all praying that this scare will be enough to motivate him to stick with a better diet, so far he seems to be on the right track. (Say a prayer for him, please!)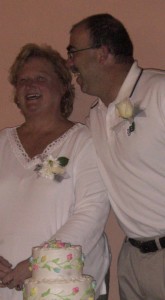 (I love this picture of Terri & Mike at their 25th wedding anniversary party last year – he's whispering something and cracking her up.)
What to do about the statins?
As you can imagine, he came home with a grocery bag of medicines. Now he's trying to figure out what to do about the statins. I've told him over and over, "Don't listen to ME when I tell you that I don't believe people should take statins, or that you should eat butter and real cream (not to mention plenty of healthy fruits & veggies, no HFCS or trans fats, no vegetable oils, get off processed foods and sugar as much as absolutely possible, reduce stress, etc.), and don't blindly believe everything your doctor says, either. DO THE RESEARCH AND DECIDE FOR YOURSELF."
Besides the statin info here on my site, here's another good statin article I sent him, and one more on overall healthy habits: 10 steps to better health 2009.
What do you think? If someone you dearly loved had a heart attack, do you think they should take statins? What would you say to them?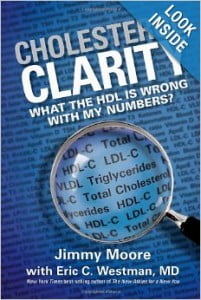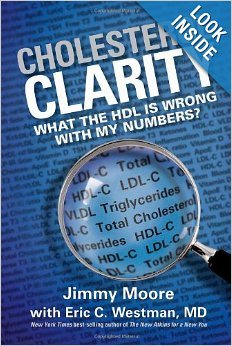 Disclaimer: I am not a doctor, do not listen to me! There is a lot I don't know! I only want what you read here to motivate you to research it more for yourself, talk to your doctor, and decide what is best for you.