What is the big deal with pesticides?  What are the health effects of pesticides?  Once you know more, you'll be a freak like I am about avoiding them.
By the way, I just re-wrote parts of my post from last year, "Why Eat Local, Organic, Sustainable Foods", because today's post directly relates and I thought new readers might want to take a look.
Thanks to Mindful Momma for the scoop on the updated Pocket Guide to print off and take with you to the store, so you know which produce is OK to buy conventional, and which produce you should always buy organic.  She also tells you at that link about which ones have changed since the last guide.
Check out all the great info at these links from the Environmental Working Group: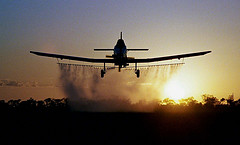 Shopper's Guide to Pesticides – here you will read:
Why Children are especially at risk
Doesn't the government regulate these chemicals?
What can I do to reduce my risk?
Download the pocket guide – at this link, you'll find out:
Why should you care about pesticides?
Will washing or peeling help?
The "dirty dozen" and the "clean fifteen"
Part of the Spring Cleaning – Get the Pesticides Out Carnival!
photo by ecoagriculture partners