Have you bought Halloween candy yet or are you still trying to figure out what to give out instead of candy for Halloween?!
It wasn't that many years ago that I had no problem grabbing bags of my old favorites to hand out for Halloween:  Reese's or Twix, or that year I ate the WHOLE bag of… gosh I can't even remember what those were called now, they looked like little chocolate drops and they were really chewy…
Oh I know, MILK DUDS!  
Has anyone else ever done that?!  Then after I learned about the ingredients in all that candy, it slowly began to not even look or sound appealing anymore.  I'd have one piece and think, "Wow, that wasn't even worth it."  My own homemade treats just tasted better.  (Not that I eat perfect by any means, I still have stuff that isn't all sparkly now and then, but it's MUCH less.)  I remember a few years ago it was a day or two after Halloween and it hit me, "I didn't even have ONE piece of candy this year, and only just realized it!"  For the years following, I'd still buy the junk thinking, "It's only one day", but over time I came to really dread that moment when I'm at the store, looking at all the bags of rotten candy, trying to figure out what to hand out on Halloween.  Those ingredient labels are unbelievable, there really are NO good options!
Finally a couple years ago or so I just decided:  NO MORE.  
Yes, our kids go trick-or-treating and they get their share of the disgusting junk, but I'm not handing it out anymore.  Thankfully our house hasn't been TP'd yet!  I do try to think of fun alternatives, and I think I've landed on one that I'll stick with for now, so I'll share what I hand out these days PLUS a bunch more ideas for you to consider…
Ideas for What to Give Out Instead of Junky Candy for Halloween:
1.  One year I gave out these organic suckers, which went over pretty well.
2.  A friend gave me the best idea and what I do nowadays:  100 glow sticks for only $9!  These are nice because it helps with safety too, you can see the kids better as they're walking around at night.  🙂
3.  Or you can get 80 of these finger lights for less than $8.  (Pictured at the top of this post.)  I may do those next year, and again, they have the added safety benefit.
4.  Flashing rings look fun.
5.  I think most kids would love Halloween mini flashlights.
6.  Halloween bounce balls are usually a hit because they really bounce — I found 144 for $15.
Don't get that many trick-or-treaters at your door like we do?
In our neighborhood kids are dropped off by the carload, but if you have less kid-traffic you could get some of these that are a bit more expensive: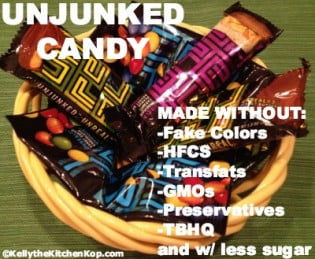 7.  Organic chocolate bars or Unjunked candy — I love these, there's still sugar, so it's not like it's a health food or anything, but watch the video below to see all the junk it does NOT have.
10.  Bags of yummy homemade popcorn — if you make it like we do, with organic coconut oil, organic popcorn, real pastured butter, and real sea salt, it's not exactly a cheap option to hand out, that's why it's on this 2nd list.
Need Halloween Party Bag Ideas?
These are a little too lame (in my opinion) to give out to trick-or-treaters with nothing else with it, but they're nice if you need more party bag stuffers: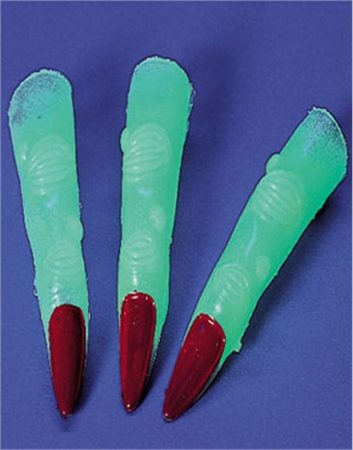 Here's the video about the "better" candy:
What do YOU hand out for Halloween?
Please share in the comments.  Also, I'd be grateful if you'd use the buttons below to SHARE this post, thanks!  Affiliate links are included above, and they help me pay for blogging expenses, so I can keep digging in to find helpful health and nutrition info to share with you that you won't find in the mainstream.  🙂
More you might like: