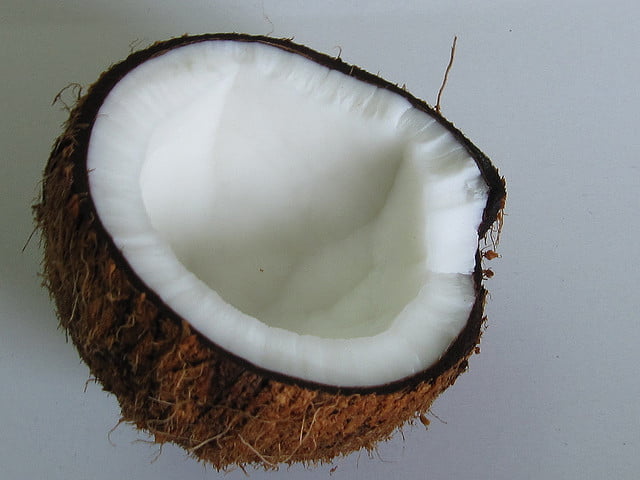 What is Virgin Coconut Oil?
Many of you have heard about virgin coconut oil or maybe you've seen it at health food stores, but you're not alone if you wonder what is virgin coconut oil or you're unsure about the differences between the various types, how to use it, or where to buy it, so I'll help clear it all up for you today…
(First, if you just want to know where to get it, this is the only kind we use now.  It's got a nice, mild-but-delicious coconut flavor for recipes and is my favorite for skincare too.  Also, have you seen this post?  Why Kent Takes a Spoonful of Coconut Oil Every Morning (+ Coconut Oil Benefits)
What is virgin coconut oil?  Virgin coconut oil is extracted from the meat of matured coconuts harvested from the coconut palm.  It's one of the main fats I use in my kitchen for its wonderful medium-chain fatty acids and lauric acid.  Because it's very heat-stable, and therefore slow to oxidize, it's a perfect fat for high-heat cooking, and also very resistant to rancidity, so you can store it for years!
Virgin Coconut Oil – a Traditional Food and helping Traditional Cultures
Similar to the real olive oil that I told you about in this post, Why You Must Know Your Olive Oil Source, this virgin coconut oil is the real deal.
It's neat the way the coconut oil market is booming and affecting communities in places like the Philippines, Thailand, Sri Lanka, and Indonesia.
They are providing jobs, and those workers then put more money back into their community as they buy goods and services.  As more tax money comes into the area, more schools can be built and then teachers are hired; it's a ripple effect.  Areas that were poverty stricken are now thriving, and families are able to feed their children again!
In many parts of the world, virgin coconut oil has been the primary source of fat for generations.  But of course now 'they' are trying to tell us not to eat it…
Why the Bad Rap?
If you've heard any negative publicity about virgin coconut oil, read this excerpt from the article,  A new look at coconut oil, by Mary G. Enig, PhD:
The problems for coconut oil started four decades ago when researchers fed animals hydrogenated coconut oil that was purposefully altered to make it completely devoid of any essential fatty acids. The hydrogenated coconut oil was selected instead of hydrogenated cottonseed, corn or soybean oil because it was a soft enough fat for blending into diets due to the presence of the lower melting medium chain saturated fatty acids. The same functionality could not be obtained from the cottonseed, corn or soybean oils if they were made totally saturated, since all their fatty acids were long chain and high melting and could not be easily blended nor were they as readily digestible.

The animals fed the hydrogenated coconut oil (as the only fat source) naturally became essential fatty acid deficient; their serum cholesterol levels increased. Diets that cause an essential fatty acid deficiency always produce an increase in serum cholesterol levels as well as an increase in the atherosclerotic indices. The same effect has also been seen when other essential fatty acid deficient, highly hydrogenated oils such as cottonseed, soybean, or corn oils have been fed; so it is clearly a function of the hydrogenated product, either because the oil is essential fatty acid (EFA) deficient or because of trans fatty acids (TFA).
So the studies were flawed (big surprise!), and didn't use real coconut oil in their comparisons!
Why I Love Using Virgin Coconut Oil
Read here about the many health benefits of coconut oil, but even besides all that, I love it because it's perfect for high-heat cooking, it's the only cooking oil I use for making popcorn.  As a matter of fact, if you want to go to the movies and experience the same movie popcorn taste like you did when you were a kid, you may need to sneak some in like we do.  (But we buy the $3 bottles of water from the theater so they still get their concession money from us, don't worry.)  It's the first thing friends say when they try popcorn at our house, how it reminds them of how popcorn "used to taste"!
More Ways I Use Virgin Coconut Oil
What are some of the ways that I use virgin coconut oil, you ask?  Besides that Kent eats it right off the spoon every single day for the health benefits, here are some of our favorite uses: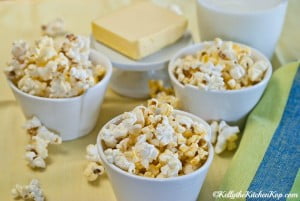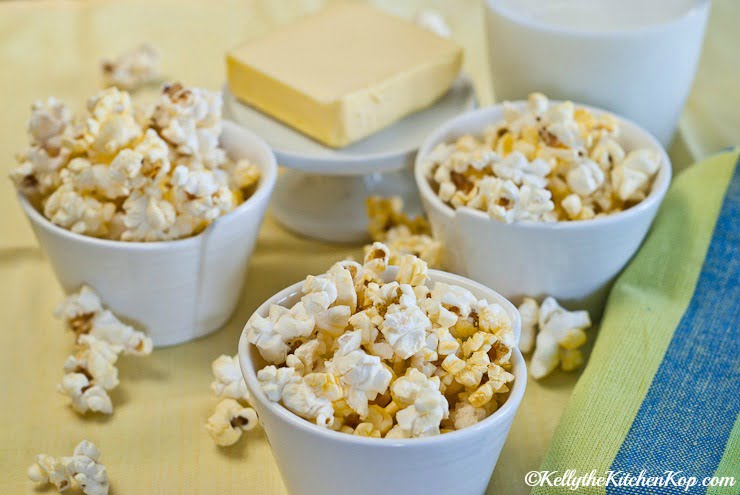 Virgin Coconut Oil vs. Expeller Pressed/No Flavor Coconut Oil

In my kitchen, I use both.  If you don't like the taste of coconut (I used to be that way, but love it now) or if you're making a recipe that coconut flavors wouldn't go well with, then you'll want to buy expeller pressed coconut oil.  If you love the taste of coconut, then you'll want to use virgin coconut oil which is less refined and has more of the nutrients still intact.  Read more here about the different terms used with coconut oil and what they mean.
Where to Buy Virgin Coconut Oil
I buy my virgin coconut oil here because it's fresh yet mild and delicious tasting.
What else do you cook with coconut oil?
More you might like: