Why is it important to know your olive oil source?
(Just want to know where to get it?  Click here for where to get REAL olive oil.)
Well it turns out that those in the vaccine industry aren't the only ones that we have to be concerned about when it comes to deception and cover ups, the olive oil industry is known for pulling some fast ones as well…
A class action lawsuit against the maker of Bertolli and Carapelli brand olive oils will continue after a California federal judge turned down the company's request to dismiss the lawsuit, which alleges that it has deceived customers about the quality of its olive oil.

Koller alleges that the phrase "extra virgin" to describe the olive oil is misleading since they are added to a refined oil. In addition, the bottle it comes in is unable to protect the oil from damage that can be caused by heat and sunlight.

"Koller further contends that both 'extra virgin' and non-extra virgin olive oil products are deceptively marketed as 'imported from Italy,' when in fact the olives used to make the oil come from any of a number of other countries," the federal judge explains.  (Source:  Olive Oil Lawsuit.)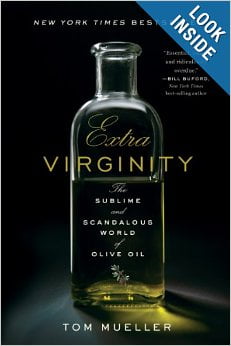 That's not all. 
For the first time Italians are now buying not just Greek olive oil, but also Greek olives, to be pressed in Italy.  (Source.)  The oxidation of an olive goes up immediately after picking, so shipping to another country to press makes no sense.  To achieve the mild taste that people want, companies will then be even more likely to cut the oil with cheaper vegetable oils, and we definitely do NOT want to ingest dangerous vegetables oils!
If you want to read more about the "Olive Oil Mafia", get this book:  "Extra Virginity, the Sublime and Scandalous World of Olive Oil."  It's veeeeery interesting and reads like a suspense novel.
And then there's the good stuff that we buy…
We love this organic extra virgin olive oil not just because of the taste (some have a weird flavor don't you think?  This stuff is amazing!), but also because I know and trust Norm and Kathy and Greg at Radiant Life, who have personally visited the family who grow the olives!
Be sure and tell your friends.  🙂