So is this measles vaccine hysteria getting old or WHAT? 
It was bad enough when it was just over the measles.  Now a local school district had a case of Whooping Cough at their school so they ordered anyone unvaccinated to stay home for 20 days at the recommendation of the health department.  Our local Fox News station called Friday wondering if I knew anyone in that school district who would comment.  (I didn't, and couldn't find anyone when I put it out on my Facebook page either.)  However, that got me researching more, and get this:  Pertussis vaccine effectiveness is so poor, many who get it WERE VACCINATED!
We identified 171 cases of clinical pertussis; 132 in pediatric patients. There was a notable increase in cases in patients aged 8-12. The rate of testing peaked in infants, but remained relatively constant until age 12. The rate of positive tests was low for ages zero to six, and increased in preadolescents, peaking at age 12. Vaccination rates of PCR positive preadolescents were approximately equal to that of controls. Vaccine Effectiveness was 41%, 24%, 79%, for ages 2-7, 8-12, 13-18, respectively.  (Source.)
So why are they forcing only the UNvaccinated to stay home? 
That's just another example of how little common sense is involved when it comes to vaccines, and it's no wonder those of us who dig deeper into this issue are not comfortable following the "recommended vaccine schedule", because there are a LOT of scary facts out there.
Here's a personal story of when I realized that doctor offices and drug companies don't even know what they're doing!
Need more reasons to wonder if we can trust drug companies?
Obama Admin Grants Immunity To CDC Scientist That Fudged Vaccine Report:
The Obama administration has granted whistleblower immunity to a federal government scientist that claimed he intentionally omitted information in a study that could have shown a race-based link between vaccines and childhood diseases including autism.

"I didn't want people to run out and delay vaccination because of this, because it was only one piece of data. But it was the one piece of data that CDC chose to cover up," Hooker said.

But Thompson said that he and other CDC scientists intentionally fudged the results, manipulating the pool of children they analyzed and limiting the proper number of African-American children from participating. The authors limited black children from showing up in the results by excluding babies without a state of Georgia birth certificate.
Merck Has Some Explaining To Do Over Its MMR Vaccine Claims:
The first court case, United States v. Merck & Co., stems from claims by two former Merck scientists that Merck "fraudulently misled the government and omitted, concealed, and adulterated material information regarding the efficacy of its mumps vaccine in violation of the FCA [False Claims Act]."

The second court case, Chatom Primary Care v. Merck & Co. relies on the same whistleblower evidence. This class action suit claims damages because Merck had fraudulently monopolized the mumps market. Doctors and medical practices in the suit would be able to obtain compensation for having been sold an overpriced monopolized product, and a defective one to boot, in that the mumps vaccine wasn't effective (indeed, the suit alleged that Merck expected outbreaks to occur and, as predicted, they did — mumps epidemics occurred in 2006 in a highly vaccinated population and again in 2009-2010).

The third whistleblower — a senior CDC scientist named William Thompson — only indirectly blew the whistle on Merck. He more blew it on himself and colleagues at the CDC who participated in a 2004 study involving the MMR vaccine. Here, the allegations involve a cover-up of data pointing to high rates of autism in African-American boys after they were vaccinated with MMR. In what could be high-profile House hearings before Congressman Posey's Science Committee — hearings made all the more explosive given the introduction of race into the mix — Merck could find itself under unprecedented scrutiny.
The problems are pervasive throughout the drug industry:
Despite the prosecutions, huge fines and bad publicity, too many pharma companies have failed to change their ways. Billion-dollar settlements are to some just the cost of doing business.  (Source:  More drug companies to pay billions for fraud, join the "dishonor roll" after Abbott settlement.  If nothing else has convinced you that we can't trust Big Pharma, read that entire shocking article.  Note that there's a weird delay with that link.)
The flu vaccine is another head-scratcher…
It's been all over the media that the flu shot is only about 40% effective, and then the next thing you hear is, "But people should still get it."  WHAT?  If there were NO risks with the flu shot, then maybe I'd still consider it, but there ARE risks!!!  The number of payouts for vaccine injuries due to the flu shot and Guillain Barre Syndrome (GBS) astounds me, and I also can't believe how little they were paid.  (Source.)
If you'd like to know more about the flu shot and mandatory workplace vaccines, get David Boman's book, The Man Behind the Mask — Why I Chose NOT to Get the Flu Shot.  (David is the one this post was written about:  Mandatory Flu Shots for Health Care Workers, Why One Man is Choosing the Mask.)
A dose of common sense from Dr. Tenpenny:
Children today receive as many as 49 doses of 14 vaccines before they reach age six, which is roughly 12 times higher than the number of vaccines administered to children back in 1940. 

With more than 220 new vaccines in the developmental pipeline for children and adults…and no end in sight..the question you must ask yourself is ARE YOU CERTAIN you will be 100% comfortable when 200 more vaccines are added to the mandated list in the future? 
With all of these CDC and pharmaceutical shenanigans, how can parents who choose not to vaccinate be blamed for making common sense decisions to protect their kids?!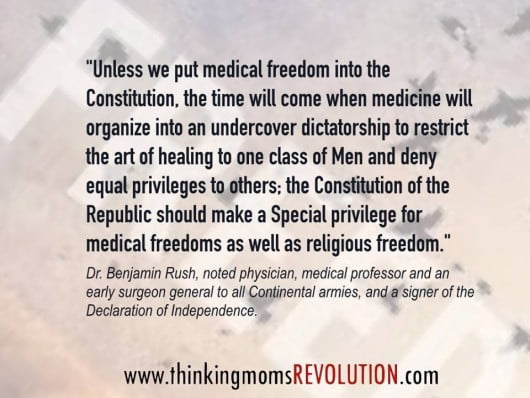 Lastly, I'm sure YOU have seen some compelling articles around this issue!
If you'd like to share a link in the comments to something you have read, please do, HOWEVER, I'm asking you to include a *short* blurb telling us the most striking part of the article, since many of us won't have time to read each one.  Feel free to share as many as you come across, so you can help educate us.  Even if you are pro-vaccine, we're happy to hear your thoughts.  We can't make well-informed decisions unless we hear all sides.
If you don't have a link to share, just let us know what is your take on all this measles vaccine craziness??
It goes without saying that only respectful comments are allowed. 
This article gets people riled up and GOOD, but if you're disrespectful in any way, no matter what side you're on, you will be DELETED.  My readers are my friends and no one will be treated badly here.
THANK YOU!
Here are my recent posts on the measles vaccine bologna: