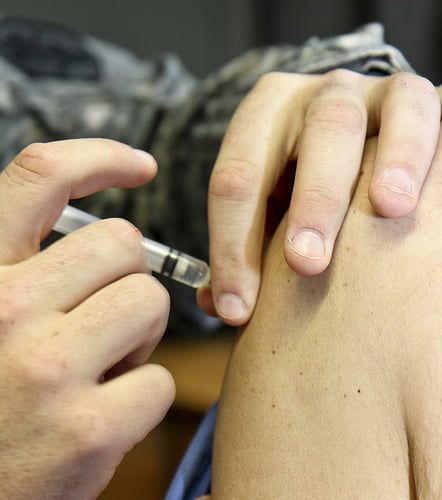 Mandatory flu vaccine for Healthcare Workers?  Really?
Sometimes it's hard to believe that we still live in America.
The comments at my post from a while back, Healthcare Workers: How to Refuse Mandatory Vaccines and Not Get Fired, are still going strong.  Way too many health care employees these days are facing a decision they shouldn't have to make:  get a flu shot or lose their job.  Some have the option of wearing a mask, but not all.  Here's another one you'll want to check out:  Healthcare Workers – How to Avoid the Flu Shot and Not Get Fired (Part 2).
First, if you need legal help, here is the contact info for a lawyer who specializes in vaccine rights:  Alan Phillips:  [email protected].  Get his book here:  The Authoritative Guide to Vaccine Legal Exemptions. 
What's the big deal about a flu shot? 
They contain dangerous preservatives and other scary ingredients, they weaken our immune systems, and they often don't even work to prevent the flu at all!  I'd rather eat right to keep my immune system strong, and if I do get the flu, allow my body to fight it off naturally, and thereby making my immune system stronger.  And that's only the tip of the iceberg compared to what you'll read in this post.
Today my reader friend, Jill Boman, was sweet enough to share their story and elaborate on why more and more are choosing to deny the mandatory flu shot…
Like many of Kelly's readers our family has been affected by the recent flu shot mandates that several states are now enforcing.  The CDC recommends that all healthcare workers receive a yearly flu shot to prevent the spread of influenza to the patients they work with, a recommendation that is translating into a growing number of statewide mandates.  Different healthcare systems, hospitals, and clinics have varying policies on enforcing flu vaccination among their employees, but in our case, if my husband wants to keep his job then the choice is to either get a flu shot or wear a mask for the duration of flu season while at work.
He is choosing to wear the mask.
Several years ago he received the first and last flu shot of his life, which resulted in the sickest week in 45 years he has ever experienced.  Whether it was a reaction or a severe vaccine-induced case of the flu, he was violently ill.  His personal experience was enough to discourage him from ever getting another flu shot, but another piece of family medical history adds reason.  Years ago his father developed Guillian-Barre Syndrome, a serious autoimmune disorder that causes the immune system to attack the myelin sheaths of the nerves, resulting in varying degrees of paralysis of the motor and/or autonomic nervous systems.  Fortunately, his dad made it through, but was left with permanent neurological damage that forced him to retire early from 40 years of full time ministry.  Although Guillian-Barre is rare, it can be triggered by the flu vaccine (my father in law's doctor advised him to never have another flu shot because it could trigger GB again).  In case there may be a genetic predisposition to Guillian-Barre, we felt that was another valid reason to avoid it.  (See the book he has written about all of this here:  The Man Behind the Mask: Why I Choose to Not Receive the Flu Shot, by David Boman!)
Research and Evidence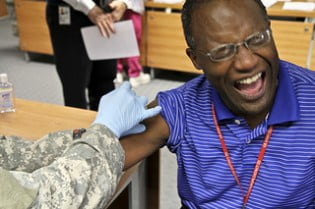 We also began researching to learn what the body of scientific evidence has to say about the flu shot.  As it turns out, the most reliable evidence stands in dramatic contrast to the message we see and hear repeated over and over this time of year, which is that receiving an annual flu shot is the single best way to prevent the flu.  Among the most compelling was a systematic database review performed by the Cochrane Collaboration, an international, independent scientific research group that does not receive funding from the drug industry and is widely held as the gold standard of medical research.  Their 2010 review of 36 randomized controlled flu vaccine trials including 70,000 people revealed that the vaccine does very little to prevent the flu. They found that for every 100 flu vaccinations, only 1 set of flu symptoms was actually prevented, but the vaccine did cause 1 case of Guillian-Barre Syndrome among the subjects included.
The risk difference of developing the flu between people who had received the flu vaccine and those who did not was a mere 3%.
The researchers also could not find any evidence that the flu vaccine reduced complications such as pneumonia, or prevented transmission of the virus.   Of course preventing transmission of influenza is the very reason flu shots are mandated for healthcare workers, but the lack of scientific evidence to support it seems to have been overlooked in the well-meaning enthusiasm to get everyone on board.
The results of other studies and reviews on flu vaccine effectiveness in specific population groups are even more dismal:
These damning reports can be pretty confusing in light of the 60% effectiveness rate for all ages combined that the CDC claims.
60% is a less than glamorous success rate, but still, why the discrepancy?
(Update: The biggest reason for the discrepancy is the type of statistical spin used in reporting flu shot effectiveness, clearly explained here.)
An important piece of the answer might be found in a caveat the researchers attached to the first mentioned Cochrane Collaborative review of 36 vaccine trials. They made special mention of 15 out of the 36 vaccine studies included in their report that were funded by the drug industry (4 did not disclose their funding source) and reported findings significantly more favorable to the vaccine's effectiveness than the publicly funded studies, a fact they felt should be taken into account when interpreting the results of their review. In other words, the 1 set of flu symptoms avoided for every 100 people vaccinated in the Cochrane review is probably too generous of a conclusion due to apparent bias in nearly half the studies. They also noted that a prior systematic review of 274 influenza vaccine studies "found industry funded studies were published in more prestigious journals and cited more than other studies independently from methodological quality and size…the review showed that reliable evidence on influenza vaccines is thin but there is evidence of widespread manipulation of conclusions and spurious notoriety of the studies."
Dr. Tom Jefferson, epidemiologist, Cochrane Collaborative researcher, and one of the world's leading experts on the subject, has spent over 10 years analyzing the existing data on influenza vaccines.  He has gone so far as to call the quality of the vast majority of studies on the vaccine's effectiveness "rubbish" based on poor design and incomplete reporting of data.  Dr. Jefferson challenges, "What do you do when you have uncertainty? You test…We have built huge, population-based policies on the flimsiest of scientific evidence.  The most unethical thing to do is carry on business as usual." (source)
Political Backdrop
Besides questionable integrity of the most published studies themselves, we have reason to be concerned by conflicts of interests within both the CDC and the FDA, U.S. government agencies responsible for developing policies on vaccine mandates and overseeing drug safety.  In August 1999, The House Committee on Government Reform launched an investigation based on reports of inappropriate financial relationships between drug companies and key officials and vaccine policy makers in both agencies.  The investigation discovered that "conflict of interest rules employed by the FDA and the CDC have been weak, enforcement has been lax, and committee members with substantial ties to pharmaceutical companies have been given waivers to participate in committee proceedings." (source)
Perhaps that explains why the CDC went to such great lengths during the Swine Flu "pandemic" of 2009 to prevent laboratory confirmed numbers of "pandemic" Swine Flu cases from going public, as exposed by CBS investigative reporter, Sharryl Attkisson, and why their inflated calculations of yearly flu deaths have included "not just influenza death cases but also…other respiratory, circulatory, cardiac, and pulmonary deaths they thought might have been associated with influenza". (source)
Since 84% of suspected influenza is actually flu-like illness (comprising about 200 non-flu viruses that share the same symptoms as flu), without laboratory testing there is no way to accurately diagnose the flu.  And even with our seasonal reminders of the "50 million deaths worldwide" caused by the 1918 Spanish Flu epidemic, it's now understood that bacterial pneumonia was responsible for the majority of deaths, not influenza itself, and if the antibiotics we have today were available then, most of those people would have been saved.
It appears that the CDC is in the business of selling flu vaccines, which are a difficult sell if the public isn't frightened enough.
And with financial benefit, it might be tempting to bend the facts.  Imagine the fortune to be made if you manufactured or were tied to a product that the public was required by law to purchase and from which you were shielded from liability if people were harmed by that product.  Sound like a fantasy?  Think again.
That's exactly the dream-come-true that the U.S. Supreme Court granted drug companies in 1986 and expanded last year.
Not only does the ruling remove the public's ability to hold pharmaceutical companies accountable for injuries or death caused by mandated vaccines, but it effectively removes all financial incentive for drug companies to make vaccine safety a top priority.  In the words of Ken Suggs, president of the Association of Trial Lawyers of America,
"Eliminating the rights of individuals to hold negligent drug companies accountable puts patients in even more danger than they already are from drug company executives that put profits before safety…the fact that the drug industry can get the FDA to rewrite the rules so that CEOs can escape accountability for putting dangerous and deadly drugs on the market is the scariest example yet of how much control these big corporations have over our political process." (source)
Merck's Vioxx scandal and the resulting tens of thousands of deaths among trusting health care consumers is a perfect example of the potential harm that can be caused by a corrupt, profit-oriented system. More recently GlaxoSmithKline plead guilty to counts of criminal charges in relation to marketing Paxil and Wellbutin for unapproved uses and for withholding safety data on Avandia. Though no one went to jail, they were charged 3 billion dollars in fines, the biggest medical fraud settlement in history.
You might be interested in knowing that GlaxoSmithKline also makes the flu vaccines, Fluarix and FluLaval.
And even without criminal negligence or fraud, there is still the possibility of unintended contamination or error, as evidenced by the recent meningitis outbreaks connected to contaminated injectable steroid medications. Of course, every drug that has ever been recalled was first approved as safe and effective, including flu vaccines.
One of the difficulties with each season's flu vaccines is that they can't be exhaustively tested before they reach market.  The reason is that the antigen strains for the vaccine must be chosen before each flu season in order to try to match the predicted circulating strains, which change and even mutate frequently. The vaccines must then be fast tracked with limited safety testing in order to reach the market on time. Because of the liability shield enjoyed by drug companies for their government mandated vaccines, if there was to be an error or harm caused by flu vaccines that had been administered on a mass scale, no one would be held responsible.
Without thorough prior testing, you are the experiment, and your government is perfectly o.k. with that. 
Even if you read the package insert before submitting to a flu shot, weighing the risks against the benefits as every conscientious healthcare consumer should, if the vaccine has not been exhaustively tested, no one really knows the risks.  So you can exercise your right to informed consent, but are you truly informed?
And just how does informed consent apply in the case of healthcare workers being forced to choose between getting a flu shot and wearing a mask for several months, or worse, getting fired?  The first principle of the Nuremberg Code, which provides much of the footing to the guiding ethical principle of informed consent, says that before submitting to a medical procedure or experiment, a patient "should be so situated as to be able to exercise free power of choice, without the intervention of any element of force, fraud, deceit, duress, over-reaching, or other ulterior form of constraint or coercion; and should have sufficient knowledge and comprehension…to make an understanding and enlightened decision." (source)
Could being faced with loss of employment or being forced to wear a mask for months on end if you refuse a flu vaccination be a form of, say, coercion or duress?
What about the use of bias or poorly designed, industry-funded studies to support these mandates?  Wouldn't that qualify as fraudulent, deceitful, and overreaching? Is the choice at that point made in real freedom and has the self-determination, autonomy, and individual responsibility that informed consent is supposed to protect been honored?  Some say that a person's individual responsibility is to prevent influenza from spreading to others–to protect the herd–but as we've seen, an honest, thorough evaluation of the data gives no indication that the flu shot is an effective means of achieving that goal.  And even if it was an effective flu preventative, the fact that there are potential risks or unintended consequences attached to every drug and every vaccine means that some people will be harmed. This is why informed consent exists.
Utilitarianism, the Marxist political ethic that was also used to justify and fuel the atrocities committed by Nazi physicians against concentration camp prisoners during World War II, says that the greater good of society always takes precedence over an individual's good.  In other words, the end justifies the means. The Nuremberg Code was written in 1947 after the Doctors' Trial at Nuremberg to prevent the world from ever repeating the same types of mistakes again. Standing on the other side of the 20th Century affords us with hindsight to understand the kind of evils that the pseudoethic of utilitarianism can lead to. We've seen what happened in Europe, Russia, and China. America, too, was guilty of some of these crimes against our own citizens during the early part of the century. We know better now.
But according to Edmund D. Pelligrino, MD, in an editorial he wrote for the Annals of Internal Medicine,
"Medical ethics is more fragile than we think…If medicine becomes, as Nazi medicine did, the handmaiden of economics, politics, or any force other than one that promotes the good of the patient, it loses its soul and becomes an instrument that justifies oppression and the violation of human rights." (source)
Today, when pharmaceutical lobbyists outnumber congressmen 2 to 1, spending far more each year than any other lobby, when drug companies are firmly established among the largest bi-partisan political campaign contributors in America, when citizens are denied the right to make free, informed decisions for their health without fear of punitive action, then the line between politics and public health policy has become blurry and we have ourselves a situation.
And just as there is a revolving door between the Biotech Industry and the USDA, the regulatory agency responsible for its oversight (for example, Michael Taylor, former vice president of Monsanto is now USDA Deputy Commissioner for Foods), there is also a similar dynamic between drug companies and the FDA.  A quick look at Daniel Troy's resume is revealing of the industry at large.  Troy had worked as an attorney in Washington D.C., representing drug and tobacco companies until he was appointed Chief Counsel to the FDA in 2001. While serving in that office he worked quietly to pass legislation that would protect drug companies from liability, essentially trumping prior FDA approval over state safety regulations and standards. Then in 2008 he became the Senior Vice President of GlaxoSmithKline, brilliantly saving them tens of millions in legal fees, a feat which has surely come in handy now that they have been charged with the biggest medical fraud settlement in history.
The Flu Vaccine Ingredients

Outside of the disillusioning issues of flu vaccine effectiveness and industry politics, what exactly is in these little vials at the center of all this controversy?  Other than the antigens, the ingredients in flu vaccines include: mercury (an extremely poisonous neurotoxin found in all multi-dose vials in the form of thimerosol), formaldehyde (a carcinogen used in embalming, found in over half of flu vaccines), egg protein (found in most flu vaccines–even if you are not currently allergic to eggs, undigested proteins in the blood stream have been shown to cause allergies), pig gelatin (found in FluMist and Fluzone–same concern as egg protein), MSG  (a neurotoxin found in the FluMist vaccine), TRITON X-100 (a surfactant used in various industrial applications and in spermicides), and Polysorbate 80 (an emulsifier associated with many serious side effects and health risks).  Informed consumers read labels on the food they eat even though our digestive systems are designed to screen and break down what makes it into our blood stream, but when a substance is injected there is no filter to sort through or change components before they hit our systems and travel freely throughout our bodies, making research into vaccine ingredients even more prudent.
And what about documented side effects and health risks?
The CDC's Vaccine Adverse Events Reporting System (VAERS) shows that reports of flu vaccine reactions and adverse events far outnumber that of all other vaccines for adults (source) except in the 18-29 year old category, where Gardasil gets that honor, leaving influenza vaccines in 2nd place. Other than the more commonly known side effects of soreness and swelling at the injection site, low grade fever, aches, and rare severe allergic reactions, some of the adverse outcomes include increased risk of pandemic H1N1 influenza, Guillian-Barre Syndrome, narcolepsy, cardiac events, vasculitis, and death.
It's become clear that despite what the government and the industry keep insisting, the flu shot is not only sorely ineffective, but also undeniably toxic and associated with real risks.
Obviously it can't be the "single best way" to prevent the flu, but what else is there?
Vitamin D is increasingly recognized as essential for healthy immune function. A study published in The Journal of the American Medical Association found an inverse association with serum vitamin D levels and upper respiratory tract infections.  The researchers suggested that "wintertime vitamin D insufficiency may explain seasonal variation in influenza."  And in 2010 the results of a Japanese randomized, double-blind, placebo-controlled study on the effectiveness of Vitamin D3 supplementation in children for flu prevention was published in the American Journal of Clinical Nutrition.  The researchers found that daily supplementation of 1200 IUs of vitamin D reduced incidence of the flu by 42%.  It looks like your grandparents knew what they were doing when they insisted on spoon feeding your parents cod liver oil during flu season back in the day.  (Find high quality cod liver oil here).
Elderberry extract has also been extensively studied and clinically proven to be an effective, broad-spectrum antiviral against at least 10 strains of influenza including H1N1 (flu shots only contain antigens to 3 strains), and to reduce the duration of influenza by 3-4 days, a reduction that completely blows away Tamiflu's own modest claim of 32 hours, and without the associated potential nausea, vomiting, or neuropsychiatric side effects.  Not only does elderberry help prevent infection with the flu and dramatically speed recovery, but it also prevents transmission by interfering with virus reproduction. Elderberry cold and flu syrup even can even be made at home.  (How to make your own elderberry syrup for a natural cold and flu remedy.)
Of course, there is no multi-billion dollar industry built around vitamin D3, cod liver oil, or elderberry extract since neither can be patented, so we don't hear a lot about those options–and healthcare workers aren't threatened with loss of employment if they refuse to take them.
Besides increasing vitamin D or taking elderberry and other natural immune boosters, there are several common sense measures that also reduce the likelihood and spread of the flu, such as frequent hand washing, avoiding sugar and refined, processed foods, eating a nutrient dense diet, getting adequate sleep and exercise, and staying home if you feel ill.
By employing natural measures we would all be far healthier overall than relying on less effective and more toxic drugs.
Clearly, natural flu prevention makes a lot more sense than flu vaccines, but what about the cost?  If 100 people must be vaccinated to prevent one case of the flu, it costs between $3,200 and $6,000 to prevent one case if relying on vaccines, whereas a bottle of cod liver oil can make a far bigger dent in influenza numbers. And instead of dishing out over $100.00 for a prescription of Tamiflu, for under $20.00 you could buy a bottle of elderberry syrup or a pound of dried elderberries for homemade syrup, enough to last your entire family through flu season.
The Emperor's New Clothes
Possibly the worst part of this situation is the lack of conversation. Indeed, with the momentum by which the flu vaccine is being marketed and now mandated, with the billions being spent and made, it is almost sacrilegious to question such a powerful and enormous force.  The indoctrination has been so successful that to dare challenge the rationale behind the mandates, or to tell coworkers of your own decision to pass on the vaccine is to risk scorn.  But without conversation there is no accountability or progress; no respect of human dignity and intelligence.  And the emperor will continue walking around naked, which might be o.k. except for the billions in wasted resources and the human rights violations attached to those invisible clothes.
In a better world, the world we are all responsible for creating and protecting, people who choose to make informed, responsible health decisions that set them apart from the crowd wouldn't be persecuted by losing their livelihoods or having to wear an outward stigma in an attempt to coerce them into compliance (surely, with all the door handles and elevator buttons that get touched by hundreds of patients and their families along with staff members each day, a mask won't do much to prevent spread of the flu even if the mask-wearers were actually contagious).  I could write further about the terrible economic timing of these mandates and the danger of enforcing ultimatums on healthcare workers in the present climate of staffing shortages and increasing productivity demands coupled with decreasing reimbursement, which has already strained many to the brink of leaving an already-struggling industry.
But instead I want to share another idea.
A good friend of mine has a saying attached to the bottom of all her emails: "The door to opportunity swings on the hinges of adversity."  I believe this current climate of adversity is an unprecedented opportunity for the much needed and overdue conversation to begin.  From now on the ones who have researched and have made the decision to refuse the vaccine will be approached by inquiring patients and co-workers alike.  Questions of, "Why are you wearing a mask?" or statements like, "I see you chose not to get a flu shot," will be open doors through which to offer what you know and the research that led to your decision.
For many healthcare workers who refuse the flu vaccine, there will be sacrifices. 
Some will lose their jobs, and, depending on where they live, may even be forced to move or change careers altogether.  Some will have to tolerate wearing a mask every day for months.  Others will have to betray their conscience in order to continue providing for their families.  But healthcare workers in all of these situations who have done their homework are positioned perfectly to begin dialoguing with others who have probably never heard the real story.
Thank you Jill, for all the time you put into this solid article! 
Note:  If you need legal help, here is the contact info for a lawyer who specializes in vaccine rights:  Alan Phillips <[email protected]>.  Get his book here:  The Authoritative Guide to Vaccine Legal Exemptions. 
A few additional links that may be helpful:
Sources: