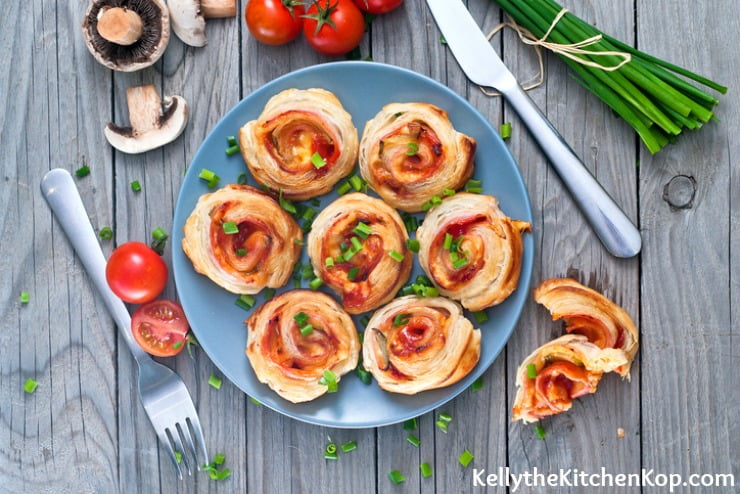 Crescent Roll Pizza Pinwheels + Tasty Variations
My friend Jeanne brought this appetizer to a neighborhood party recently and she used a yummy mushroom filling to make "Mushroom Parmesan Pinwheel Crescents" — yep, the recipe is below.  🙂  She said her kids love them best when she uses a pizza filling to make crescent roll pizza pinwheels, which are pictured above.  Aren't they cute?  Another variation is for bacon spinach pinwheels, and that recipe is below too.  Put them on sticks and call them "pizza pinwheel lollipops" and your kids will especially love them!
My favorite part is how these can be made ahead of time.  Right now I have two cookie sheets in the freezer all ready to take with us for family gatherings soon.  I partially bake them ahead of time and freeze, and then all I have to do is remember to get them out in time so they can thaw, then they're thrown into the oven to bake just before serving.  I tried these out on Kent and the kids yesterday and everyone loved them.
You start out with this homemade soaked crescent rolls recipe and pick from the topping ideas below for the various crescent rolls recipes, or "pinwheels" that you can make with it.  Here's how you assemble:
Crescent Roll Pizza Pinwheels + Tasty Variations…
Instructions:  
The Homemade Crescent Rolls recipe makes 4 – 12" x 4" rectangles.  (Mine were more like 6" x 16".)  The filling recipes below are enough for 2 rectangles, which will make about 36 pinwheels. (About 18/rectangle.)
After the first rise, roll crescent dough into a rectangle on a floured countertop.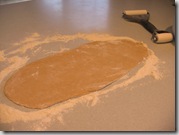 Spread with 1/2 of the filling mixture.  (See below for filling options.)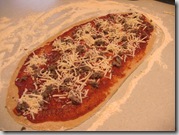 Repeat to use the other 1/2 of the filling on the 2nd rectangle.
Chill in the fridge at least 1 hour. (I omitted this step and they were still good, but Jeanne's were prettier and kept more of the "pinwheel" shape.)
Cut into 1/2" slices.  Here you can let rise a little right on the cookie sheet in a warm spot for about an hour, but you don't have to do this step, they're just a little lighter and crispier that way.
Place on buttered or parchment paper-covered baking sheets.
Bake at 350* for 15-17 minutes, until golden brown.
Best served warm and with more butter of course.  🙂
Make ahead notes: The beauty of this recipe is that it can be made a day ahead and the log can be kept in the fridge.  The next day just slice and bake.  OR to make ahead even further out from when you'll need them:  after slicing, lay out on a cookie sheet lined with parchment paper to freeze.  Once frozen, transfer to a storage container to keep in the freezer until you're ready to thaw, rise a little, and bake.  So simple!  Jeanne makes a lot of them at once to keep on-hand for kids' snacks.
Filling Options
Remember, listed below are enough toppings for TWO rectangles, making a total of about 36 pinwheels.  Just mix the ingredients together and assemble according to the above instructions.
Here are just three ideas, but the options are endless.  Try different variations and let us know in the comments what your favorites are!
Crescent Roll Pizza Pinwheels:

Mushroom Crescent Pinwheels:

2 Tablespoons ranch dressing (That's a link to my homemade recipe, the only organic versions I've tried from the store taste pretty bad.)
16 ounces organic mushrooms
1 organic onion
1/2 cup parmesan cheese
4 ounces cream cheese
1/4 cup chopped green onions (or 1/8 cup dried chives)

Spinach Florentine Crescent Pinwheels:
Enjoy!
More you might like: