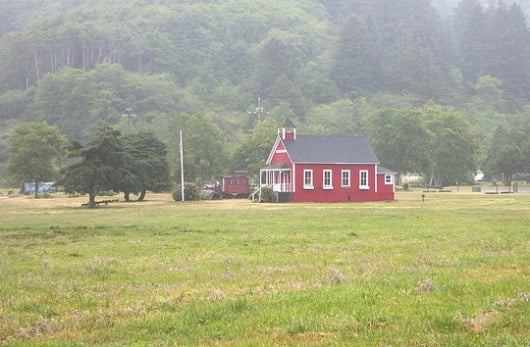 Below is the story of how out of nowhere I was called to begin homeschooling our kids.  This post led to many others as I slowly figured out what I was doing, so you can click here to find all of the homeschooling updates over time.
——————————————————————-
Today's topic isn't food or health related, but I do think it might interest a lot of you.  If not, I'll be back to my normal topics next time.  And hopefully you'll hang with me to the end of this post, where there's a twist in the story that I totally wasn't expecting…
Most of my family and friends already know what a weirdo I am about food, and now this.  They'll think I've officially become a hippy and that there's no hope for my return to sanity.  (Although there are already many ways that I'm not 'normal'.)  I can't even believe any of this myself.  Most people I know who hear about our plan have said, "I never pictured you doing that."  I tell them, "Neither did I!"  This was never on my radar, and never something that crossed my mind for more than half a second before I dismissed the thought, knowing without a doubt that it wasn't what I was called to do.
Until the phone call.
On Friday, April 27th, I was on the phone with an advertising client, Alicia.  Before we spoke, she'd mentioned in an email that she homeschooled.  As we talked on the phone that day and got to know each other, it became apparent that not only does she work from home like I do, but that she also works a lot of hours like I do.  So I asked, "How in the world do you work full time from home and homeschool too?!"  She explained that because she's not teaching 25-30 kids like traditional teachers, they can finish school in the mornings and she can work in the afternoons.  When her husband gets home, she'll often work in the evenings, too.  Somehow it just works out because there can be so much flexibility.  And then she told me the main reason she began:  because homework was taking over their lives, and their son was struggling in school.
All I could think was, "That's us!"
Math is difficult for our 4th grader and to make matters worse, the required curriculum wasn't a good fit for her, so homework all year was a long drawn out, torturous affair every evening.  Our 7th grader also had loads of homework each night, and very little free time just to be a kid.  This homework issue wasn't a matter of the teachers assigning too much, by the way, because other kids in their classes were getting it done in school or at home in a half hour or less.  We finally figured out that our kids just learn differently, and getting through homework was a bigger struggle for them.  At the time, all we knew was that we were worn down and sick of the crazy train every single school night.
Surely there was a better way.
So my wheels started to turn with that phone call and haven't stopped since.  A switch was flipped.  Hope took hold…
Could we actually have a family life again?  Could I teach our kids in a way that is best for them?  Could they actually have time to be kids and explore their interests, not JUST what the teachers assign for that evening?  Could we start each day without me rushing the kids out of bed, through breakfast and onto the bus, and later rushing them through homework and back into bed to start it all over again the next day?  Shouldn't we try this for the chance that things could be better, at least for one year?
Of course the doubts were there, too…
What if I screw up our kids and their future?  How in the world will I get them ready for college?  I already can't get my work done while the kids are in school, how could I fit homeschooling 3 kids into my day?  What about the age-old "they need socialization" issue?  We live in a wonderful, family oriented school district and I love our schools (for the elementary age anyway), but taxes are high–should we spend more money on expensive curriculum materials?  Where will the money even come from when we have braces and broken water heaters and college expenses to cover?!  I've never been "teacher" material!  Will the kids drive me nuts some days?  Every day?!
I was right on the line.  Half of me said no way, the other half said, "I'm sure there are others out there less equipped than I am, I just might be able to pull this off…"
Over the next week this consumed my thoughts every waking moment.  I called all of our friends who homeschool and picked their brains for hours.  Kent wasn't convinced (and was worried because I'm already spread too thin), and neither was I yet.
Parts of me were scared to death, but as time went on the thought of not doing it, and just continuing the path we had been on, began to scare me even more. 
I was in Mass the Wednesday after that first phone call, thinking of how illogical this whole idea was, because most people who work full time don't also try to homeschool their kids, it's just nuts!
Then I was overcome with emotion as I felt like God was saying to me, "I call people to the illogical all of the time.  Trust me."
I had prayed that He'd make this very clear, because the whole thing was way out of my comfort zone and something I'd never even come close to doing before.  He answered that prayer and then some–it's not often I feel like He spoke to me so clearly!  There was another major confirmation with our daughter.  I'm close friends with her teacher and we were out to dinner one night where she was lamenting about how she was sick of shoving this required curriculum onto these kids who it wasn't right for.  Then a bullying incident happened with our son at school and the way the administrators handled it had me fuming.  Another big clue that God was doing something in my heart was the way that it stirred such hope and excitement inside of me, even though I knew the amount of work that it would require.
By now I was about 95% sure that this was what I was being called to at least try, but knew that first I needed Kent's support.  He said that he was just worried that he'd come home every night to an "atomic stress kitten".  I couldn't blame him for feeling this way since I already worked too much with my sometimes stressful home business.  But I asked if he would support this crazy idea for just one year?  God bless him, he agreed.  Since then he's been on board more and more, and is also getting really excited about the many possibilities and how far we could take the kids with this.  Not to mention that we'll get our evenings back!
Done.  The decision was made.  Peace flooded in.  It's not logical, but God will smooth the path. I'm sure of it. 
It's a strange, amazing feeling, to be so convinced of what we're supposed to do.  Especially since it was NO where even close to our thoughts just two weeks prior.
There's nothing to lose anyway, the risks are low, but the possible benefits are HUGE.  And if we hate it, we could always go back if God calls us in another direction later.  Since our son is going into the 8th grade, everyone says this is a great year to give it a go before it all "counts" in high school.
Next I prayed, "OK, Lord, I have no idea what I'm doing, I need help with what to do next!" 
So as I keep putting my toe in further, He keeps showing me the way.  Since we do have so many friends who homeschool, they've been helping me figure out the curriculum issue.  Just so I don't bore everyone to death in this post, I'm going to go into the details of my many curriculum questions over on this page (and I especially can't wait to hear your answer to the very last question), so for those of you willing to share what has worked for you, I'd love to get your advice over there!
I am so thankful to all of you homeschoolers who have come before us, blazing the trail:
Getting your homeschooler into college is fairly easy these days from what I've heard.  And gone are the days of "socialization" even being an issue–there are homeschool band groups, homeschool sports groups, homeschool coops, and even homeschool classes with paid teachers to fill in the gaps where parents aren't confident.  Homeschooling is no longer the wacko, "out there" option that it once was.  There are even many inexpensive curriculum options if needed, too.
The reactions from our friends and family have been interesting. 
When I tell the whole story, people totally get it and say, "Why not, it's worth trying for a year.  You have to do what's best for your kids."  When I told our teacher friends and my sister who is a teacher, not one of them tried to talk us out of it like I expected.  Every single one was supportive because more than anyone, they know how broken the system is.  (The government has screwed public schools up as bad as they've messed up our food supply and Americans' health with their nutritional advice!)  The state is constantly cutting funds so class sizes grow, wonderful programs are being cut, and more and more testing is required so teachers have little time to teach beyond just what kids need for the tests.  Pennies are pinched to the point that at my sister's school, the teachers had to work at McDonald's one evening for a fundraiser so they had money to buy paper to last them the rest of the school year!
Not to mention the scary stuff going on in junior high and high schools, unrelated to funding. 
Sadly, there are more and more dysfunctional families out there due to health issues, the struggling economy, stressful jobs, the general breakdown of families and morals, etc., and the effect on kids is devastating.  Bullying is on the rise, sexual stuff going on at younger and younger ages, teenage suicide is out of control, drugs and alcohol abuse…  On the other hand, I firmly believe that the way we've coddled our kids in the U.S. also has a huge part to play in all of this.  Because our kids have had it too good (I'm not pointing fingers, the same is true for our own kids), often they just can't handle it when things get a little difficult.  (I'd love to know your thoughts on that theory…)
Navigating through these years can be tricky to say the least, much more so than when I was a kid, and it was no piece of cake then either.
Some kids have no trouble moving through all of these academic and social minefields and they do fine in a school setting, but ours were struggling, so I'm thankful for a way to get them out of that unpredictable mess.  I don't want to shield them from a little adversity which brings growing and learning experiences, but I most certainly do want to shield them from dangerous experiences until they're mature enough to deal with them appropriately or in a position to know how to avoid them in the first place.
Parts of me are a little sad about what we'll miss, mostly related to events with the younger kids and their elementary school, because let me tell you, I love this school. 
It's right in our neighborhood, the staff are really good people, and many of the teachers are my close friends.  Our oldest son, who is finishing his second year of college right now, started there in the first grade, so it feels like home.  Helping out regularly and popping into my kids' classes at any time for this or that is normal and welcome.  But it's all a trade-off.  We're giving up something really good for what will hopefully be even better, and if after a year it's not working out, we can always come back.
I can't wait to tell the kids, because I'm almost positive they'll be geeked. 
I so badly want to tell our son, "I'm breaking you out soon buddy!  You're going to have a life again!  We'll have time to study things together that we love, like jets and weather!"  I want to tell our daughter and younger son, "No more yelling you out of bed every day!  We'll have time for morning snuggles and stories!  We can go exploring in the woods!"  It brings tears to my eyes to think of it.  They probably won't love this part, but I'm also excited to have time to teach them life skills like cooking, cleaning and laundry, and then BONUS, that takes some pressure off of me.  🙂
Will it always be a cake-walk with the kids effortlessly moving through our school day?  Highly doubtful.  One friend said, "Ask Kent if you can be an 'atomic stress kitten' just one night a week, because you'll have those days!"  But that's life no matter what path you're on.
It's been a wild ride.
The complete change in my whole mindset can only be compared to my Christian conversion and my 'food conversion', because it's been a total 180.  It's the kind of thing that can only come from above.  Our family life had been too crazy lately and no one was thriving, so I'd been praying for answers.  I had no idea the answers would come in the form of homeschooling, but now I thank God for the way He worked in my heart and made it so clear.
I'm excited to see where all of this will take us.
STORY TWIST:
Remember the part above where I said how excited I was to tell the kids?  How sure I was that they'd be so happy with the whole idea?  I was convinced I'd get a Mother of the Year Award and that they'd be falling at my feet thanking me.  I fully expected them to be so thrilled that I'd get to use the whole thing as leverage throughout our homeschooling career.  I'd already heard how it would go in my mind…  "Uh oh, you'd better knock off the complaining and get your work done, you don't want to go back to regular school do you?!"
Well I wrote all of that a few weeks ago and we waited to tell them until school got out last Friday.  You can probably guess where this is going.  We did not get the reaction I had expected.  Our youngest is Mr. Happy and goes with the flow, so he thought it sounded like fun.  Our other two firmly announced, "I'm not doing it."  They were worried about not seeing their friends of course, but we just said, "No homework EVER again, though!!!"  They still didn't buy it.  Thankfully I held back the tears, and we also held back the, "Oh yes you are!" statements.  I just said, "Well, we're not fighting you through a whole year, that's for sure, so if you are really against it, I guess we'll have to figure out what to do now…"  Part of me knew they'd just need to get their brains around the whole idea, but inside I was absolutely crushed.  I had a good long cry and kicked myself for not seeing it coming.  As some friends said, "You've never let on to them that this was an option, so it's understandable that it totally took them by surprise.  Just give them a couple weeks and see what they say."  So that's what we did, and over the weekend we didn't bring it up unless they did.  (I also moped around ornery all weekend and sent a lot of cries upward in frustration, "Wow, maybe I totally stink at figuring out what you're saying to us, God!")
By the end of the weekend it looked like the kids might be coming around a bit, but right now everything is still up in the air.  I really thought God was asking me to trust Him to smooth out our path, and IF I was reading all of that right, I know He'll still do that.
So for now I'm still going to ask you my detailed and desperate curriculum questions, and I hope you'll click over there if you have any experience in this area at all.  Thank you!
More you might like: