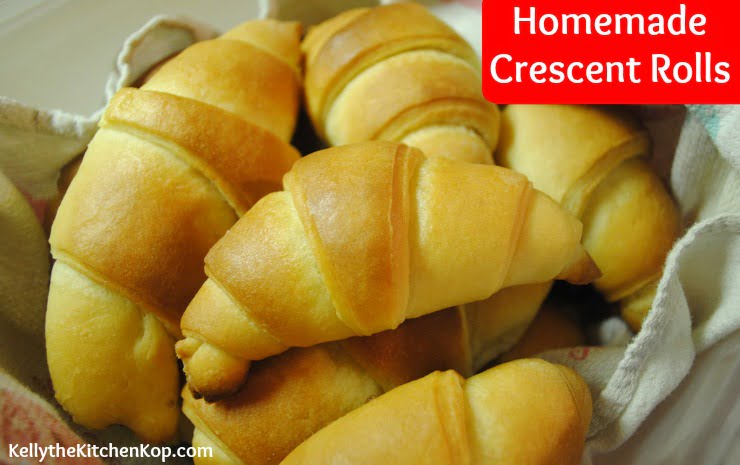 I tried making homemade soaked crescent rolls…
And it worked!  I borrowed my friend Jeanne's recipe and adapted it to include soaking the flour overnight (to break down the mineral-blocker, phytic acid), and it turned out great.  That's why just the whole wheat portion of the flour is soaked the night before, and the next day you add the rest of the unbleached white flour (with no phytic acid) with the rest of the ingredients.
If you want a lighter crescent roll, just use all organic unbleached white all-purpose flour (see recipe below) and you can make it all the day-of without starting the night before.  (I do that often if I forget.)
I then used this dough to make Jeanne's Crescent Roll Pizza Pinwheels — + Variations: Bacon Spinach Pinwheels & Mushroom Parmesan Pinwheels for dinner plus extras for our family get togethers later this week.  (There's more at that post about how EASY it is to make them ahead of time.  Also, you may be wondering about this:  why it's a good idea to "soak" your whole grain flour.)
By the way, have you seen the ingredient labels on Pillsbury canned bread?
It's got soybean oil and preservatives in it, yuck!  Besides, does bread from a can really sound nutritious?  Try this instead:
Note: I make this dough right in my Bosch, but you can use any mixer, it's just not as handy.  (Read why I love my Bosch here.)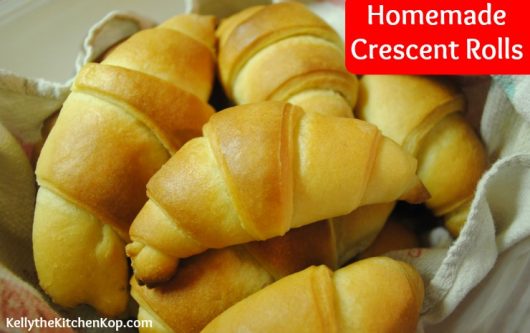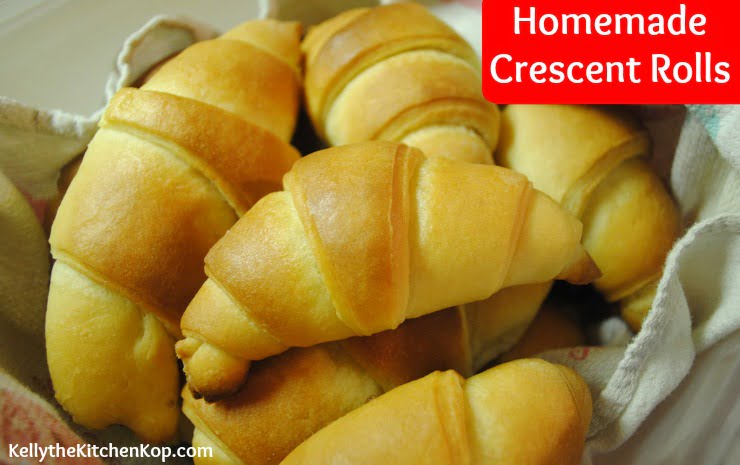 Print
Homemade Soaked Crescent Rolls Recipe
Yield 48 Crescent Rolls
Thanks, Jeanne! Make sure to pay attention to the instructions, as you may want to mix some ingredients the night before.
Ingredients
3 cups hard whole wheat flour (read about why I grind my own flour — here's the grain-mill I have), I like to use Einkorn wheat berries, or just get some einkorn wheat flour already ground here
1 cup yogurt + 2/3 cup warm, filtered water (Read:  why we ditched reverse osmosis water and what we got instead)
1/4 cup softened butter, pastured butter is best for the most nutrients
1 1/2 teaspoon active dry yeast, like this
1/4 cup warm filtered water
3 1/2 cups organic unbleached flour, or I use this traditional Einkorn all-purpose flour
1/4 cup palm or coconut sugar
3 eggs, pastured eggs are best for the most nutrition (plus another egg for the egg wash if desired)
1 Tablespoon sea salt
More butter, melted, for brushing on the dough, another 6 Tablespoons or so
1 teaspoon garlic powder, optional
Instructions
The night before, mix the first two ingredients just until combined, cover and let set overnight.
(*If NOT making this the night before, just add the flour with 1 1/2 cups of milk along with the following ingredients when you're ready to make it, and follow the instructions below.)
When you're ready to make these the next day…
In a separate bowl or glass measuring cup, dissolve yeast with the warm water and let set and start to bubble for a few minutes.  Add it to the Bosch with everything else except for the sea salt.  Mix well and then add the salt.  Knead for 5 minutes and check the dough.  If it feels sticky, add a little more flour.  If it feels dry, add a little more warm water.  Knead until smooth and elastic – you should be able to stretch the dough without it tearing.  If using the Bosch, it should only take 5 minutes or so.  Let rise until doubled, it was about an hour for me, but kitchen temps makes a big difference.
Punch down the dough and divide into 4 equal portions.  Use a rolling pin or a pastry roller (mine is sort of like this one) and roll 1 portion into a 12" circle, brush with melted butter, and cut into 12 wedges.  (A pizza cutter works well.)  Roll up, beginning at the outer edges.  Place rolls, points down, on buttered cookie sheets, and curve them slightly.  Repeat with the remaining dough.  Cover and let rise until double in size, about 30 minutes.  Heat oven to 400*.  Bake for 12-14 minutes or until lightly browned.  Remove from the oven and brush the tops with butter or garlic butter (butter with a teaspoon of garlic powder).  Mmmmm.
If you want to make these soaked crescent rolls ahead of time for company, bake about 10 minutes or until they're almost done but not golden brown yet and pull out to cool. Cover well.  Later before company comes, brush with beaten egg whites, and pop back into the oven until golden brown and hot.
Did you make a real food recipe?
I want to see it! Tag @KitchenKop on Instagram and hashtag it #KitchenKopRecipes OR share anything you know I'll love by tagging @KitchenKop and hashtag #KitchenKop -- see you over there!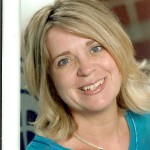 Thanks Jeanne!
More you might like:
Again, you can follow this recipe as is for these yummy dinner rolls, OR you can use the dough to make Jeanne's Crescent Roll Pizza Pinwheels, as mentioned above.  Also at that post you'll find three deliciously fun variations, too…