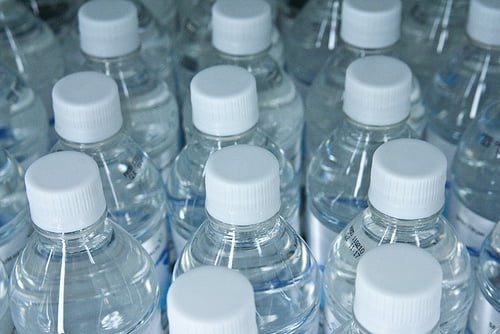 I thought I was going to do a nice little post on which BPA free water bottles are safe to use…
But now that I'm about 8 hours into researching this and I've read all about BPA (Bisphenol A) and other chemicals in plastics, my mind is spinning and I'm paranoid about any plastic in my life!
Instead of quoting each piece of information for you that I've read in the past couple of weeks, I'll let you know my own personal conclusions and give you the best links I've found in case you want to read more, and you can take it from there.
First, if you just want the quick version and the scoop on which BPA free water bottles we use, along with the other products I've found that are safe, here you go (find more details on these below):
A Confession:
First I should tell you that I'm not what you would call "green", to say the least. My motivation in writing this blog and deciding which foods to buy for my family are mostly based on health and nutrition, although I know there are huge environmental implications as well. However, after the research I've done for this post, and information from my friends, I have started thinking more about how wasteful I can be when using disposable plates, bowls, etc. I'll try to do better, honest!
What's the big fat deal about plastic?  Why should you look for BPA free water bottles?
If you're as naive as I was on the issue, don't feel bad. Who knew that drinking healthy water instead of soda pop might prove to be dangerous because of the stupid plastic container we're drinking it from?! The whole thing irritates me, that we have to question everything these days!  But we just do.
If we want to keep our families safe and healthy, we just have to question everything.
Some say we should be more concerned with the quality of the water we're drinking, as opposed to worrying so much about the plastic it's in, and I believe that's true to a point. (Read more about that here:  Why we ditched reverse osmosis water and what we got instead.)  And according to the FDA, all plastics are safe – that surely makes us all feel better, right?  Uh… no.  They don't always have the whole story, and that's the understatement of the century…
Here are the dangers of certain plastics:
When food or drink sits in a plastic container, and especially if it is heated in that container, chemicals from the plastic can "leach" into it. (Just that word doesn't sound appealing.) With some plastics this is more of an issue after frequent washings and re-use, but with others it's a concern even when it's new.
Plastics contain dangerous chemicals, and here are just two of them:  "phthalates" and "BPA" (Bisphenol A) 
Phthalates are chemicals used to increase the flexibility of plastics and in the past few years, researchers have linked phthalates to asthma, attention-deficit hyperactivity disorder, breast cancer, obesity and type II diabetes, low IQ, neurodevelopmental issues, behavioral issues, autism spectrum disorders, altered reproductive development and male fertility issues.  (Source)
BPA is another chemical used to make plastics and it mimics estrogen in our bodies and can leach from certain types of plastics.  These can mess with the hormones in our bodies which can lead to changes in the start of puberty, hyperactivity, low sex drive, increased fat formation, changes in reproductive cycles and structural damage to the brain – the very things we were trying to get away from by drinking hormone-free milk (or raw milk) and our higher quality healthy meats! Our bodies are super sensitive to sex hormones so even a little can disrupt things. These substances have also been linked to cancer. (Big surprise, something else is linked to cancer.) Read more in this article.
Don't be an alarmist, Kel…
OK, so it's easy when I'm knee-deep in all this information to be tempted to go like a madwoman through the house and toss every single piece of plastic I find, from toys to drinking bottles to storage containers and more. Instead I'll take a deep breath, make a few changes, and then hope the rest won't kill us or make my husband grow breasts or anything.
Here's my 5-part plan:
1.  From now on, I will use glass, stainless steel or ceramic for drinking or food storage. I'm even going to bite the bullet and buy the stainless steel kid's cups. Our kids often don't drink every last drop of their milk at dinner, and for years we've put a lid on their cup and kept it in the fridge so they can sip on it later. Now I'll be able to keep doing that with these stainless steel cups without having to wonder what chemicals they might be ingesting. For myself and for our 8 year old, I'm going to use the pint sized glass ball jars with a plastic lid and put a straw inside to keep drinks cold in the frig that way.  (Crap, straws are made of plastic!  See my newer post on my favorite non-toxic straws.)
2.  If I must use plastic drinking cups/bottles for the kids to take to soccer practice or whatever, I will use these BPA free water bottles.
3.  I don't use my microwave much anymore, but for those of you that still do, don't ever use plastic for heating or covering. As a matter of fact, you shouldn't heat plastic at all or put anything hot in plastic.  ***That's the most important way to avoid plastic toxins: keep hot food or drinks away from plastic!
4.  My freezer ziplocks are pretty darn convenient, so I'll continue to use those only for storing food that is not even remotely warm, and mostly for freezing. (They stack up nicely in the freezer.)
5.  If I had a bottle-fed baby right now, then I'd buy glass or stainless steel baby bottles for sure. And if anyone has some good alternative suggestions for what babies can safely bite on instead of plastic toys, let me know. Some have suggested wooden toys, but I'm guessing those have a polyurethane coating on them that can't be healthy, either. Maybe we could find some nice, safe, glass baby toys… (Kidding)
I hope that is helpful!
More you might like: