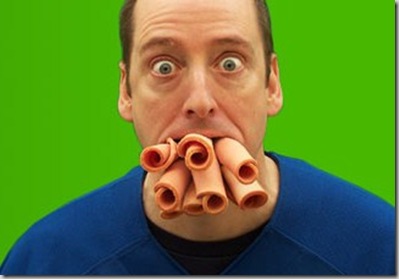 Fat Head Movie Review
Would you like to see THE most clear and entertaining real story on some of the biggest dietary misconceptions out there?

If you haven't yet seen the movie, Fat Head
, there's no question that you have to get a copy.  (I'm buying one so I can show everyone I know!)  If you HAVE seen it, please share your thoughts in the comments!  I couldn't wait to dig in because I knew that Sally Fallon and Mary Enig, as well as doctors Mike & Mary Eades, were all in this film, and I trust their nutritional advice.
In the movie, Fat Head, you'll learn:
How the "lipid hypothesis" began (the myth that saturated fats will kill us – read more on healthy fats.)
How obesity and diabetes develop in our bodies.
Why lowering carbohydrate intake, and increasing animal fats, is so good for us.
My only negative comment about the movie:
Just be aware that you may be a little confused in the beginning of the film.  Before the best parts begin, it almost feels like the movie maker, Tom Naughton, wants us to eat fast food.  He's mainly challenging the logic in the movie, "Supersize Me", to help people realize that it's not the meat at fast food restaurants (or the saturated fats they contain) that make you sick; and that it's everyone's choice as to whether they'll eat fast food or Supersized Coke & fries.
I wish he would've clarified some things.
Making the point that meat isn't bad for us is great, but how much better if he also got the message across on the vast differences in nutrition between a fast food burger and a grass fed burger from a farmer you trust.  He also doesn't tell us that fast food is usually made with the unhealthy vegetable oils that he so perfectly slams in the second part of the movie.
I emailed Tom Naughton to ask him about these concerns, and he was nice enough to reply and also let me post his answers here…
Before we go further, though, are you wondering how in the world we're supposed to know who to believe?
When there are such gaps between what your doctor might be saying ("saturated fats cause heart disease!") and what you see in this movie or hear about at this site ("saturated fats got a bad rap!"), you must wonder like I used to, "How do we know who to believe?"  While there still may be some areas that seem muddled (one example that comes to mind:  do we really need supplements?), in most cases, and in my mind anyway, figuring this out has become very simple because it all comes down to common sense.  Read more about the criteria I use to find the truth on health & nutrition topics.
My email to Tom Naughton:
"I LOVED your movie and I'm working on a review of it for my site. I'm wondering something… I truly believe that Fat Head has the most clear and understandable information debunking the saturated fat myth that I've ever seen. (It's also very entertaining and makes us laugh as we're learning!) However, I thought the beginning of the movie was a bit confusing. I'm curious why you told people they could eat fast food and not get fat, without also telling them about the crap vegetable oils that fast food joints usually use; and then in the next section, you so brilliantly showed everyone why all they've learned about saturated fats is wrong. And I get your point, that no one is forced to eat fast food, but I thought Spurlock had a lot of good in his movie.  For example, one of my favorite scenes was where he showed us how long fries can sit on the counter without going bad – gross! While you may not like how he did it, I see him as being "on our side", because he's encouraging people to steer clear of fast food."
His reply:
"Hey, Kelly —
The vegetable oils are garbage, indeed, but if you avoid French fries, which I did, you won't be consuming much of them. I ate some fried chicken strips, which is most likely why my HDL dropped during that month. If I were to repeat the experiment, I'd avoid those as well.
My beef (pardon the pun) with Spurlock was his premise that it's because of fast food that we're becoming obese. I see what people put in their carts at the grocery store, and it's the same garbage … starches, sugars, products full of HFCS and mutant vegetable oils. Therefore I thought picking on fast food specifically was taking aim at the wrong target, which doesn't help people understand obesity or avoid it.
He was also pushing the idea that saturated fat is bad and championing a vegetarian diet. As you know, I have issues with both. I can't tell you how many times I've picked up a vegetarian product to read the label and seen soybean oil as a primary ingredient. Yuck.
That being said, I thought his film was amusing. I just don't believe people learn anything useful from it.
Best,
Tom"
My last question for him:
"I'd love to know (and share with my readers) how YOU found the truth about saturated fats?  I call my story my "food conversion", and I'm wondering what led to yours?
This will make a great post!  Thanks so much.
Kelly"
His reply:
"Once I decided to live on a fast-food diet for the film, I started doing research into nutrition and health so I could explore those topics. I started coming across articles that dispute the whole idea that saturated fat is a health hazard, which led me eventually to people like Uffe Ravnskov, Malcolm Kendrick, Sally Fallon, Al Sears, Mike Eades, Gary Taubes, etc. The more I read, the more I concluded that while they're in the minority, the evidence is on their side.
You've seen the film, so you know I used myself as a lab rat by consuming a diet very high in saturated fat for a month after I'd finished the fast-food diet. (That was based on a bit of challenge from Mike Eades.) The "saturated fat pigout" diet, however, included no processed vegetable oils, sugar or starch, except a small amount of low-sugar fruit. You saw the results: cholesterol dropped, HDL went up, LDL went down."
Buy the movie, Fat Head
, and show your friends! 
Or Visit Tom Naughton's blog.
Here are a few clips – I love these!
Toward the end of this next one with Sally Fallon (from the Weston A. Price Foundation), she talks about the dangers of trans fats and also why Canola oil was developed and what's so rotten about it:
More you might like: