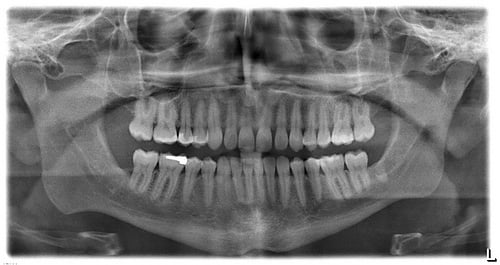 Do you or your kids get x-rays at the dentist or orthodontist?
We have a couple of great local guys we go to for dental and orthodontic work.  For years now, we've asked the dentist not to do Fluoride treatments OR x-rays, and we only go once a year instead of shlepping all six of us in every six months.  They've been nothing but cool about it.  No problem.  At the orthodontist we've 'passed' on the x-rays there a few times, but we've also had to let the kids get them now and then, because I don't know how else he can get a good look at what's happening up above the baby teeth.  Of course they say that dental x-ray machines are "safer than ever".  (But they say those cancer machines in airports are safe, too.  Did you also see this post:  It's Scary What Your Dentist Doesn't Know.)
This CNN article that Kent found last week freaked me out:  Brain tumors linked to dental x-rays.
Read an excerpt:
"A study published this week in the journal Cancer shows that people who have had dental X-rays are more likely to develop a type of brain tumor called meningioma than those who have not.

This does not prove that dental X-rays cause tumors. But it supports previous research about the connection. Dental X-rays have also been implicated in thyroid cancer. But there's still significant doubt about the existence of any direct relationship between meningioma and dental X-rays, and dental professionals were quick to call for more research, saying the study was less than perfect.

"It's a cautionary tale … we do know that radiation can cause tumors, and we have to be judicious with its use," said Dr. Donald O'Rourke, an associate professor of neurosurgery at the University of Pennsylvania who was not involved in the study."
The really disconcerting part is that an x-ray on a child is much more potent than one on an adult. 
We're hoping that our youngest, who has benefited from our Real Food diet since before he was conceived, will not need orthodontic work like the other three have, but who knows if our diet is different enough or if we've been consistent enough with our fermented cod liver oil, which I know really can make a huge difference.
So let me know your thoughts. 
Is the rare x-ray at the orthodontist unavoidable?  What do you do?  Do you even go to the dentist or orthodontist?