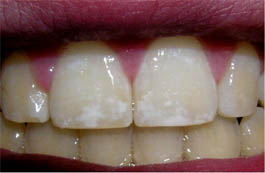 Today please welcome an anonymous guest poster…
When our son was a baby I read all the popular parenting books and magazines and I blindly followed whatever advice his doctor said would benefit his health.  When I read that babies need extra fluoride so they'd have nice strong teeth, I made myself a note to ask his doctor about it at his next well-baby check.  (Where I also dutifully had him get all the shots they recommended.)  Sure enough, I was told to get some infant fluoride drops that I could put right into his bottle, which I did every day as directed, adding this to his formula that was mixed with fluoridated water, too, of course.
I shutter to think about this now.
Fast forward a few years to when I learned more about the power of real food, and I learned to question everything.  I started wondering about those white spots on his teeth.  Then I read articles like this one from a dentist:
There is also a known condition called fluorosis (a discoloration on the teeth caused by too much fluoride), which occurs when a child gets too much fluoride when teeth are developing. Well, if there is fluoride in the water, wouldn't you come to the conclusion that this could contribute to "too much fluoride?" I would. Even more disturbing, there was a study done in China on children with fluorosis, and the findings were that children with the affliction had, in overall terms, lower IQ scores. These findings were echoed in an American study that came to the same findings using animals: The study concluded that fluoride would accumulate in specific areas of the brain, which then affected the ability to learn. This does not constitute irrefutable proof, but it does make one think." (Read the rest of Mouth Health: Fluoridated Water, Good or Bad?)
Thankfully the white spots on his teeth are not too noticeable, but you can see them for sure. 
And it's not just that, he also used to really struggle in school, so it does make you think.  As his Mom it makes me cry.  (Although it also could have been the junk I fed him too often:  fast food, sugarbomb cereals, etc.)
On one hand I want to scream, knowing that me, his Mom caused this because I blindly followed whatever "they" said we should put in his bottle.  On the other hand I want to go find that doctor and throttle him for blindly believing whatever he must have read somewhere along the line.
Now that I know better, he hasn't drank fluoridated water or used fluoride toothpaste in years (check out this easy and inexpensive DIY toothpaste), and school got a little easier as he got older.  He eats a lot of healthy animal fats, pastured meats, mostly soaked or fermented bread, and he takes cod liver oil, although irregularly.  He does still have one or two soda pops a month at friends' or a restaurant, and other junk now and then that he tries to get his hands on, but overall a better diet than most teens.
I'm hopeful that he'll continue to eat fairly well even through college, and that beyond the gazillion health benefits of doing so, that it might eventually take care of the white spots on his teeth, too.
But I don't know if I'll ever get over the mom-guilt.  🙁
More you might like: