If you've ever wondered about fluoride safety, or if you've considered getting a drinking water filter, you'll want to bump that up higher on the priority list after you watch the video below.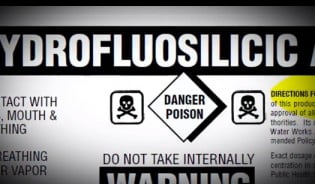 We got our whole house filter a few years ago and I love knowing that we have no fluoride, chlorine or any other toxins in the water we bathe with or drink.  We also got this drinking water filter, which gets out any pharmaceuticals, crop chemicals, or other nasties we don't want to ingest.  (Read this post for more:  Why we ditched reverse osmosis water and what drinking water filter we got instead.)
Here are some scary Fluoride facts:
"You and I and our children in the U.S. are the largest consumers of hydrofluosilicic acid… Hydro: water, Fluo: Fluoride, Silicic: Sand.  And it's missing an electron, it's acidic, it'll kill you.
It eats through concrete, glass, stainless steel, fiberglass, plastic, you name it, it'll eat it.  So, why are we putting that in the water?
With mercury at least it's voluntary, but with Fluoride it's being given to us whether we like it or not. 
The countries that have banned the use of Fluoride are:  China, Austria, Belgium, Finland, Germany, Denmark, Sweden, Norway, the Netherlands, Hungary and Japan.  All these countries have said that Fluoride is ineffective and that it's toxic and should not be used!  We're still using it.  There's something wrong here.
The use of the public water supply to deliver medicine is pretty bizarre if you think about it. 
Once you put a medicine in the drinking water, you can't control the dose, because you can't control how much people drink.  You can't control who gets it because it goes to everybody.  If you ask a pharmacist if there's any drug in his store that was safe enough to give to everyone, young people, old people, sick people, and give it to them in any dose, they'd laugh at you, it's ridiculous, there's no way you can give out a medicine without being able to control the dose!
There's more…
A report from the world's oldest and most prestigious medical journal, The Lancet, has officially classified fluoride as a neurotoxin — in the same category as arsenic, lead and mercury.  (See that here.)  There are other contaminants besides lead and fluoride in city water supplies too though.  Here's how to get all that out of your water without breaking the bank (and more about the Flint water scare if you missed it). "Most importantly, Flint serves as a wake up call for all of us to take the health and safety of our families into our own hands. History has shown time and again what a bad idea it is to outsource that responsibility to our city, state, or federal governments……more than 30 Million Americans are drinking water with lead levels in excess of the Maximum Contaminant Level set by the EPA." That's 300 times the population of Flint."  (Source)
Watch the video and let me know what you think…
More you might like: