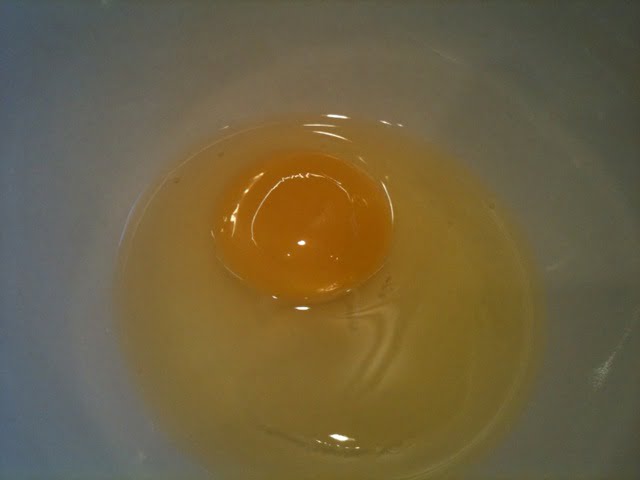 Are raw eggs safe to eat?
Be sure to check out this post for more about why eggs are SO good for us.  Also, before reading about whether or not it's safe to eat raw eggs, first you probably wonder why you might consider doing so in the first place?  The answer is the same reason raw milk is so good for us and why we shouldn't cook the heck out of all our other foods, either:  for more enzymes — for optimal digestion and assimilation of nutrients — and more nutrition in general.  And by the way, I'm not talking about eating them plain, although some might want to (not me!), I'm talking about eating them in something, like smoothies, real food protein shakes, homemade mayo, homemade ice cream or egg nog, and maybe in cookie dough now and then, Mmmm…)  Not that you have to always eat them raw, because they're great for us cooked too, and good in sauces, etc., but you don't have to fear a raw egg yolk.
Wondering about the cholesterol in eggs?
Read more here about healthy fats and the big cholesterol MYTH.
Disclaimer:
Keep in mind that I wouldn't give my family raw eggs unless I knew they were from healthy pastured chickens.  As with any raw food, there is always a very small risk (more on that below), but the 100% chance of getting more life-giving and healing nutrients is worth it to us.  I'll say this again, too:  don't blindly follow what you read here or anywhere else.  Look into this yourself and see what you find.  🙂
If you need raw eggs for mayo or something and you can't find a good source for healthy eggs, see this post from Hallee about how to pasteurize an egg.
So are raw eggs safe to eat?



Today I'm sharing an excerpt with you from another article on the safety of eating raw eggs:
Salmonella Dangers?
According to most media reports, eating your eggs anything short of completely dried out and charred is tantamount to committing suicide. The little bug known as Salmonella might just take your life if you don't thoroughly cook every bite of egg you take. This over-hyping from the media has ruined everything from Caesar dressing to the Whiskey Sour.

The reality is that there is a 1-in-20,000 to 1-in-30,000 chance that any given conventional egg will be contaminated with Salmonella. You have a 1-in-1,000 chance of dying of accidental drowning and a 1-in-6500 chance of dying from a slip and fall. And since few cases of Salmonella actually involve death, I think this is a pretty unimportant concern. Unfortunately, we don't have statistics on pastured or organic eggs, but I'm betting it's lower since healthy chickens and healthy conditions are less likely to harbor the Salmonella bacteria.
What About Raw Egg Whites?
Raw egg whites contain an enzyme called avidin that acts as an anti-nutrient to bind biotin in the yolk. Also known as vitamin B7, biotin is instrumental in cell growth and the metabolism of fatty acids and amino acids, as well as blood sugar maintenance. Just like with most vitamins, it's a bad idea to reduce their availability to the body.

If you're going to eat your eggs raw, I'd advise eating the yolk without the white. The yolk contains all of the nutrition anyway, while the white contains the avidin. In fact, Chris Masterjohn questions whether it's advisable to consume any egg whites at all. As he points out, some avidin remains even after cooking.  (Source)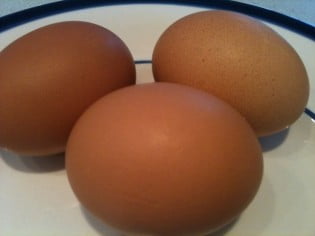 Chris Masterjohn is much smarter than I am, but personally I'll keep eating gently cooked eggs with both the white and the yolk.  This is based only on common sense:  that's how they come in nature.  (Also read this excerpt from Nina Planck about egg whites and skim milk.)  I have always heard, however, that you shouldn't eat raw egg whites, and now I know why!  So when making smoothies, real food protein shakes, homemade mayo, ice cream or egg nog, I'll continue to use just the raw egg yolks.
I'd love to hear your thoughts on this topic!
Does the thought of eating raw eggs gross you out?  Is it because your Mom always said not to?
More you might like: