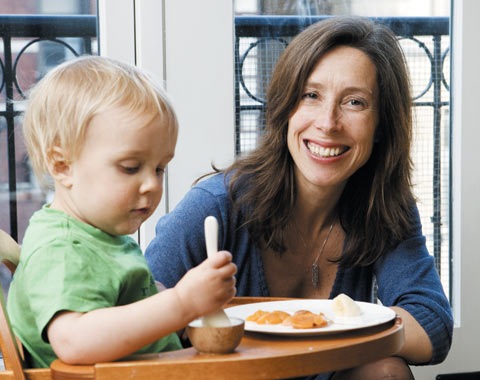 I apologize for beating the issue of healthy fats to death lately, but most people I talk to are still not convinced! Sadly, the fat-free mentality has been thoroughly beat into us. But it's no big surprise to find out that God knew what He was doing all along. You'll see what I mean when you read this interesting excerpt from my favorite book these days, which I'm STILL reading…
From Real Food, What to Eat and Why by Nina Planck:
"What is true of meat is true of all fat-and-protein pairs: they go together. Consider, for example, two near-perfect foods: eggs and milk. Both foods are a complete nutritional package, designed for a growing organism's exclusive nutrition, and must contain everything the body needs to assimilate the nutrients they contain. Thus the fats in the egg yolk aid digestion of the protein in the white, and lecithin in the yolk aids metabolism of its cholesterol. The butterfat in milk facilitates protein digestion, and saturated fat in particular is required to absorb the calcium. Calcium, in turn, requires vitamins A and D to be properly assimilated, and they are found only in the butterfat. Finally, vitamin A is required for production of bile salts that enable the body to digest protein. Without the butterfat, then, you don't get the best of the protein, fat-soluble vitamins, or calcium from milk. That's why I don't eat, and cannot recommend, egg white omelets and skim milk. They are low-quality, incomplete foods."
Say it with me: "EGG WHITES AND SKIM MILK ARE LOW-QUALITY, INCOMPLETE FOODS!"
When we separate components in our foods that God put together for a reason, our bodies will suffer the consequences.