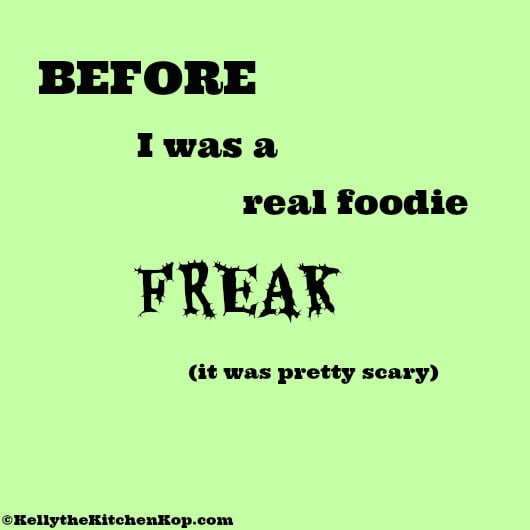 Last Saturday morning I woke up early to get some work done, but then I got a little side-tracked.  I was sick of looking at a pile recipes on our countertop that I had to get through — since our sink was leaking I couldn't just shove them under there like I normally would.  My recipe box was out of room because I kept collecting new and old recipes that I wanted to try again, get pictures, and post here on the blog.  So I thought I'd just knock the job out.  Well it took HOURS because I ended up sorting through them all and threw out a TON of recipes from before I turned into a real foodie.
I tossed all of them that called for corn syrup (although some recipes could be adapted to just maple syrup), pre-made dinner rolls (homemade is so easy), packets of seasoning mixes (throwing together my own recipes or even my own ranch dressing is so simple and tastes much better), and many more.
So I thought I'd show you a few of the more memorable recipes that I came across, back from my PRE-real foodie days.  I figured you might have a good laugh over these — get a load of the ingredients, zowie!
#1:  Velveeta – the fake food of the century (well, after oleo I guess), and Kraft dressing loaded with soybean oil and chemicals.  Just those two disgusting ingredients in one recipe, yuck.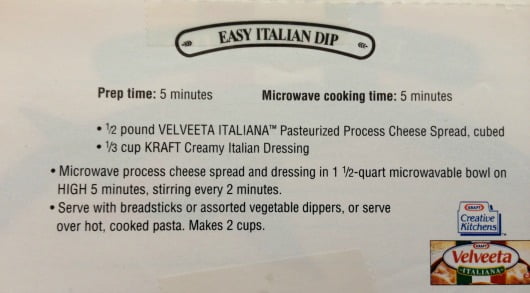 #2:  Diet Mountain Dew, can you believe it?  Sugar-free fake jello?  Wow.  I don't think I ever made this one, but just that it was in my BOX is scary!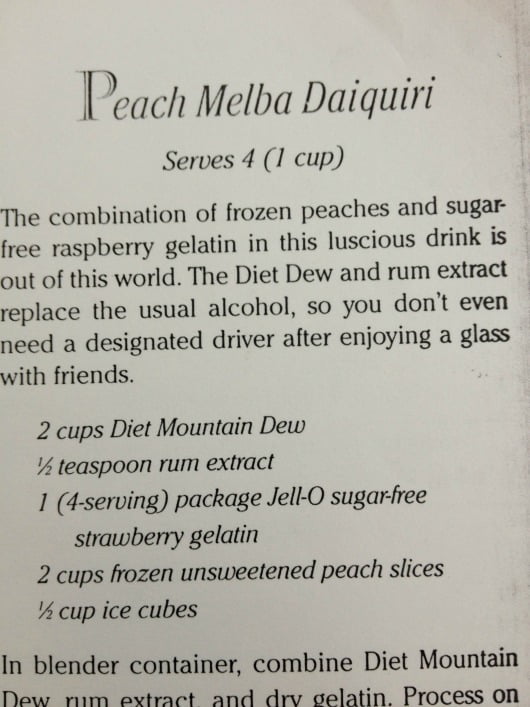 #3:  You can tell by my notes (in super sloppy handwriting) and how dirty this next recipe is that I made it a lot.  Fat-free, sugar-free pudding and fat-free Cool Whip – yikes, what a big chemical cocktail!  Marshmallows, too, oh my.  I actually used to love this recipe – I'd take it places as a dish to pass.  Of course I called it a "fruit" dish, not a dessert.  (If I could ever figure out how to keep real whipped cream stabilized in dessert recipes like this, it'd be a not-too-tricky one to adapt.  There's actually an idea at the real whipped cream post for how to do it, I just haven't tried yet.)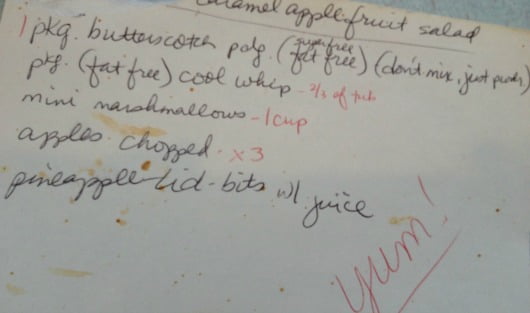 I also used to love things like Hamburger Helper, sadly enough (but here are my alternative real foodie versions), and I made those boxed potatoes all of the time, too.  (My homemade cheesy potatoes or escalloped potatoes are so much better.)  Pancakes and waffles were always made from a mix.  Get this:  I only bought margarine.  Velveeta and Sugarbomb breakfast cereals were the norm.  I can't believe I'm telling you all of this!
I didn't know what "organic" or "sustainably raised" or "chemical-free" even meant, and truly, I didn't much care.  I only wanted meals to be fast and to taste good.  Not that I wasn't concerned about our health; we exercised and I dutifully bought low-fat versions of whatever I could find, but I just didn't see yet that there was that big of a connection between food and the way our brains worked, how we felt, or our long-term health.  It certainly wasn't something that I was taught in nursing school.
Thank God I was brought to the truth.  Read about my "foodie conversion story" here.  We still don't eat perfectly, but I've come a long way, don't you think?
Have you found any of your old scary recipes lying around that you could tell us about?  Or maybe you just remember some of the not-too-sparkly ingredients that you used to cook with a lot in your kitchen?
More posts kind of on this topic that you might like: