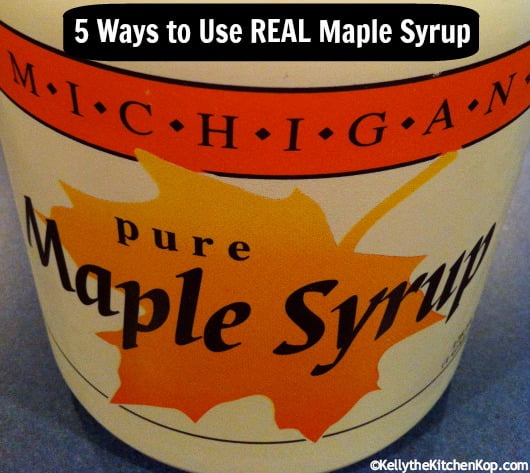 First, here's where to find maple syrup online if you're unable to find it locally…
Do you use real maple syrup or do you use the kind with high fructose corn syrup, artificial flavors and preservatives?  You may not have realized that typical grocery store syrup is full of all that junk. However, real maple syrup is a natural sweetener that actually still has some nutrients in it. As is the case with any sweetener, you shouldn't overdo it, but if you're going to have something sweet, using maple syrup is a great natural choice.
Different grades of maple syrup?
As far as I know, there are two grades of maple syrup: grade A & grade B. Grade B is much stronger (and usually a bit more expensive), and personally, I prefer it to grade A. However, grade A is good to start with if your kids aren't used to maple syrup, because it's very mild and closer in taste to the icky store-bought versions.
By the way, I had to play games when switching our syrup over to healthier versions, the same way I did with peanut butter: keep your store-bought container and put your syrup in that for a few months…this technique works very well!
All maple syrup keeps the best in the refrigerator.
Ways to use REAL Maple Syrup:
Here are a few of my favorite ways to use real maple syrup, besides the obvious, which reminds me, here's my recipe for healthy waffles/pancakes. I use maple syrup in certain recipes to replace the sugar:
It's great in the bottom of a pan with butter and cinnamon when making

homemade cinnamon rolls

.

I love it in the fall stirred in with butternut squash along with lots of

butter

,

sea salt

& pepper.

It's divine in the homemade applesauce recipe in the

Nourishing Traditions cookbook

! (Tastes like the best apple pie you've ever had! I feel so rich when we still have some jars of this in the freezer.)

I've also put it on top of yogurt or I used it in my baked soaked oatmeal recipe or in this superfood stovetop oatmeal.


Oooh, when looking for a picture to use on this post, I saw a picture of "maple banana bread" – doesn't that sound yummy?! It would be easy to just replace the sugar in a banana bread recipe with Maple Syrup!

UPDATE:  here's one more – it's a great sweetener for homemade ice cream!

I also love using it in my smoothies.
If you can't find it locally, you can get maple syrup here.
What are your favorite ways to use maple syrup instead of sugar in recipes?  Comment below and share it with us!
More details here on maple syrup. And one more info page from Wikipedia.