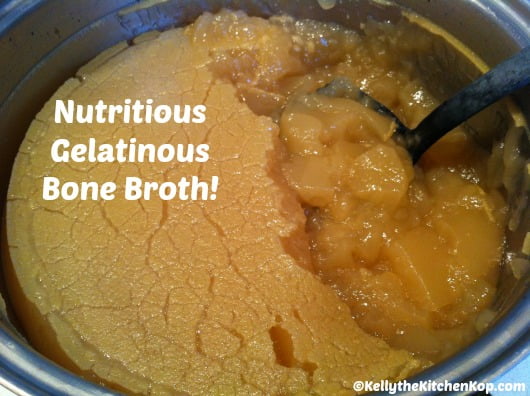 If you missed PART 1 – there you'll find information on all the HEALTH BENEFITS of homemade stock/bone broth.
(I now know how quick and simple pressure cooker broth is so I can make some mineral-rich broth more quickly in a pinch.  If you just don't think you will make it or want some on hand for when you're really crunched for time, try this bone broth — it's 100% grass-fed with a bunch of gelatin, organic ingredients, and it's shelf stable!  I love keeping their beef and chicken broth on-hand for quick recipes because they make it just like I do here, and without the nasty msg-like ingredients, additives, or preservatives that store-bought has.)
Also, if you just want to add more beneficial gelatin to your stock (or if you want to use it to make homemade jello!), you can also get this gelatin from pastured animals.  I also use it when my 2nd or 3rd run or so of stock isn't as gelatinous as the first.  Or to add extra nutrients to any soup, sauce or stew.
Today, in PART 2, I'll tell you HOW to make a good, healthy broth.  There are all sorts of details below, but first the short version:
Throw your bones into a pot with a splash of ACV.  (Vinegar, it draws the minerals from the bones.)
Throw in veggie scraps if you have them.
Boil for two hours up to a couple of days, depending on the type of stock you're making (see below for more on that).
Let cool, strain, chill in the fridge and store it in baggies in the freezer or containers with lids.  That's it, simple!
(See more here in this post:  Nourishing Bone Broth for Rookies!)
Before I go into the details of homemade bone broth, first I'll tell you a little more about one of our favorite restaurant: Reds on the River.  (Hang with me, you'll see where the connection is…and by the way, if you're bored, don't miss the bottom of this post where I share all sorts of somewhat-related nonsense.)
Reds is a bit pricey, so we don't go often, but as is usually the case, you get what you pay for.  I absolutely LOVE how they make everything from scratch (no nasty "soup base" in their dishes), and a good share of their produce comes from a local organic farm! Last fall I went to a class at "Red's Cooking School" on making stock, and Chef Glenn gave me his OK to share what I learned with you.
Chef Glenn from Reds on the River in Rockford, Michigan
He's a chef after all, so understandably, his primary concern is taste.  But what I found interesting is that the methods he uses for the best flavor in his recipes, are often the same methods traditional cooks used for best nutrition.  (Whether they knew it or not – usually food was prepared in certain ways just because that was how they were taught.)
Delicious AND Nutritious
So first I'll tell you what I learned from Chef Glenn about making delicious stocks, then I'll tell you more about how to make your stocks extra nutritious too.
WHAT I LEARNED FROM CHEF GLENN ABOUT MAKING DELICIOUS STOCKS: 
For beef bones (all bones?), first put them on a cookie sheet in the oven on 400* until they brown up some (don't let them burn) – and then throw them into the pot to make your stock – this adds extra wonderful flavors.  (I often skip this step, but it does give the broth better flavor.)  See the note below about which bones to use.
A "white" broth is made without roasting the bones first, and a "brown" or "dirty" broth is made by roasting the bones.
Veal bones make the best broth.  (I personally didn't notice a difference with my veal bones vs. regular beef bones, but he makes the reduction sauce for my favorite dish there, London Broil, with half red wine and half veal stock.  It is positively dreamy.)
The celery, onions and carrots you add to your stock are called a Mirepoix.  Best proportions are 2 parts onion, 1 part celery, 1 part carrots.  These should be a part of ALL stocks.  (I don't measure at all, as a matter of fact, I just throw veggie scraps in – leftover from cutting up carrots or celery or onion for soups.)
Use about 1/3 of a pot of bones, 1/3 of a pot of the above veggies, and then fill up the pot with cold water.  (Or just throw in whatever bones you have along with some veggie scraps if you have them.)
Cold water helps extract the flavors as it heats up slow.
Vegetable stocks take 1-2 hours, fish stocks 45 minutes (any longer and it gets cloudy), and veal & chicken stock cooks overnight. (Note: Sally Fallon says, "2 hours simmering is enough to extract flavors and gelatin from fish broth. Larger animals take longer – all day for broth made from chicken, turkey or duck and overnight for beef broth.")
Making a flavorful soup (or any recipe) is all about layering the flavors.  A way to do this is by first roasting in the oven, or sauteing on the stove in butter, any of the vegetables you will be using in your soup.
Butter carries flavors across your tongue.  (No wonder I love it so much!  See the link below about how butter is not the bad guy many have been led to believe it is.)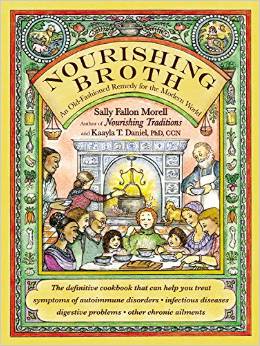 NOW, HOW TO MAKE YOUR STOCK AS NUTRITIOUS AS IT IS DELICIOUS (Check out the book at the right by Sally Fallon and Kaayla Daniel):
WHAT TO DO WITH YOUR STOCK:
So you've got your quality bones, your Mirepoix, your splash of vinegar and water in your pot.  When you're done boiling (see times above), strain it well.  Chef Glenn uses a very fine strainer for a clear broth, but if you don't have a fine strainer, your broth just won't be as clear – not a big deal in my kitchen, but for some it's important.  After it cools, freeze in baggies or in ice cube trays – never put hot foods near plastic!  (After the cubes freeze, toss them into baggies for smaller amounts to use when sauteing veggies, or in anything you want a little extra flavor and nutrition – I can't remember who gave me that tip, but thank you!)  Now use your stock for soups, stews, when cooking rice, with noodles, or anytime you're making a white sauce.  (Sometimes if I don't have enough stock for my recipe, I'll also add some organic stock to it from the store.)
WHAT DID I MISS? Do you have more tips to share about making stock, or other ways you like to use it?  Comment below!
More about how to make stock and details on making chicken noodle soup
I recently updated my French Onion Soup post with info from Chef Glenn – he gave some good tips on making it as tasty as they do at Reds.  (I love how he's so open about how they do things there!)
A useful Kitchen Tip from Jeanne for making vegetable stock
Because I like to ramble… here's more you might like…
Reds is in this neat building in downtown Rockford, the Promenade, designed by my friend, Robert, and it's right on the river in a beautiful setting.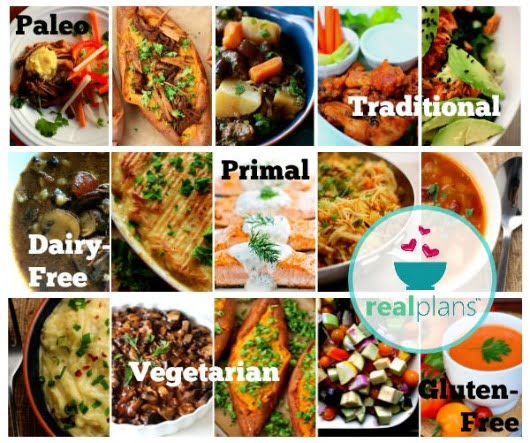 Meal Planning Help!
Sick of planning meals and answering the question, "What am I going to feed these people?"  No matter what kind of eater you are…   Check out these affordable interactive easy-to-use meal plans where the work is done for you!   Also read over my review to see what I thought of it.