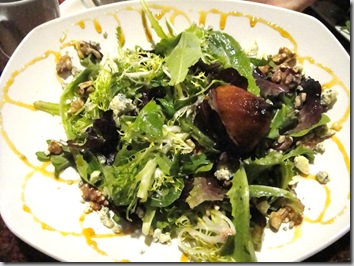 A lot of my friends have been a great help with my blogging escapades.  Either with recipes they've shared or with all sorts of helpful advice, and I'm thankful to each of them.  But Jeanne & Sonia have been over the top.  They've both done research in their own kitchens to help me figure things out; they've sent tons of recipes my way; they've given me new post ideas and helped me find ways to make my site better; Sonia has even taken pictures of her creations and emailed them to me with her recipe!
THANK YOU GIRLFRIENDS!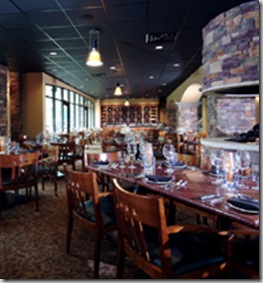 So last week I took them out to our favorite restaurant for dinner as a way to say thank you for all this and more.  Even at dinner, they were brainstorming with me for ways I could make my blog better, and I don't think they were just being polite, either!
At that link above, you can also see pictures of our cute little town, which is just down the hill from where we live.  We're so blessed to live in such an amazing community of people who really look out for each other.  Especially right here in our neighborhood, where Jeanne & Sonia also live.  (And lots more of our friends that you've heard me mention here on the blog before.)
The best thing about Reds is the S L O W food.
Slow in two ways actually.  'Slow' as in everything is made from scratch and Chef Glenn knows how to make Real Food. And also 'slow' as in how it's served.  We were there for three and a half hours.  It was a fun and relaxing dinner.
HERE ARE PICTURES OF SOME OF OUR AMAZING FOOD: (The pics aren't great due to the low-lighting…)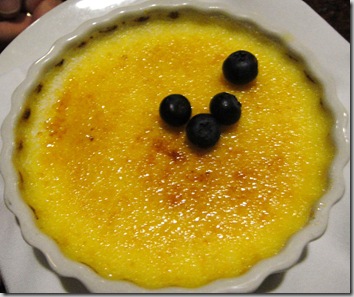 Crème Brule deserves to go first since it's my favorite!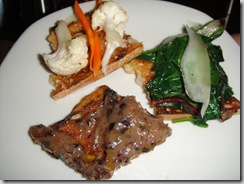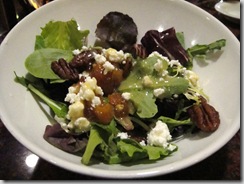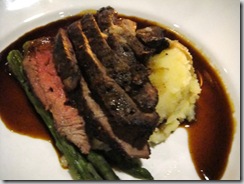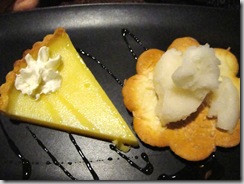 Top left is a unique bruschetta appetizer that we all loved; top right is another delicious salad; bottom left is my "old-standby":  "London Broil" – man do I love that dish with its rich veal reduction sauce; bottom right is a lemon dessert with a little shortbread and I think that was a lemon sherbet on top – so full of yummy flavor.  Sonia and Jeanne, please add any details that you'd like, because two weeks is a long time for this brain to remember much.
Thank you Jeanne & Sonia!