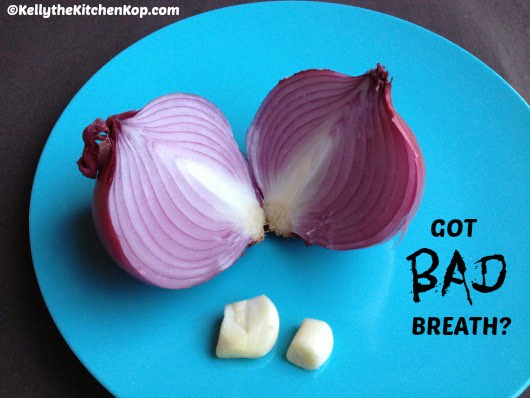 Natural Ways to Get Rid of Bad Breath
While researching the issue of bad breath, I've found that many agree on the likely cause:  halitosis is mostly due to poor digestion and poor gut health, and doesn't have as much to do with how well you brush your teeth as we've always believed.  (Some also say that bad breath is closely related to hormones, and where a woman is in her cycle.)
I have to say that while certain favorite foods (pictured above) still cause Kent to back away at times, I don't have the same issues with bad breath that I used to before switching over to real food and healing my gut.  And, no big surprise, my digestive issues are much better as well.  Aaaaand I'm hardly ever sick.  Yep, real food, gut health, and our immune system all go hand in hand!
So here are 5 natural ways to get rid of bad breath:
Since bad digestion and not enough healthy bacteria in the immune system is a big reason many have bad breath, cleaning up your diet, and possibly even implementing the GAPS Diet, may be in order.  (Body odor is due to the same problems, by the way…)  You also might check out this homeopathic information on healing your gut, which is easier for some than going on the GAPS Diet!
Also, taking a strong probiotic like this one (it gets past stomach acid unlike most probiotics!) helps to repopulate the gut with beneficial bacteria.  (Have you seen this post about whether or not you're just wasting your money on probiotics?)
Some swear by swishing with hydrogen peroxide (half peroxide, half water).  IMPORTANT:  See more safety information on peroxide below.
Personally, in the summer I love to chew on fresh herbs like parsley, my lemon balm or mint plant.
And my VERY favorite new find is this:  Organic tooth drops that we use in place of toothpaste.  At first you'll have to get used to the feeling of oil being in your mouth (unless you already do oil pulling), but then you won't want to go back to regular toothpaste at all!  I think it's a little like how you feel after you get used to eating real food, the less natural stuff just tastes funny and isn't appealing anymore.  It's hard to believe until it happens.  One day you're normal and use regular toothpaste, and the next, you're putting drops of oil on your toothbrush and loving it – your body just knows and is attracted to what is more natural!  These drops have only organic ingredients and are made with essential oils.  It seems expensive at first glance, but it only takes a drop or two on your brush so it lasts a loooooong time.  You can get the tooth drops here.  (If you're not going to get the drops, at least be sure that you and your family are brushing with a fluoride-free toothpaste.  This is the one our family had been using, and a couple of the kids who don't like the drops still do:  fluoride-free toothpaste.  Or check out a DIY tooth powder here.  And have you seen my posts with more about WHY to avoid fluoride?)
Do you have more natural ways to get rid of bad breath?
By the way, I'm shocked the more I learn how many people struggle with mouth issues.  And sadly, most of the real solutions to dental problems that so many deal with are unknown to the vast majority of mainstream dentists.  Why is that?  Who knows, especially when time and again, these alternative solutions WORK.  When I posted this a while back:  Can Cavities Really be *Healed*?, just on my little blog three people in the comments shared their stories of healing their mouth with real food, and I've heard many more from readers in the past.
Important Peroxide Information:
Thank you Eileen, a reader who explained some important info that you need to know before swishing with hydrogen peroxide:
3% hydrogen peroxide that is purchased in a drug store is Pharmaceutical Grade.  It is for external use only and should not be ingested because it contains a number of stabilizers including acetanilide, phenol, sodium stagnate, etc.
Here is a list of the OTHER grades that should NOT be used:
6% Beautician Grade
30% Reagent Grade
30-32% Electronic Grade
35% Technical Grade (this is different from the 35% FOOD GRADE -which we CAN use)
35% FOOD GRADE is the ONLY grade recommended for internal use.
THIS IS THE IMPORTANT PART:
This 35% has to be diluted down.  It is harmful in it's full strength only because it burns a little and of course it is way too concentrated at 35%.
I am not able to give the ratio here simply because it takes too long.  Anyone that is interested can look it up OR Essential Oxygen makes it already made up in a smaller spray bottle which can be bought at any Whole Foods or health food store.
This 35% Food Grade is extremely useful for a lot of things.  I use it every day to make a wash for my veggies before I juice them – kills EVERYTHING.  I order it a GALLON at a time from Rebekah's Pure Living and they are a fount of information."
Your turn — share your natural ways to get rid of bad breath in the comments!
If you have a story of healing your mouth with real food OR of making the switch to more natural oral care products, I'd love to hear about it.  🙂
More you might like: