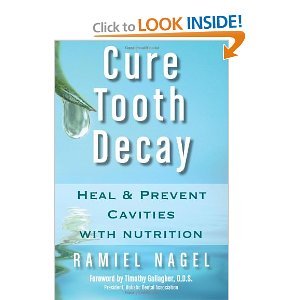 Can we heal tooth decay?
When I first heard about what Real Food can do for our dental health I found it hard to believe.  It sounded almost hokey in a way.  But then when I read story after story from friends and readers, I finally realized it's true:  We can actually remineralize teeth, and heal cavities naturally!  You can learn exactly how to do this in Rami Nagel's book, Cure Tooth Decay: Heal And Prevent Cavities With Nutrition.
Or you can also watch, listen and read more in a HealTHY Mouth online seminar.
***For more specifics right now, check out this post:  How to Save $2600 in Dental Bills.
If you're interested in the HealTHY Mouth online seminar…
Here's what you'll learn:
That metals used in dental fillings could be a cause of disease in the body.
Tooth decay happens mostly because of factors outside our mouths!
Steps each of us can take to reverse tooth decay
The risks of dental fillings (AND your options if you have 'silver' fillings!)
The proper technique to have 'silver' fillings removed from your mouth
Why NOT to use fluoride in your mouth
What nutrient you can use in your mouth proven to lower risk of tooth decay
Options if you have root canals, crowns or other existing dental
procedures
How oral health directly impacts whole body health
How what's going on in our mouths may be a major cause of cancer!
What each of us can do in our own lives to create positive change!
How a simple, old school detox technique can help us live healthier lives
Questions to ask a dentist to see if they are sufficiently trained to help us
Sign up here.  Now tell us if YOU have experienced a dental healing with Real Food?!
More Details:
Learn about Fluoride:
~  Steps you can take to reduce your exposure to fluoride
~  How to water a garden to make sure the plants don't uptake fluoride
from the municipal fluoridated water.
~  Which bottled waters don't contain fluoride
~  Why eating processed foods may contain significant fluoride in them
~  What popular drink is LOADED with fluoride
(most people consider it healthy!)
~  What you can do to lower the damage that fluoride does in the body
~  What to use in place of toothpaste!
Learn about mercury:
~  What options you have if you are pregnant or nursing and have mercury fillings
~  What products and foods help to detox mercury from the body
~  How to determine if a dental office is really mercury safe!
~  The top 10 ways to detox mercury from the body
Learn about the diet to heal tooth decay:
~  The 2 main foods to eat to reduce our risk of decay by 40%
~  The powerful feedback tool to determine if a food we eat is irritating our immune system or is compatible with our body.
~ The two foods that increase our risk of tooth decay and ill health
~ The formula for how to raise cavity free kids
~ How to analyze a daily diet to determine what we're missing
~ What foods to make sure we're eating if we are told we have a cavity
Learn the truth about oral hygiene:
~  What to put on a child's teeth if they have baby tooth decay to substantially lower the risk of decay (ps, it's not fluoride!)
~  Why flossing may be causing more harm than good and what to do about it
~  How brushing the teeth helps but is secondary to other more important ways to stop tooth decay!
Learn about holistic oral health:
~  Whether oil pulling will help with oral health issues.
~  What 3 pieces must be in place to live a life free of tooth decay (food is only one!)
~  What minerals may be too high and be causing problems in your mouth
~  How to know if you are detoxing too fast
~  What the color of the tongue says about internal health
~  Why what's going on in the mouth directly impacts whole body health
~  The simple yet powerful technique to determine if a product will help or harm us
Learn more about popular dental procedures:
~  What are ALL your options if you have a root canal
~  What to do if you are told you need a root canal
~  What options exist if you have crowns with metal in them
~  What questions to ask a dentist to make sure they are actually able to help
Learn about nontoxic, whole-being dentistry:
~  New dental protocols that can help remineralize teeth
~  How to find a dentist that goes for the drill as a last resort!
~  The various methods how we can determine whether a dental filling material is compatible with our unique body chemistry.
~  The role of dental metals in cancer and other diseases (and what to do about it!)
~  Why the sequence we have fillings changed in can have drastic health consequences
You'll get to hear from 21 experts on oral health, which includes lifetime access to all the videos, audios, and transcripts.