Margarine is SO 1960's…  Does Margarine in Restaurants Make You Crazy Too?
Do you ever get frustrated with how 'behind-the-times' so many restaurants seem to be these days?  Thankfully, many places are finally beginning to get on the real foodie train (usually only part-way, and it's happening very slowly), but it's staggering the number of places we come across who are still completely in the dark.
Here are two examples…
A few weeks ago Kent was up in Traverse City on a mountain biking trip with friends, so the kids and I were on our own and decided to order a pizza.  We had been wanting to try this new place in town because it looked to be family-owned (I hate food chains), so I used my own little "test" to see if they were any good.
Their online menu listed cheese sticks that came with garlic butter.  Perfect.  I called to ask what was in the garlic butter and when the gal on the phone didn't know, the owner came on.  He listed off some herbs and then: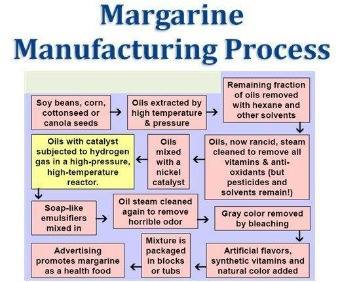 "Margarine."
"Margarine?  Why not real butter?"
"Because margarine whips up easily," he said.
"So does butter when it's room temperature!"
That got me a curt, "We use margarine here."
I closed with, "OK, bummer, well thanks anyway."
We ended up ordering from the place downtown that is more expensive but they do use real food, so it's worth it, and I'd rather give them our business anyway.
Another time we were with friends at Uccello's, and we only chose that place because it was right by the football game we were all going to afterward.  I requested real butter for my potatoes and they didn't have any, NONE.  I don't know why that still shocks me, but it does.  We won't go there again either.  (They're opening a new one very close to us, too.  Maybe I'll have a chat with the owner and see where it goes.)
The butter issue is a good little indicator for me.
Kent and I love to go out to eat for date night, and we're both foodies so that makes it entertainment AND food all in one, but we just won't go places that are still so NOT with it that they would use margarine.
Margarine was sooo 1960's.  Look at that chart above, it's obvious that it's nothing but chemicals.  The part that really freaks me out is this:  If a restaurant doesn't even know enough to use real butter, what else is going on behind the scenes in their kitchen?!
Don't be afraid to ask questions about the restaurants you're thinking of spending your hard-earned money at, I'm convinced that the more of us who DO, the more restaurants will get their heads of out their… join us in the 21st century.
How do YOU decide which restaurants you'll go to?  If a place you're at doesn't have real butter, will you go there again?
Here's more on margarine…
My friend, Jeanne, loaned me her old nutrition textbook to look over.  She knew I would find some very interesting tid-bits in there.  What especially caught her eye was the definition of Margarine back then…
First read the present day, more "PC" (politically correct) definition from Wikipedia:
Margarine, as a generic term, can indicate any of a wide range of butter substitutes. In many parts of the world, margarine has become the best-selling table spread, although butter and olive oil also command large market shares. Margarine is an ingredient in the preparation of many other foods. In some regions people may refer to margarine as butter in informal speech, but in several countries laws forbid food packaging to refer to margarine as "butter". Recipes sometimes refer to margarine as oleo.
Now read the definition from her textbook, originally written in 1940.  (Lots of editions since that day, so I don't know specifically when this part was added…)
Margarine is a plastic food made from one or more optional fat ingredients churned with cultured pasteurized skim milk.  It is a water-in-fat emulsion and must contain not less than 80% fat according to the standard of identity for margarine that has been published by the U.S. Food and Drug Administration.  Soybean and cottonseed oils, refined and partially hydrogenated to produce a desired consistency, are extensively used in producing margarines.
First, it's made with cultured pasteurized skim milk, not good.  And they don't tell you that soybean and cottonseed oils are made from genetically engineered crops.  Also, remember, "partially hydrogenated" means trans fats.
Doesn't sound very natural or appetizing does it?
More you might like: