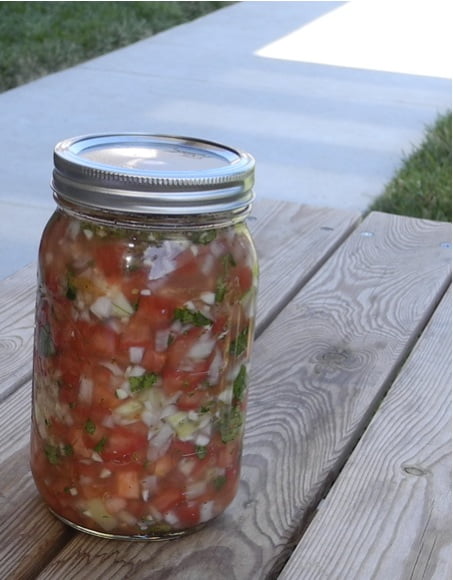 Does the whole idea of lacto-fermentation overwhelm you a bit, maybe even if you've been into Real Food for a while now?  I have a ways to go in this area, but we're all on a journey, right?  I've got my homemade kefir soda pop, fermented lemonade punch and fermented carrots down pretty well, along with homemade mayo, yogurt and buttermilk.  But that's about it, and I know there are many more ways I can and should be getting more of those beneficial little beasties into us, not to mention learning how to preserve our abundant summer produce the way traditional cultures did, so we can feast on them during the long winter months.
Learn from my friend, Wardeh…
First, What Are Fermented Foods?
When you ferment or culture foods, you make them better.  Fermented foods are foods that have been cultured by beneficial organisms. In the right conditions, beneficial organisms feast on the food, producing beneficial acids, and transforming the food into something better. This culturing develops complex flavors and pleasing textures, while the food becomes more nutritious than it was before. And the acids preserve and protect the food from spoiling. It is really a miraculous process!
Not Just Sauerkraut
Fermenting foods covers a lot more than sauerkraut. Did you know you can ferment fruits, vegetables, beans, meats, dairy, and grains? You can even ferment condiments like mayonnaise that you use on a daily basis.  (Update:  have you seen this post?  How to make inexpensive probiotics!)
Traditionally fermented foods contain vitamins, enzymes, and active cultures — conveying benefits to your gut, your immune system, and your digestion.
You can't buy many of these true fermented foods in most grocery stores. The sauerkraut or pickles on the shelf are cooked-to-death veggies in white vinegar and are devoid of any beneficial organisms or nutrition. Sausages are pumped full of nitrates and fake flavors, rather than long fermented with beneficial organisms.
Get fermented food starters here!
Learn more:
So I'm excited that my friend, Wardeh from Gnowfglins.com, has written this great e-book: The Complete Idiot's Guide to Fermenting Foods. Get it at that link and let me know what you think!
Related info: