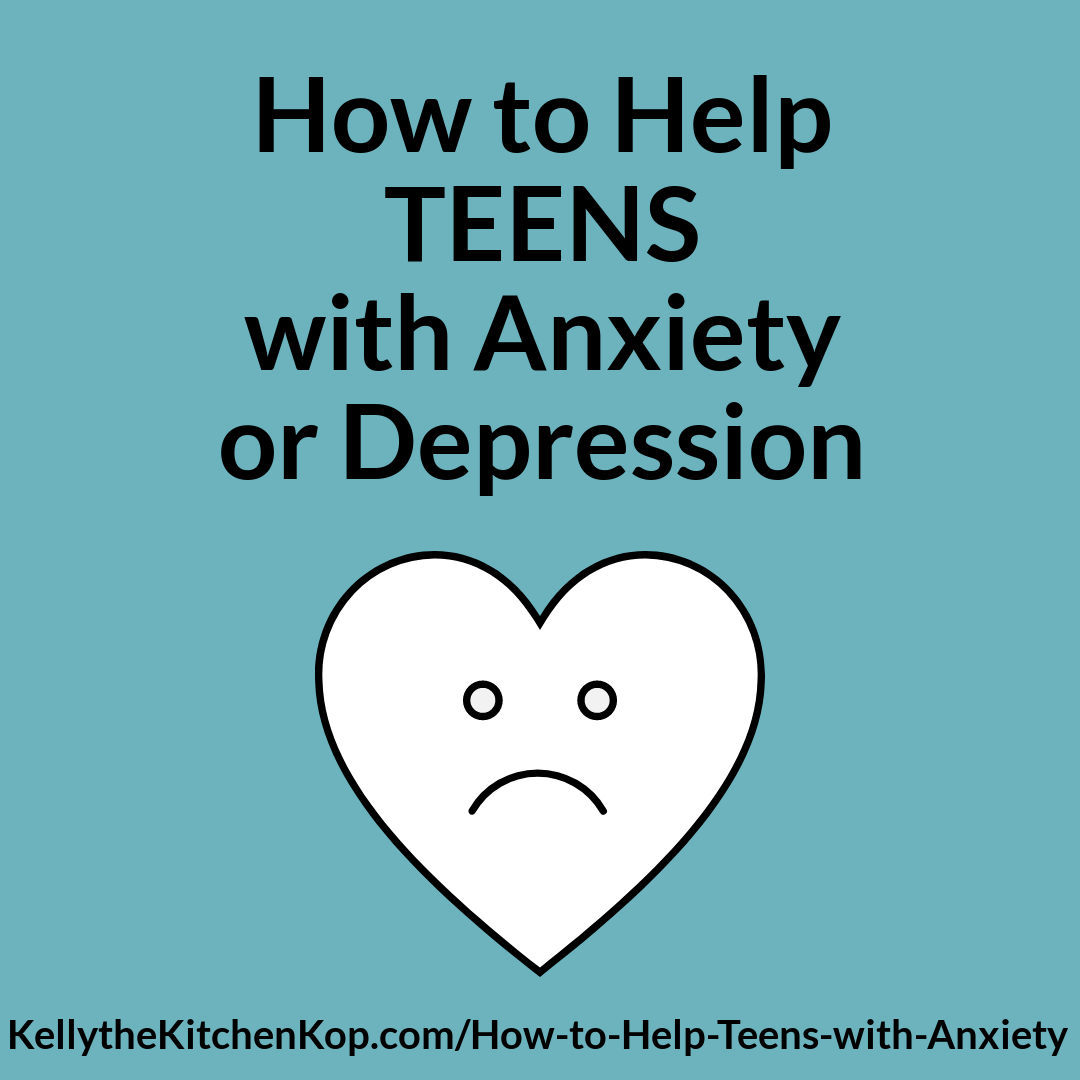 How to help teens with anxiety or depression?  This is a tough struggle, but there are many ways to help…
One of my most visited pages here on the blog is a guest post written by my friend, Jill, about How to Fight Depression and Anxiety Naturally.  It's bad enough when an adult struggles with this, but when it's our teens or preteens, well that can be even more heartbreaking.
Since the covid-craziness began there is a mental health crisis happening like our world has never seen, but even before that, it wasn't looking good out there.  It's just plain TOUGH being a kid these days.  There's hormonal changes, peer pressure, and it doesn't help that most people are eating denatured foods with few nutrients, which is an assault on our gut, and therefore our mental health is negatively affected.  Then there's the overall decline in morals–our entire culture seems to be spiraling downward.  Social media, and other media, perpetuates every shred of this immorality and makes it all seem "normal" to our vulnerable kids.  Or they only see the "perfect" lives of others and assume there's something wrong with them.
Trust me when I say, from personal experience, that you must do your best to get on top of it now before it turns into bigger problems later, and before you're pressured into putting them on meds–which in my opinion should be a last-resort after trying natural remedies first, because there are so many that really do help.
Recently a reader in this situation emailed asking Jill for advice, so I wanted to share the conversation below in case it can help any of you going through something similar…
I visited your page today on healing anxiety naturally.  I am a father of an 11 year old son who is showing some of these signs along with panic attacks, and I want to help him get over his fears and anxiety.  Is there is a way to get in touch with Jill for some advice?  She seems to be doing good for many years and is a great inspiration.  Thank you so much for your help.  You bring hope to a lot of people who go through this and want to get over it without using prescription drugs."
Before Jill's reply below about how to help teens with anxiety, I've got a few ideas you could also try:
Don't get overwhelmed, just read through these and see what resonates to start.  You can begin with 1 or 2 suggestions and add more later…
Have you seen this post about my "All Natural Chill Pill"?  I talk there about how eating low-nutrient processed foods with vegetable oils that are high in omega-6 fatty acids (or even too many nuts which are good for you but also high in omega-6's), can throw off your omega 3/6 balance which causes mood problems and digestive issues.  Taking cod liver oil helps so much!!!!  It's usually the FIRST thing I recommend for those with anxiety.  (Use the code KOP at that link for a discount.)  Either the pills OR the oil are fine–the oil is easiest to get more in, just have them take a teaspoon twice/day and chase it with food.  Otherwise I'd suggest working up to 4 or more pills twice daily and you'll likely see a difference within a few days.  (Also helpful is eating more pastured meats and cooking in fats like pastured butter, lard, and beef tallow, because these also provide more of the crucial vitamins A, D, and K that many are so deficient in.)
Note that this probiotic alone has helped many people overcome anxiety and depression, so that's a must.  Kent and I take 2 daily just as a "maintenance" dose, so with anxiety I'd suggest working up to 3-4/day just until they're better.  (Start very slowly, even open up the capsule and sprinkle a pinch on food to start, just in case they're very sensitive.  Some may have a "die-off" reaction–such as diarrhea–at the beginning when the gut is getting cleaned up.  That means it's working, but it may not be pleasant.)
Another inexpensive way to get more healthy bacteria (probiotics) into them is giving them dairy kefir or whole milk organic yogurt (especially delicious in superfood smoothies), kombucha, as well as a forkful of raw sauerkraut with meals.  This also could cause die-off reactions, so start slow with these too if they're not used to eating fermented foods.
There's also info at the other anxiety post about the difference that the right homeopathic remedies can make!
Keep this on hand: Rescue Remedy is a safe, natural supplement for episodes of anxiety that is popular for all ages, and even animals.
Try this kids-safe essential oil:  Happy Place.  It's also good for helping kids and adults who struggle focusing.  "Occasional anxiety is a common experience today, but going to a "happy place" can help encourage some much-needed feelings of calmness and tranquility. This soothing blend of herbal, floral, and citrus essential oils may help ease physical responses that may result from anxiety, such as agitation, restlessness, poor focus, and repetitive behaviors."  Also here's a new essential oil line for anxious kids:  No Worries.  Diffusing this in their room would be a good idea.
If the above doesn't prove helpful, I would also suggest seeking help from a local functional medicine doc or other natural-minded professional–ask a friend who they like or maybe you could get help finding someone via your local WAPF chapter?
It goes without saying that we can't underestimate the power of prayer.  God loves our kids even more than we do!
Here's Jill's response, how to helps teens with anxiety:
Kelly sent me your email address and the message you sent her about your 11 year old son who is experiencing anxiety. All I can share is my own experience and observation with that type of thing, since, as you know, I'm not a doctor and can't give medical advice.
My husband and I noticed a similar issue in our own kids when they were about the same age as your son. They both experienced anxiety and depression, though being very different personalities, and one being a boy and the other a girl, it was expressed a little differently. My daughter is the older of the two, and the first to go through that difficult stage. An online search of panic attacks and anxiety in young teens led me to an interesting bit of information about that (if I recall correctly it was on a Focus On the Family website).
I read that low blood sugar can be a problem at that age, and can trigger anxiety.
So we began to observe more carefully and noticed that if she ate a bunch of junk food or sugar, she tended to have an episode of anxiety about 30 minutes later! If she skipped a meal it also tended to occur. We experimented and found, at least for her, when she started to feel symptoms (shakiness, nausea, anxiety, etc…) that if she had a protein shake/smoothie it would usually go away! Of course, I can't say that would help in your situation, but it might be interesting to try. For a couple years she carried a juice box and a bag of almonds with her wherever she went so that if she started to feel bad when she was away from home, she could eat a snack quickly, bringing her blood sugar up, and it would usually work well for her. We knew a couple other families at the time whose young teens (both girls and boys) had the same symptoms that also improved the same way. As a matter of fact, when we learned that our friend's daughter, who was her age, was experiencing the same thing, we encouraged the two to talk to each other about it. It helped them both to feel better knowing they were in good company and were able to understand and support each other!
My son, on the other hand, just seemed to have a rough go at puberty, but didn't necessarily have the same type of low blood sugar symptoms that my daughter did.
It is such a difficult age, I think for most kids!
Hormones are changing quickly, they are transitioning from childhood into adolescence, their understanding of the world grows and changes, peer pressures and challenges… So much so quickly. And it seems that kids that age (heck, even us adults) don't share with each other about those struggles, so as common as it is, most of them probably think they are the only ones! We encouraged him to talk with us (which seemed helpful), and tried to be as supportive and encouraging as we could.
The basic recommendations in the article I wrote for Kelly (<– click that link to read it) are probably good to apply to young people as well–eating a healthy diet, getting exercise and sunshine, adequate sleep. None of those approaches could hurt, that's for sure. There are some good websites–like Focus on the Family–that have great advice for parents with teens.
You probably know your son better than anyone else, so if you feel like his situation is more serious than common puberty difficulties, it might be a good idea to talk with a counselor–maybe a counselor at his school if you know of one you like and trust–or your son's doctor. I hope some of that is helpful. So sorry your son is struggling. It is painful for us parents to watch our children suffer. Bless you both!   Jill
p.s.  Rescue Remedy is a very safe, natural supplement for episodes of anxiety that is popular for all ages, and even animals.  You might want to give it a try!
Jill, thank you so much for your help again!  
If you have a teen who has struggled with this, would you be willing to share a little of your story in the comments below and what are YOUR suggestions for how to help teens with anxiety??  Thank you!
More you might like: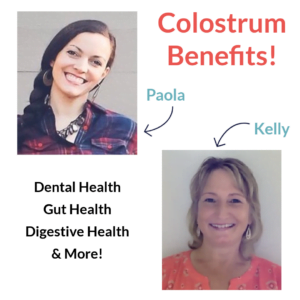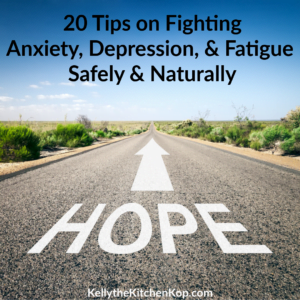 Need help feeding your family a healthy diet without going crazy in the meantime?  Check out my book, Real Food for Rookies.