Cures for Fibromyalgia ARE possible!
First this note/disclaimer:  "The information found here has not been approved by the FDA and is not intended to diagnose, treat, cure, or prevent any disease."  I'm only sharing our own story, your situation may be VERY different, and I'm not a medical professional or anywhere close.  Use this information only to do more research on your own!
If you are suffering with fibromyalgia, chronic fatigue syndrome, or another auto-immune disease, keep reading for some HOPE!
Remember, if YOU have a real food success and healing story to share, please email me!  [email protected].  (Read ALL of the real food success stories here including this post where Leah gives you even more hope that there ARE cures for Fibromyalgia: Fibromyalgia Symptoms Causes and Total HEALING: Recovery IS Possible! 
Today Liz, a reader friend who I became familiar with when she commented on another post, shares her journey of healing herself from Fibromyalgia and chronic fatigue syndrome:

I was diagnosed with FMS at the tender age of 25.  I had the classic burning pain between the shoulder blades, along the tops of my thighs, accompanied by extreme fatigue and terrible brain fog.  Sleep was becoming more and more evasive.  I religiously exercised, lifting weights and taking and teaching fitness classes — I was a cardio queen.  I was the "healthiest" eater I knew, eating only "lean" low-fat foods.  Think bagels, low-fat ice-cream, salads, muscle meats with absolutely no fat on them, and "I can't believe it's not butter" spray.  LOL, I was determined to beat this thing.  Doctors gave me a grim prognosis with no other cure than prescriptions for sleep aids.  Somehow I knew I would get through it if I just prayed for answers and pushed forward when they arrived.
I moved to Arizona to get out of the cold and rainy Seattle weather.  I opened up a small fitness studio so I could do body work all day long to keep my body from getting as stiff as it did at a desk job.  Amazingly, the landlord of the studio became a client, and to my surprise she pointed out that I had FMS.  Darn, I thought I was hiding it pretty good….  Brenda became my best friend and mentor, as she too had FMS.  We tried many things, guaifenesin was the main thing.  As our health was notably improving, she started a local support group, and then a website:  Fibromyalgiarecovery.com.   Eventually she became more focused on nutrient deficiencies that cause the same symptoms of FMS and we embarked on the iodine protocol and the Weston A. Price Foundation.  We dropped the guai protocol and lo-and-behold, focusing on iodine and quality probiotics that really work my body began to recover more completely.  It took me 3 years of researching to finally accept the new knowledge that butter and other saturated fats should be consumed.  Being so deeply brainwashed that saturated fat was bad, it was a very hard nugget of information to swallow.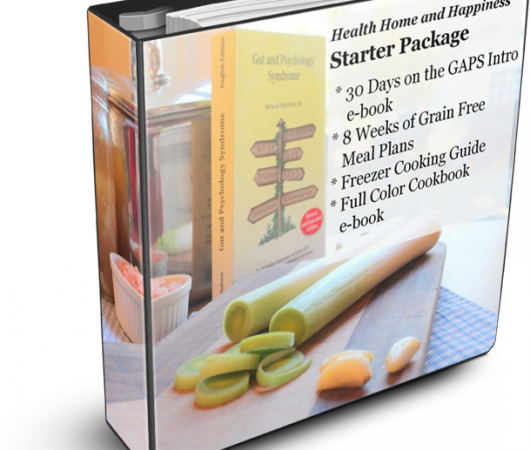 It's been a 13-year journey, but my dear friend and I are fibro free and have been for many years now.  She, in her late 60's, has just returned from serving 3 consecutive missions in Taiwan and Hong Kong!  I attribute it to replenishing iodine (With the protocol!  Do not just start taking iodine without the protocol!!!  Especially selenium…), healing our guts the hard way (the GAPS diet would have been nice to have indeed – find a super helpful GAPS starter package here) and becoming aware of thought patterns and adjusting them to replace toxic thoughts with nurturing ones.  I believe FMS starts and ends in the gut (my mother has an ileostomy due to severe Crohn's) and can manifest as problems in the adrenal/thyroid/pituitary axis, or any other auto-immune disease.  Clearly it can be completely reversed.  I thank God every day for the answers He is revealing to those of us who simply ask with an open heart.
Oh, and by the way, I gratefully feed my family pastured butter (very liberally), eggs, raw cheese, homemade yogurt and kefir, whole fat raw goat's milk, grass fed/finished beef, truly pastured soy-free…corn-free…hormone-free…GMO free chicken.  I no longer eat just the muscle meat- we now enjoy all sorts of organ meats — talk about a boost in my sense of well being!  Okay okay, I don't love cow liver yet (chicken liver is good though) and at times I blend/dehydrate/and make pills with it and take it with a heap of sauerkraut to better absorb the B's.  I soak or sprout all of my family's grains beans nuts and seeds, make bone broth so we never run out, take magnesium, use this magnesium oil on my skin, take cod liver oil, etc.  In my 20's I felt like a wreck, now I'm nearing 40 with a 6 year old and 3 year old, never before have I felt so vibrantly healthy.  I still love the gym,  but now I prefer high intensity intervals over long drawn out cardio sessions.  I will never stop strength training.  At 5'5″ I easily maintain a weight of 130.  I would have never dreamed that I would be able to do all that I am doing now.  In fact, we are building a home on an acre, about to start a little homestead with goats and chickens!
I haven't had any fibromyalgia symptoms since about 2006 – I think it's safe to say now, that I am cured.
A gift indeed.  I can not imagine where I'd be right now if I had continued on the path of conventional wisdom.  My life was centered on sleep and I never felt like I could get enough no matter how long I slept.  Now I am busy all day and rarely feel the desire to nap.  It feels like getting a total do-over on life.
Powerful huh?  I asked Liz what she thought of my recent post:  Can Fibromyalgia and Chronic Fatigue Syndrome be Cured?  A Not so Sparkly Book Review…
Regarding your "not so sparkly book review" post, I strongly agree with your comments.  Cholesterol and saturated fats are part of what I feel helped me recover.  I have come to believe that FMS is an issue with the pituitary/thyroid/adrenal axis.  It seems as though it can be triggered by traumatic events, or anything that damages the gut, which traumatic events can do, now that I think about it.  From what I've studied, adrenals thrive on a higher fat diet as well, since surprisingly they are more involved with regulating blood sugar than the pancreas!  I should also mention that I have not read the book you reviewed, I'm just responding to what I read in your post.  I was also shocked that the book did not mention gut health.  I'll explain why.  When I was helping Brenda with her FMS recovery support group, the author of "Fibromyalgia: The First Year", Claudia Merek, trained me to become a "mapper".   I felt people's bodies for lumps and bumps, which was part of a guaifenesin protocol we were doing.
We eventually parted ways because Brenda and I felt that iodine was somehow doing what the guaifenesin protocol had done for us, without having to go through the agony of avoiding salicylates…long story.  We tried to share our research with her, but we never heard from her since.
I promise, I'm getting to the gut explanation here…During the years that I mapped people,  I would relentlessly interrogate them about what they were doing before the instances that their maps got worse.  According to R. Paul St. Amand M.D., the doctor who created the guaifenisin protocol, if someone's map got worse during the protocol, it was the patient's fault for accidentally exposing themselves to salicylates. But I went to people's homes and painstakenly scrutinized every item for every ingredient on the label of anything that would be consumed or applied to skin, such as makeup etc.  We would spend weeks together trying to figure out what the culprit was that was exposing them to this, because it supposedly would block the effects of the guai.  It quickly became clear to me that there was much more to the story.
Every time someone's map got worse and we couldn't find a salicylate lurking in their possession to blame, they had either been exposed to a round of antibiotics, consumed more sugar than usual, used a hormonal contraceptive, or had a recent stressful event.  I have never read anything that has confirmed my thoughts, but I suspect it was inflammation that I was feeling from an overgrown yeast/fungus such as candida, and I think food sensitivities contributed as well.  If only we had known about the GAPS protocol!  Sheesh, it's all so clear now.
I also would be willing to bet that people with FMS are low in A, D, K, and magnesium, along with many others.  Dr. St. Amand hypothesized that calcium phosphates were to blame, and that they were building up in all sorts of places in the body.  The guai was supposed to clear it out.  Maybe it does, he didn't even know for sure, but it seems pretty clear to me that calcium going where it's not supposed to is a fat soluble vitamin deficiency problem.  We should have been told to take cod liver oil with grass fed butter and consume plenty of organ meats!  Also, amazingly, when you see the list of FMS symptoms next to a list of magnesium deficiency symptoms, all but a few overlap!
I probably told you more than you ever wanted to know, but hopefully it's at least merely interesting.  🙂
Thanks for sharing your story and your wisdom, Liz!  
Learn more from Leah about healing from Fibro in her book:  Freedom from Fibromyalgia.
More links you could use: