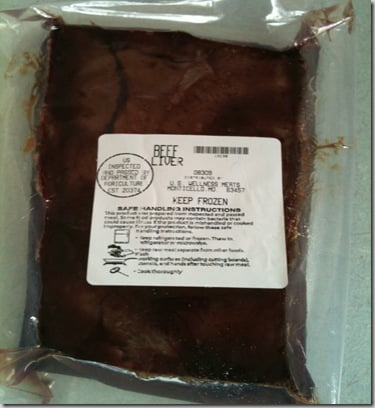 There are two things I wanted to share with you today. One is about a new healthy food that I can't believe I like. The other is a related story about something that happened while visiting family yesterday for Thanksgiving.
ME…EAT LIVER? UH UH, NO WAY

You won't believe it – I ate liver! And I lived. I even liked it! No, it wasn't the liver & onions you normally hear about…I doubt I could do that one. This was grass-fed Braunsweiger. I ate it with some organic crackers, and it tasted like a mild, soft sausage. I love crackers and sausage for a quick snack, and so do our kids, I can't wait to have them try this, especially knowing how nutrient-packed organ meats are. (Read about which meat we ordered & what we thought.)

UPDATE: The kids loved it, too! We just called it "sausage" and they kept asking for more with their cheese & crackers! Of course, our teen wouldn't even come near it (I should've hid the label). I'm ordering more right now… along with more Head Cheese, and get this…some real liver – Ann Marie & Julie's comments have motivated me to try liver pate. If I pull that off, I'm really going to know I've gone over the edge…

"THEY'RE FULL OF FAT"

The other thing I wanted to tell you about was a conversation with some family members yesterday.

Someone they knew just shot a deer and the topic of organ meats came up. One person said, "Yeah, they're terrible for you, but a lot of people love 'em."

Me: "Why do you say they're bad for you?"

Another family member: "Oh, they're full of fat."

The only reply I could come up with: "Actually, I've heard they're full of nutrients and really good for us."

I didn't even consider taking a shot at the topic of healthy fats, I could see that look in their eyes, and I could almost hear their thoughts… "What is she talking about?"

So after a really nice Thanksgiving Day with our families, on the way home I was again so thankful for my husband – not only has he been super supportive with all the hours I put into this site, he really gets it. Here's one of the ways I know: as we were talking about all this, our teen asked a valid question, "How do you know YOU know the truth, Mom?" Before I could answer, Kent had it covered. "The research shows how good organ meats are for us. And healthy people have eaten this way for thousands of years – as long as people have hunted for food. The organ meats were always considered the best part."

I love it when he talks like that. 🙂
What about you? Do you like organ meats? If so, tell us how you eat it and what you like best!