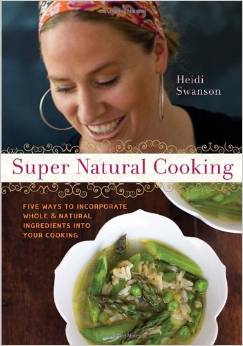 This post got too long, so when you finish reading here, click over to YOUR Favorite Cookbooks – PART 2.

Recently in this post (well, not so recently, it got lost in my drafts folder), I asked readers to share their Favorite Cookbooks. Here is my personal favorite by Sally Fallon, which I wish everyone had a copy of: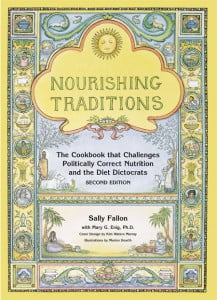 Here are the replies I received, if you have more to add, please comment below. 🙂 THANK YOU EVERYONE WHO RESPONDED!
Naomi

(thanks for the great scoop!): "There's a website called www.madsrecipes.com where one can download all kinds of cookbooks for free. The recipes are in a format to use with Mastercook recipe software, but there is also a free recipe file viewer, for those who don't have Mastercook. Included in the cookbooks are Barefoot Contessa and Paula Deen. Enjoy!"
Carrie E Thienes –

The Thrifty Oreganic:

"Hi Kelly!

Great thread. I'm totally the same as you. I do Nourishing Traditions almost daily and adapt other recipe books to it. So, other than Nourishing Traditions, I would have to say that my favorite unique cookbooks are:

Cooking with Coconut Flour: A Delicious Low-Carb, Gluten-Free Alternative to Wheat by Bruce Fife. This is a great book for our family as we are gluten-free. It has been nice to have this handy little book of recipes for low-carb, sugar-free cupcakes (for my 3 year old's birthday! she loved them!) or biscuit dough to wrap around hot dogs or chocolate chip cookies! All the recipes include a "low carb" version where Stevia is used. It's a one-of-a-kind book for anyone who is looking for a healthy alternative to wheat/gluten but doesn't want the extra carbs. Raw Truth: The Art of Preparing Living Foods by Jeremy Saffron

–

I stumbled upon this book at Whole Foods several years ago and I've been so glad to have it on my shelf. Although I'm not by any means a raw foodist, I do like to follow Sally Fallon's recommendation to "strive for a diet that is 50% raw". Jeremy has some delicious, simple recipe ideas for salads, desserts, and smoothies made with simply fresh, raw ingredients. It's a simple, straightforward book with lots of helpful info on sprouting. I also use it as a resource for Lenten cooking (I try to stay away from soy and other yucky vegan junk foods) because I try to see the dietary changes of Lent as a time to "cleanse" both spiritually AND physically, and thus do as much raw food as I can!"

(Hi Carrie! The Raw Truth book is going on my Christmas list!)
Joan:

"

Mother Linda's Favorites

sound pretty interesting

."
Susan E.: "

Ditto on Wild Fermentation and Full Moon Feast. However, the one I use most often is

Soul Food (Susan, if I didn't link to the right book, let me know and I can fix it if you give me the author's name)

– it's not 100%

WAPF

, but always calls for fresh whole ingredients and is easily adaptable to WAPF. Favorite food blogs (with recipes) are "

Seriously Good

" and "

101 Cookbooks

". However, "101 Cookbooks" is vegetarian, but the recipes are great as long as you ignore those that include soy or just substitute meat."
Laurel:

"500 More Low-Carb Recipes –

not completely NT due to the use of artificial sweeteners and some soy, but most of the recipes could be converted to NT easily."
Continued in YOUR Favorite Cookbooks – PART 2.

If more of you would like to share your favorites, I hope you'll comment below. 🙂