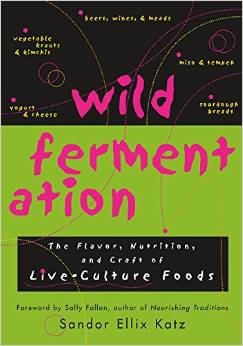 Welcome back, Jenn, thanks for another great book review…this one made me laugh out loud! (Coming soon: more information on the power of fermented foods and tips on getting more in your diet…)
NOTE: AFTER READING THE POST, BE SURE TO CHECK OUT THE COMMENT SECTION FOR ANOTHER OPINION ON THIS BOOK.

Let me begin by saying that Wild Fermentation is not for beginners, or even a moderate for that matter!
If you're on the path to discovering true health food, this book will send you running in the opposite direction. Becoming a health food junkie is a step by step by process. You really have to implement a new idea, let it become ingrained in you and then move on to the next. Fermentation is one of those ideas that are far down the "food journey", especially with the fermented science experiments, ahem, I mean recipes, presented in this book. The complex 'onion layers' of nutrition have been unfolding for me for ten years. With that said, even I'm not ready to tackle the concepts and recipes in this cookbook, and I already ferment foods like yogurt, kefir and even kombucha. But for those over-achievers who are beyond yogurt, kefir and kombucha, this book's for you. For the rest of us, well, getting to this point is years in the making. Unless, of course, you drink beer, then you're already an expert on fermented drinks!
So what makes this book so advanced?
It comes down to the time, recipes and techniques involved. It's very intimidating! Plus, I don't like how the measurements are written in both U.S. and European metric systems. It's simply distracting. However, what does make Wild Fermentation tolerable is that the information is written in a simple way. I totally get the introduction about the benefits, history and tradition of it. Those first 33 pages are very interesting! I believe it and I really want to be a part of it, but it's just not realistic. This onion layer just hasn't been peeled back for me yet.
So here's a taste of what's in the book:
The more familiar fermented recipes include sauerkraut, pickles, yogurt, kefir, buttermilk, and sourdough bread. But from there, well, before I could even get started, the ingredients stopped me cold in my tracks. Do you know what koji is? Or nixtamalized corn? Or asafoetida powder? Where do you find digitata kelp? Or nasturtium seedpods? Plus, you'll have to special order shoyu koji spores and rennet.
I didn't want this book to get the best of me, so I thumbed through to find a recipe I could tackle. Aaah, Multicultural Polenta. I liked the sounds of that. My life-long best friend is Lebanese and I grew up eating multicultural foods, so no problem there. And polenta – there's a food I recognize. So I figured this would be a piece of cake. First the ingredients. Huh?! I would need nixtamalized whole posole, strained corn chunks from Gv-No-He-Nv, plus additional Gv-No-He-Nv…what was this stuff? Well, in order to make this beautiful Multicultural Polenta dish, the ingredients needed ingredients. I'd first have to make the Gv-No-He-Nv from page 112. So now I'm flipping back two pages to find this recipe. Gee, I only need nixtamalized corn and water. And to get nixtamalized corn I have to flip back another page for this recipe. This only calls for whole-grain corn, water and wood ash?! (If you can't find wood ash, food-grade calcium hydroxide will do.) Oh my! I abandoned the Multicultural Polenta before I could mispronounce Gv-No-He-Nv one more time!
No wonder people just tear open their TV dinners!
It's just too complicated. You can see how each step requires even more steps before it. No one has time for this! Not to mention, I just don't think I care enough about being a health food junkie to eat fermented multicultural polenta. All the energy I'd be gaining from eating these fermented recipes, I'd actually use up just making them. So I guess they would cancel each other out. I think sitting back with a cold brew in hand will give me all the microorganisms I need.

There was at least one redeeming food in the book!
I was happy to learn that chocolate actually comes from fermented cacao beans. That's all the scientific proof I need to keep on eating my beloved chocolate (I have a terrible weakness for it).
And lastly, there's an 800-pound elephant in the room, or book, rather.
He occasionally refers to his gay, HIV-positive lifestyle that I find unappealing in a cookbook. It discredits the integrity of the book.
Then the book ends on a rather sour note (last bad pun). Death. It just seems to drop in out of nowhere! He writes about his own future death, and the experience of being at the deathbed of three other people. The descriptions were too detailed and morbid…rather out of place for a cookbook, don't you think?
My advice?
Check the book out from the library before buying it. Only you can gauge if you're ready to tackle it. I think the title, Wild Fermentation, was aptly given. I just happen to think the word wild means 'crazy' instead of 'living in a state of nature'.
Jenn became a health food advocate and naturalist ten years ago after a long struggle with infertility. She's an avid reader and has a bachelor's degree in journalism and broadcasting. She and her husband own several businesses and are organic farmers. Jenn is also an enthusiastic cook who uses only whole, organic foods, raw milk, and pastured meats. Read more about Jenn in her guest interview.