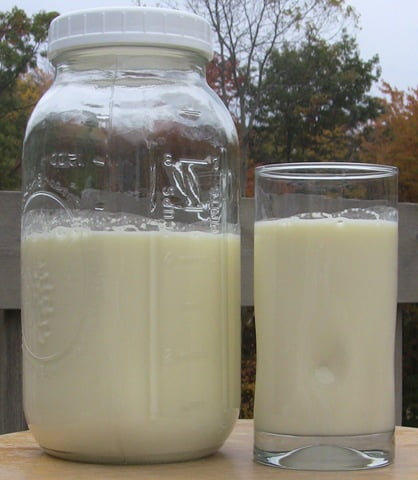 What to Do with Sour Raw Milk Before and as it Sours
I received an email from Robin last week asking about using raw milk before and as it sours, and I hope all of you are more help to her than I was!  One thing I DO know, is that you CAN safely use sour raw milk, traditional cultures had lots of uses for it.  However, sour conventional milk is disgusting.
 First, if you're a beginner at all this:
Have you read these raw milk posts that cover why raw milk, why it's so nutritious, raw milk safety, where to find raw milk, etc.?
Also, be sure to read this book if you haven't yet:  
The Untold Story of Milk
.
I have a couple questions for you regarding using raw milk and what to do with it once it starts to sour.  As I did not grow up with raw milk, and we have only been getting it for the last 3 months or so, I am COMPLETELY new to this and have had a hard time finding real solid info on this subject.
I found on your site a method for making buttermilk using a culture but am wondering what you can tell me about making soured (i.e. clabbered) milk without a culture.  I read that it is possible to leave the milk at room temperature on the counter (covered with a towel) until it is thick, usually a couple of days.  I'm wondering if you have had any experience with this and have any specific instructions?  Also, can you skim off the cream and use the same method to make soured cream?  My other big question on this is once you've made the soured milk, do you store it in the fridge and how long does it last?
I read somewhere that raw milk doesn't really "go bad" (and one woman even mentioned she had some milk that had been there for 6 months?), which makes me wonder if leaving the milk on the countertop to sour gives you essentially the same end product that you get if you have milk that's been sitting in your fridge for a few weeks?  So, what do you think?  At what point do you just give it up and pour it out, i.e. how long before the raw milk really is no longer usable?  I did do some research online before writing you, but I had a hard time finding anything very specific on the subject, other than some general info regarding "let the milk sit on the counter until it becomes thick, usually a couple of days" or some variation of that.  I guess I just find myself a little nervous to try anything like this without hearing from someone who's actually done it…:-)
I do drink as much as I can, but we joined the co-op right before finding out my husband would be spending lots of time out of town for work, so I find myself with a gallon and a half per week-quite a bit for one person to drink!!
As I said, I wasn't much help, I mainly just directed her to the Nourishing Traditions Yahoo forum.  Hopefully you'll have some good information to share with us.
At least I had this part covered:
The sour milk questions I was fuzzy on, but I had lots of ideas for Ways To Use Raw Milk, and many of you jumped into the comments there with great ideas, too.  If you have more to add, feel free. 🙂
Here we go — read all the helpful comments below on what to do with sour raw milk!
I've added a few of the comments here because I want to refer back to them easier:
Turn your fridge temp down so your milk lasts longer before souring.
One reader suggested adding a dash of salt to the milk when you get it and said that helps it last longer.
Use the sour milk for any recipe that calls for regular milk or even better :  buttermilk.  Like any soaked flour recipe (soaked pancakes/waffles), or this biscuit recipe!
I sometimes use it as a "fertilizer" and water my herbs on the deck in the summer.  Don't do this with plants in the house or it'll smell.
JoAnna had some good tips in the comments:  "I have had experience with just this issue. I don't have cultures, but I do leave my buttermilk (the milk left over from making butter) just as it is on my kitchen counter, usually in the way of everything else, and sure enough it thickens all on its own. I confess I often leave it there for days. It might get a little dry on top and any butter bits (some sploosh in when I'm separating the butter and buttermilk) have risen to the top. If I notice that it's trying to turn a faint orange in places I'll skim that part off and figure I'd better use it now. (I'm making butter so frequently that I just leave that glass bowl sitting open on the counter and pour the fresh buttermilk into it. Probably not the most hygenic.) I never put it in the fridge, but I do try to empty it completely at least every other week. Sometimes I'll make whole grain pancakes when I have time, but lately I've been using it to soak meat before cooking — pot roast (so tender and yummy!), and homemade chicken nuggets as per the recipe at cheeseslave.com. As for the raw milk, I have a half gallon of separated milk sitting on my counter awaiting my attention. It sat like that in my fridge for at least two weeks (maybe longer) and now it's been on my counter for about another two weeks (for some reason I thought I'd get to it sooner if it were out of the fridge and in my way). I was afraid to open it and thought I'd probably gone too far this time, but since we're talking about it, I decided to go take a whiff and it has a wonderful cheese smell. I had one like that before but I hadn't left it like that so long. So I'll just do what I did last time, I'll strain it, sprinkling a little celtic sea salt on top (I was afraid of it going bad if I didn't, but it probably wouldn't have) and just waited for it to get as thick as I wanted it — a couple of days maybe (all on the counter top). When I decided to be done with it, I jarred up the whey (a bit cheesy flavor, instead of buttery) and mixed the salt into the cheese and stuck it in a glass bowl and refrigerated it. It tasted just like feta cheese only it was creamy and almost spreadable instead of crumbly. Even my 2-year-old loved it. A bonus since feta is so expensive and we love it!"
Also, Sarah wrote this helpful post:  101 uses for soured raw milk
Learn why raw milk is the best milk: Raw Milk Benefits and Information: Q & A with Mark McAfee
Can't drink raw milk for some reason?  Find out here what are your next-best options