We all fear it.  The "C" word that's dreaded in every corner of the world.
MANY people have asked, "What would YOU do if cancer hits your family?"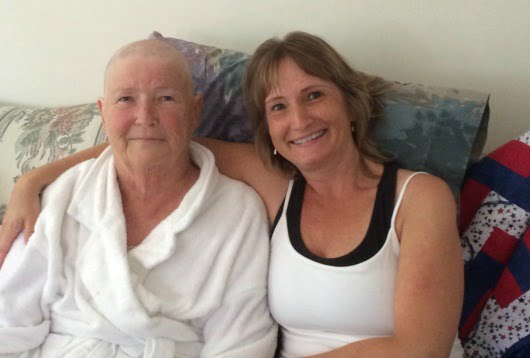 First of all, unless it was myself, Kent, or one of our kids (please no Lord!), there's very little I could do or suggest unless I was asked. Even when my Mom was diagnosed, it was her decision as far as how to proceed, not mine, and she mostly wanted to follow doctor's recommendations. I didn't know enough then to suggest many alternatives anyway, especially since it had already metastasized throughout her body.
But if it was our own family, when asked what I'd do, here's what I say…
I'd rally the prayer warriors immediately.  Obviously not every prayer will be answered — we won't understand God's whole plan until we meet Him someday — but I've seen the evidence with my own eyes: prayer CAN make a difference.
I'd get educated and…

Contact every one of my wise friends that I've gathered over the years, those who are natural-minded, who are not "sheeple" but instead dig in and question everything.  I'd get their recommendations, especially if they have specific knowledge with the type of cancer we're dealing with.  (Every cancer is so different.)
Get all my books out and search online like a crazy woman to collect as much info as possible about the specific cancer we're dealing, I'd especially look for info from sites not in the mainstream.  Here's where I'd start.
Reach out to my friends who are knowledgeable about homeopathy and in particular, the Banerji protocols. (Example: Glioblastoma, one of the worst brain cancers there is, has a 10% survival rate in the U.S., but in India where homeopathy is still practiced, there is an 86% survival rate you guys!!!  Read more about that here.)  Also, my friend Sheena said this:  "Dr. Murphy is an expert on treating people with cancer using homeopathy and other things. He also has a great webinar that would be useful for you to buy and watch if you are going to try to help your friend."
I'd look into alternative therapies like this one that I read about, would you use these therapies if it was you?
Devour these videos that teach specific recommendations for those who have cancer. (Doing this BEFORE you actually need the info is an even better idea. If you see this after the free viewing is over, enter your email so you'll be notified the next time it runs.)

Using all of the info we've gathered, and with intense prayer, we'd then make decisions on how to proceed. It will really depend on the type of cancer as far the conventional vs. the natural and homeopathic treatments we'd go with.  Again, every cancer is so different.  For some, the conventional treatment may be the best route, for others definitely not.  We also might use a combination of therapies.  Read about one family who used an integrative approach here.  Since the conventional treatments often will kill you before the cancer does, these decisions would likely be the biggest of our lives.
Obviously I pray we never have to deal with any of that, but either way, hopefully this info helps you in case cancer hits your family or friends.
Here's more you may want to check out:
On March 3, 2017, the Texas Medical Board (TMB), and its Board staff concluded their multi-year long attempt to revoke Dr. Burzynski's medical license. (This is an estimated 20th attempt at this effort since the 1980s). While the Board's Staff sought to revoke Dr. Burzynski's medical license, thankfully they failed. During the trial, families were given the opportunity to share, here's one family's story:
See more here
.