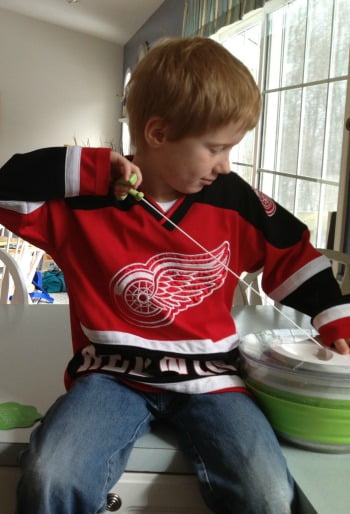 If you're wondering, "What IS a salad spinner" or "Which one is the best salad spinner", I'm here to help, because I loooooooove my kitchen gadgets, and once I find THE favorite, you end up hearing me talk about it a lot.  (Another example is my favorite pan, we take this with us everywhere: including on vacation — read about our real foodie vacation circus here — or it comes along if we're cooking at someone else's house; it's just so big and nice and easy to clean up.  If you don't get one for Christmas, get yourself one!)
What IS a Salad Spinner?
In case you don't know (I didn't used to know what it was because my Mom never used one!), a salad spinner is just a special bowl that helps you dry your lettuce greens (or cabbage leaves or whatever) after you've washed them.  If you get the one I have, you've also got a cute serving bowl…
The Best Salad Spinner: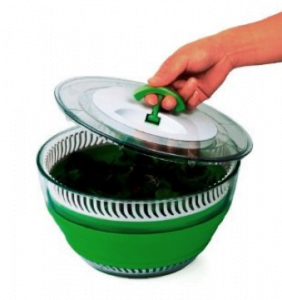 Click here for the salad spinner I have, and here's why I love it…
As mentioned, it comes with a nice-sized fun-colored serving bowl if you're taking a salad to a picnic or whatever.
It's collapsible to save on storage space!
It cleans up nicely — often if I only dried lettuce leaves, I'll just rinse it out good and put it back into the cupboard.
The best part is that it actually works, my last one was a piece of junk and fell apart after a couple of months — I've had this one for a long time now.  That's saying a lot since I always have kids fighting over who gets to pull the string!
Get one here.  🙂
Related (or not):