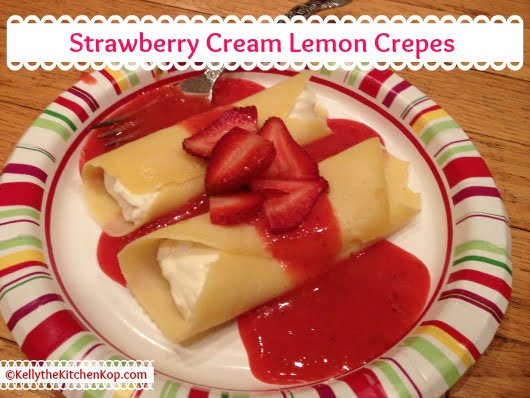 Strawberry Lemon Cream Crepes
These strawberry lemon cream crepes are full of light summery flavors you'll love, even if summer is still a few months off, and especially if winter where you are has been as long and hard as ours has been here in Michigan.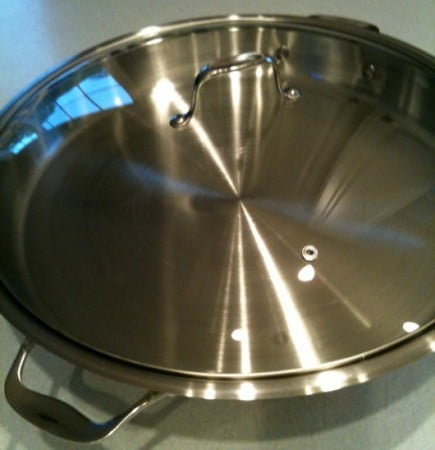 If you have one of my favorite pans it'll make frying the crepes go much faster because you can get a lot more going at once.  Click here to check out my favorite pan.
I pulled a few different recipes together to come up with this one, let me know if you like it.  Don't forget to look over the extra pictures below the recipe.  🙂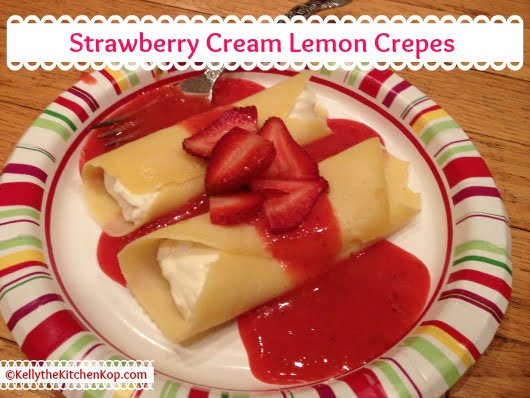 Print
Strawberry Lemon Cream Crepes Recipe
Yield 30-40 Crepes, depending on size
Ingredients
Crepe ingredients:
Here are a few grain-free crepe options:
Cream cheese filling ingredients:
Strawberry sauce ingredients:
Fresh sliced strawberries for the top
Instructions
In a food processor, puree the strawberry sauce ingredients until smooth.  Spoon into a bowl and set aside, or put into the fridge if you're not serving until later.  If you're using still-frozen berries, put all of the ingredients into a saucepan.  As it heats up, use a masher to smash up the berries -- sometimes I'll just leave it chunky when I don't have fresh berries for the top.
In a mixing bowl (I use my Bosch to make it fast and hands-free, but you could also use a hand blender), mix together the cream cheese filling ingredients; spoon into a bowl and set aside — again, put it in the fridge if you're not serving until later.
In another mixing bowl (or rinse out and dry the Bosch bowl) OR in a blender, mix together all of the crepe ingredients except the flour, and once that's blended well, then add the flour and blend that in.  It will be a thin batter.
Pour the batter onto a buttered frying pan — again, using my favorite pan makes it go faster, and I kept the temperature at about 300*.  I probably should've used a bit higher temp so they'd get a little more golden on the outsides, but I tend to forget things and burn food a lot (I'm right on the ball like that), so I kept it lower for once to prevent that from happening.  (I'd like to think that someday I'll learn.)  You'll be able to tell when they change color a little and are done on both sides.  If you won't walk away like I always do, let it get a nice golden brown on each side.  Cool on a plate between pieces of parchment paper.
When you're ready to serve, assemble like this:  Fill each crepe with 2-3 Tablespoons of cream cheese filling and roll up, using a bit of the filling to keep the top piece of crepe sticking down onto the bottom piece.  Spoon strawberry sauce over the top, and garnish with extra fresh berries.
Did you make a real food recipe?
I want to see it! Tag @KitchenKop on Instagram and hashtag it #KitchenKopRecipes OR share anything you know I'll love by tagging @KitchenKop and hashtag #KitchenKop -- see you over there!
Let me know what you think! 🙂
Also check out Kasey's video making sweet and savory crepes on the hoverboard.  🙂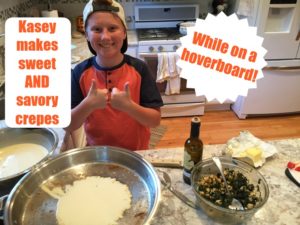 Here are a few more pictures of our Strawberry Lemon Cream Crepes…