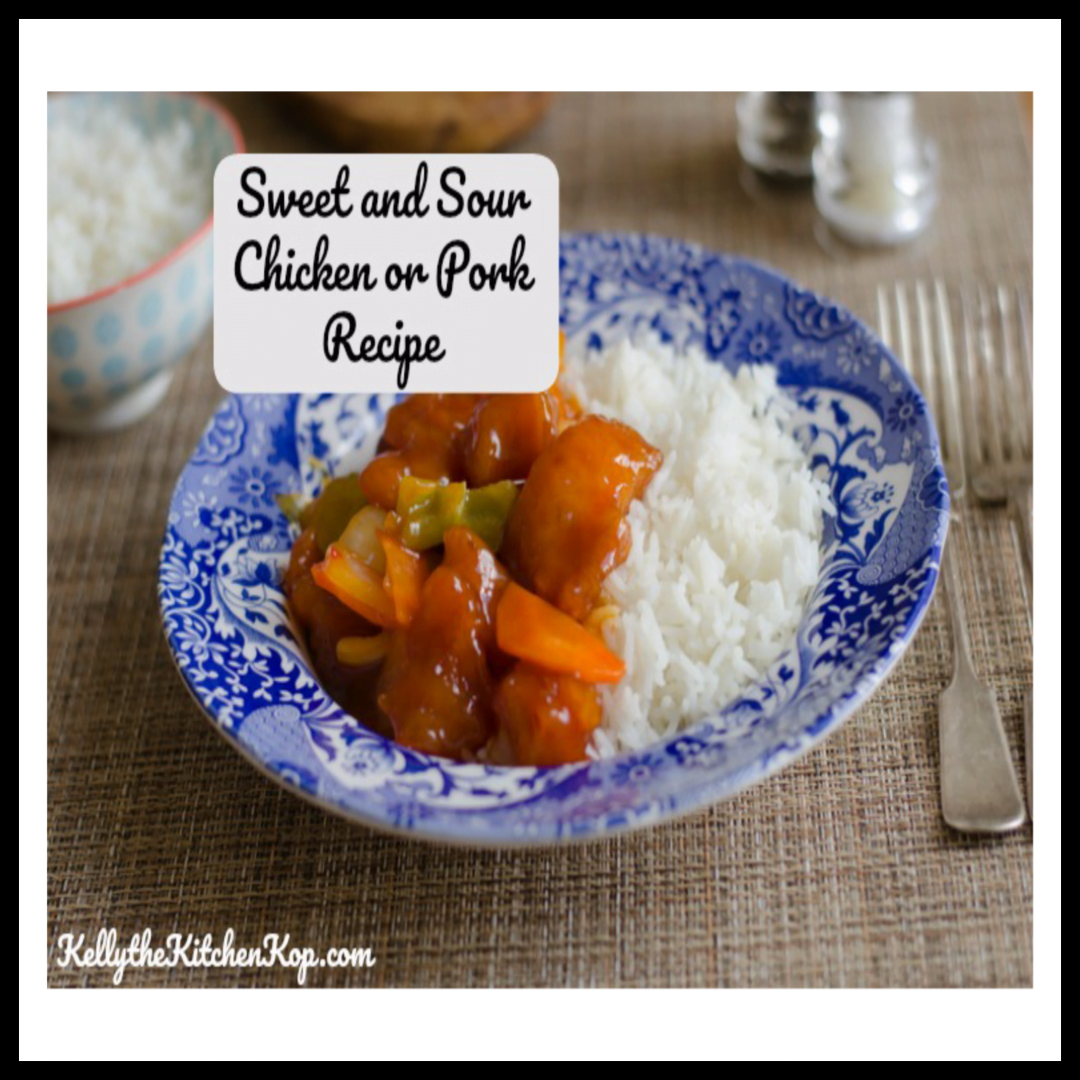 This Sweet and Sour Chicken or Pork Recipe is everyone's favorite!
I made this a lot before my "food conversion", and it was my "signature" dish when friends and family came over. Since I couldn't find a good way to adapt the recipe, I didn't make it for a long time. When I found out that beef tallow is a healthy cooking fat, and I learned a few more ways to tweak the recipe, I began making it again! Now I'm excited to finally share a real food version of this sweet and sour chicken or pork recipe! Keep in mind that the sauce is still pretty sweet, so it's not a meal you'll want to have real often, but it's a yummy treat once in a while, and much better for you than what you'd eat at an oriental restaurant.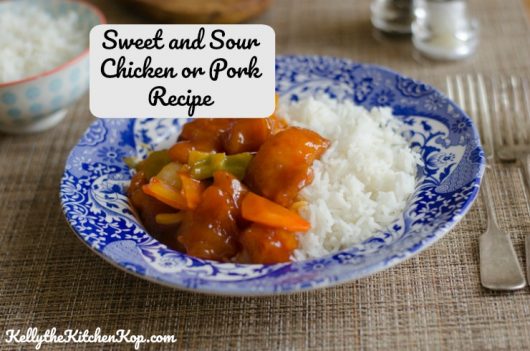 Print
Sweet and Sour Chicken or Pork Recipe
Yield 4-6 servings
Ingredients
Organic brown rice, germinated rice, or I LOVE this rice these days.  For an easy way to add extra flavor and nutrition, make the rice using homemade chicken broth for the liquid.  (Which I make and keep on hand in the freezer or I also keep this shelf-stable broth on hand for when I'm in a pinch.)
Chicken or pork, cut into bite-sized pieces, about 3 pounds, more depending on how many you're feeding — don't have a good local source for safe meat?  Check out this safe meat you can buy online.  
Beer batter ingredients (or see the instructions below for an alternative batter):

1/4 cup cornmeal, organic if possible
2 cups flour of your choice, unbleached white or Einkorn flour
Organic seasoned salt to taste – I used almost a Tablespoon.  If you don't have that, just sprinkle in some garlic powder, onion powder, sea salt, pepper, and paprika — about 1/2 teaspoon of each or more to your taste.
One can of beer or 1 1/2 cup water, but water is pretty blah, so you'll need extra seasoning.
Instructions
Prepare the rice according to directions.  (Rice is so easy and fast to make in the pressure cooker.)
Next, prepare the chicken or pork:  Cook bite-sized pieces of chicken or pork as instructed at this deep fried heaven post, using this beer batter recipe, you can keep it hot in the oven on warm as you're making more batches.  (Don't like beer batter?  This recipe is good too -- I doubled it.)
As the meat is frying, prepare the sweet and sour sauce:  Combine the ingredients in a medium saucepan.  Heat until thick, stirring constantly.  Add fruits and veggies of your choice and cook in the sauce until they're the consistency you like -- I like mine to still be a little crunchy.  If you like yours softer, stir-fry them in some butter in a separate pan first before adding to the sauce.
Put it all together:  Spoon the sauce with the fruit or veggies over the cooked meat and rice and enjoy!
Did you make a real food recipe?
I want to see it! Tag @KitchenKop on Instagram and hashtag it #KitchenKopRecipes OR share anything you know I'll love by tagging @KitchenKop and hashtag #KitchenKop -- see you over there!
More you might like:
More Chinese Recipes (For those of you who have missed Chinese food since switching to a more nourishing diet.)
More about healthy fats/oils – scroll down and see if there's any you've missed.
Another post about adapting recipes along with a recipe for caramel corn. But since then, I've decided Kettle Corn is tastier, easier to make, and with less sugar, too!
Meal Planning Help!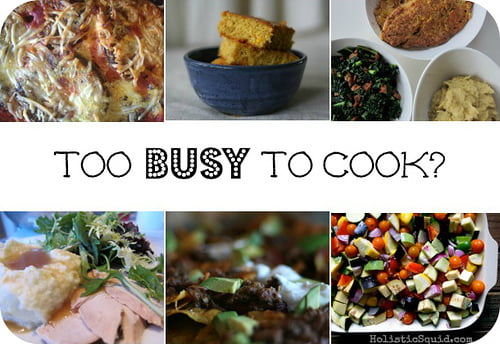 Sick of planning meals and answering the question, "What am I going to feed these people?" No matter what kind of eater you are (traditional, GF, paleo, vegetarian)… Check out these affordable interactive easy-to-use meal plans where the work is done for you. NOW recipes also available from Nom Nom Paleo, The Paleo Mom, and Wellness Mama all in one spot! You can read over my review here.