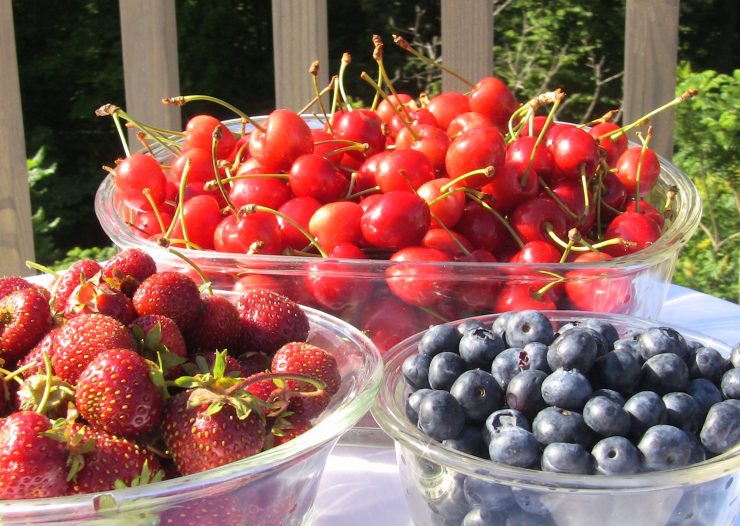 How has real food changed us?

There are some huge benefits since we began this journey over 5 years ago now. Some may be more unique than others…
None of us get sick as much as those around us.  And if we do get sick, it's short in duration.
We have greater hope of avoiding chronic diseases, so we'll be able to live well into our old age–who cares about living longer if you're not healthy enough to enjoy it? (You'll may live longer, too.)
We have peace of mind knowing we're doing the best we can (most days) with the bodies God has given us, and raising our kids as healthy as possible.
We really notice a difference in our youngest, who benefited from nourishing foods even before he was conceived. Thankfully, we've had pretty healthy, content kids overall, but our youngest has been the most content and easy going little boy you can imagine. Everything seems to come easy to him, whether it's potty training, learning, or whatever it may be. We hope this continues, but the only difference is our better eating habits.
Some other changes took place here as well:
Support from your spouse
In a way, all this has even brought Kent and I closer, because thank God we share this passion. Kent has been so supportive of all the changes, and with his interest in cooking now, we share a lot. (Soon we'll be working on our garden together, too.) The only thing that drives me crazy about him is his complete lack of any food cravings, sweets or otherwise.  Read more about support from your spouse.
The very tippy top of the list
But even beyond all that, I'd have to say that the biggest change in my life related to Real Food is THIS BLOG!  The past year and a half has been the busiest, most stressful, yet most exciting and rewarding time in my life, from a work or "career" standpoint anyway. (Being a wife and Mom still beats it all.) I have a new appreciation for real writers (no offense to other bloggers, I just don't think of myself as a "real writer"), and the deadlines and various pressures they deal with. I've certainly learned to get by on much less sleep! I've said it before, but I'm constantly amazed at what an odd passion God has given me for health and nutrition topics. I don't know why He would put that inside me, and this desire to share it with all of you, but I'm thankful that as much work as it is to keep this blog up, I continue to LOVE it. I especially love when I'm writing posts or interacting with all of you through the comments. I detest dealing with computer or website issues, and get sick of being reminded of what an idiot I am in these areas! (Yet I've come a looooong way!)
Another really cool thing is how many new friendships have come from this blog. You know who you are! Some are across the country, others in another country, and even those I've gotten closer to right here in my neighborhood as we all grow together in this area. Not to mention some really neat people that I've just corresponded with now and then via email. God is so funny, all the crazy things He does. I'm very thankful to Him and get sappy just thinking of you all.
More you might like: