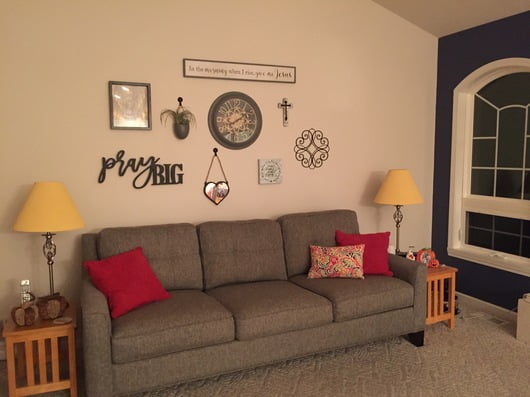 Okay guys, time for a bunch of pictures.  Living room remodeling pics (and Halloween/fall photos) are below, but first, I wanted to tell you a funny story.
Kasey & I have been helping to come up with games for church youth group lately, so the other day we played "spill your guts or fill your guts".  I don't know about the kids, but I thought it was hilarious!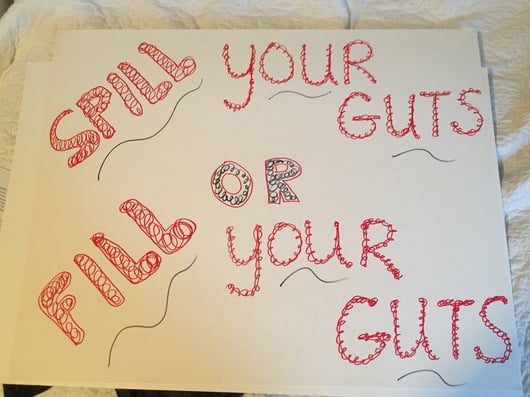 We'd ask Father Stephen and Luke, one of our youth coordinators, some uncomfortable questions that they likely wouldn't want to answer and offered food they could eat instead.
Here were some of the questions:
What's the worst thing you did as a teen?
Rate these people in order that you like them (3 co-workers)?
What's the longest time you've ever played video games without stopping?
(For Luke) Who do you like most, Fr. Stephen or Fr. Tony?
Here's what we had for the lovely food options:
Chicken feet, complete with the appetizing fingernails: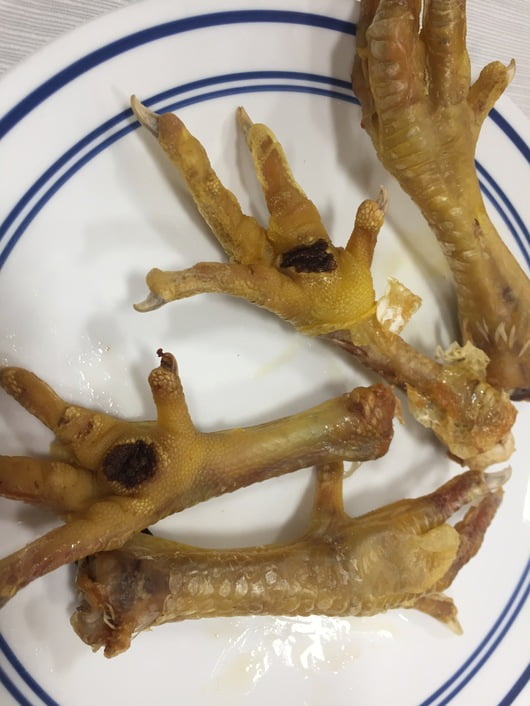 Liver-spam-milk smoothie (don't worry, I didn't waste my wonderful fresh raw milk on this, I bought some of the regular gross stuff from the store):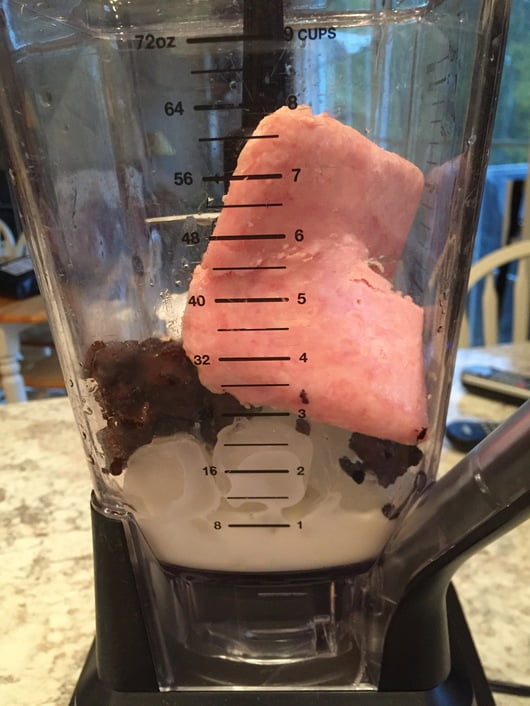 Clam juice
Salmon ice cream
Pickled pigs feet juice
Baby food peas/asparagus
Sardine Jello
Very hot sauce
Surprisingly a bunch of the kids WANTED to try the foods afterward, including the liver/spam smoothie, the sardine jello, and some were even biting down on those chicken feet!!!!!!!  I was SHOCKED and couldn't quit laughing.  One kid said he was going to try the chicken feet and put the whole thing in his mouth and I was like, "NOOOO, not the fingernail!  Bite the side!!!!!"
Of course I used the leftover chicken feet to make a whole bunch of delicious and nutrient-rich bone broth to have on hand for recipes like soup, or chicken alfredo.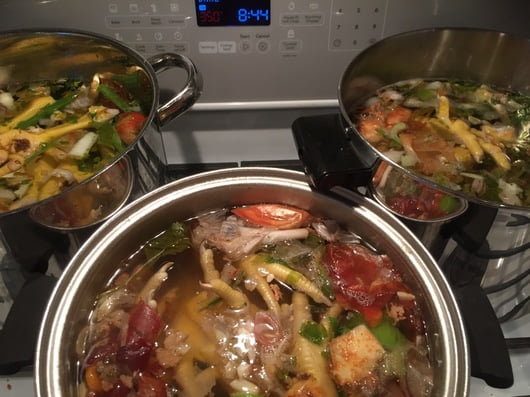 Here are some fall/Halloween decor/living room remodeling pics in case you're interested:
The living room began with our old couches that were ripping apart, so I found a great deal on new gray couches with our income tax money last spring.  (And I'm just finishing now in the fall!)  Then I found this rug that I LOVED — it had the blue of our accent wall in there, plus gray that matched our new couches, plus all sorts of color pops:
Next I needed to find material for new curtains, pillows, etc., and it took a lot of shopping (my poor sisters were so sick of me asking for their advice!), but I found some with all of the colors in there!!!  Here's a close-up: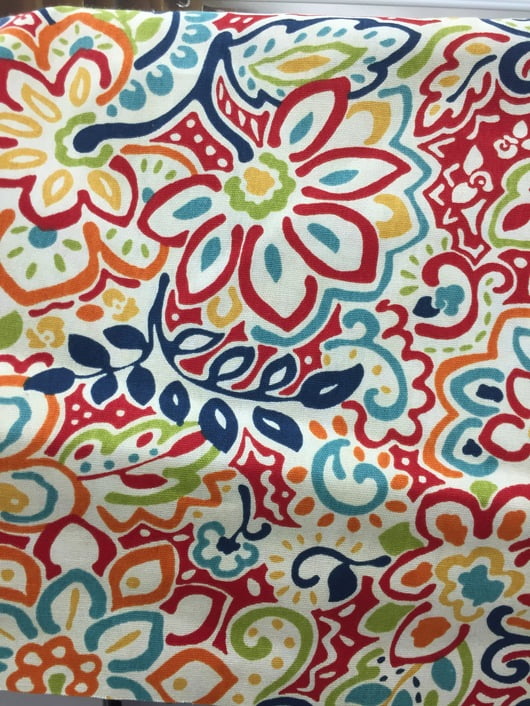 Once I finally found all the stuff I wanted, then Kent got this "gallery wall" up: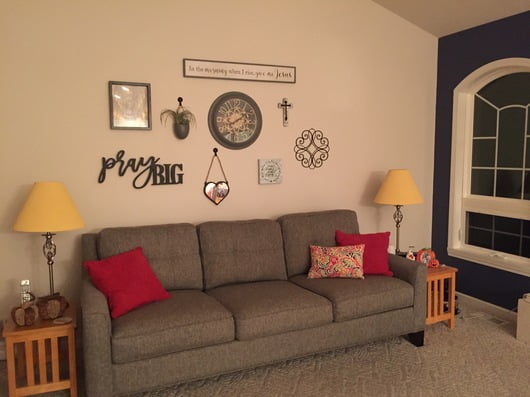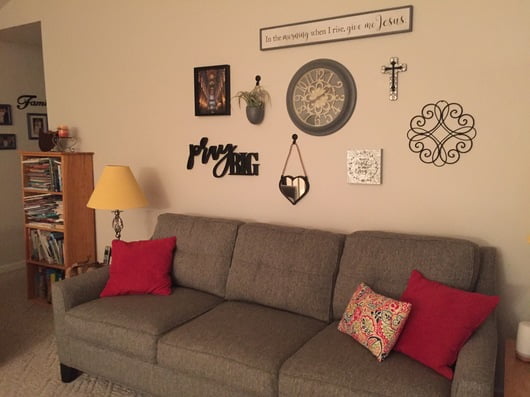 Here are a few close-ups so you can see better: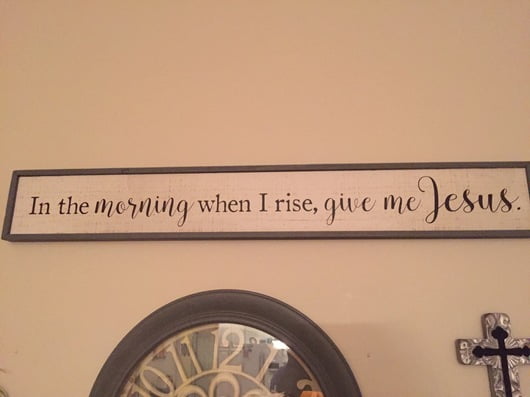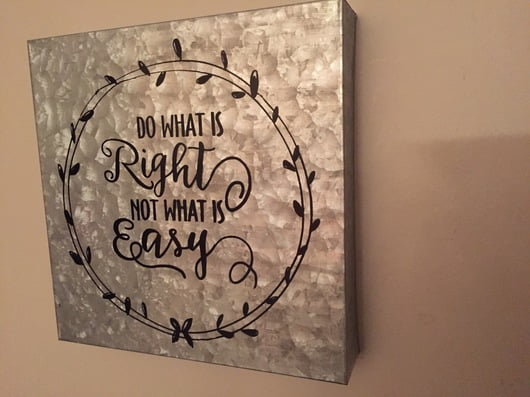 This framed photo is from when our son visited Notre Dame: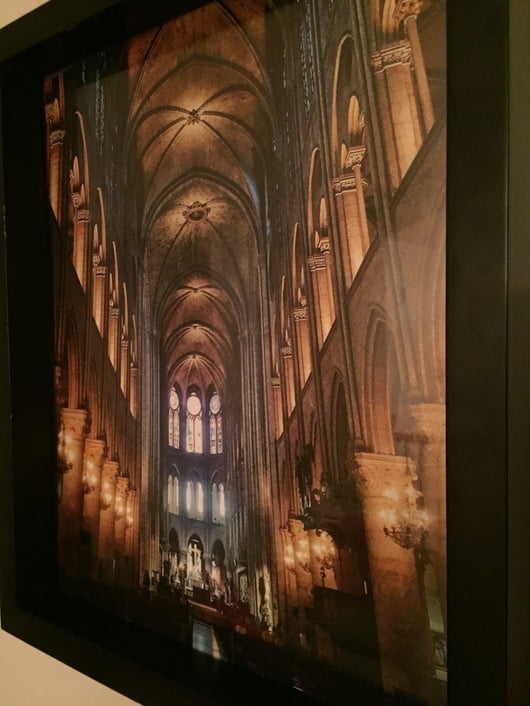 You can see the curtains a little more here: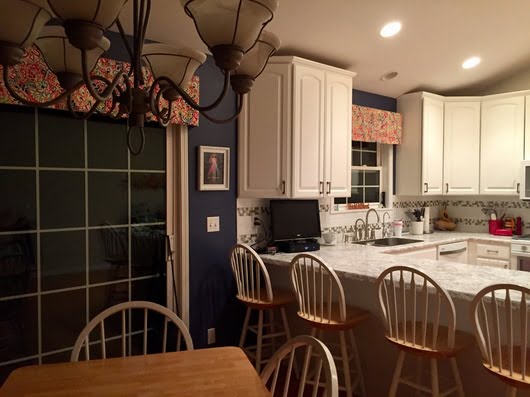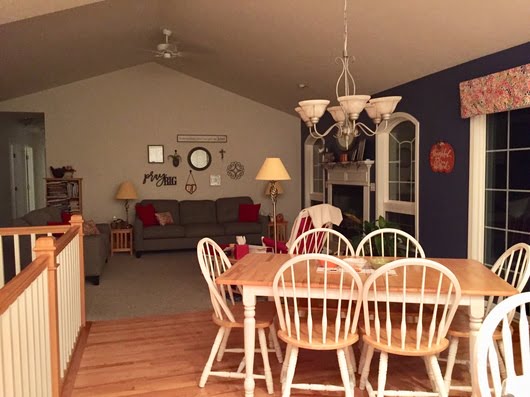 I wanted to bring all of the colors into the kitchen and other places too, and I found this pitcher that I also fell in love with!!!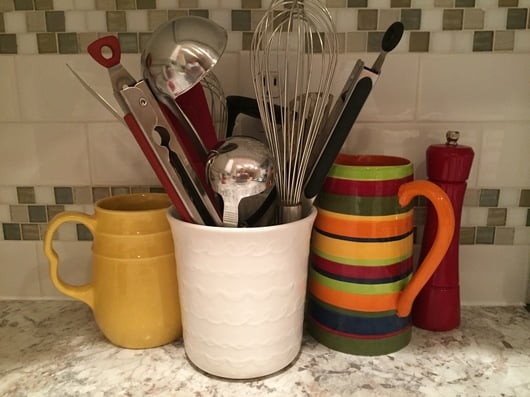 I painted these decorative balls I found at Hobby Lobby: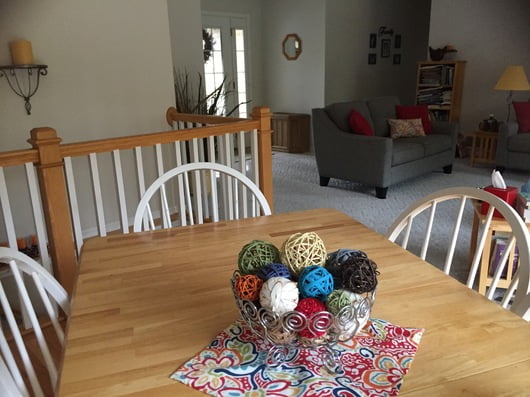 I'm not totally sure about these plates yet.  They have all the colors, and I love the yellow ones for sure, just not sure about the green, red, and blue/white…  Too random??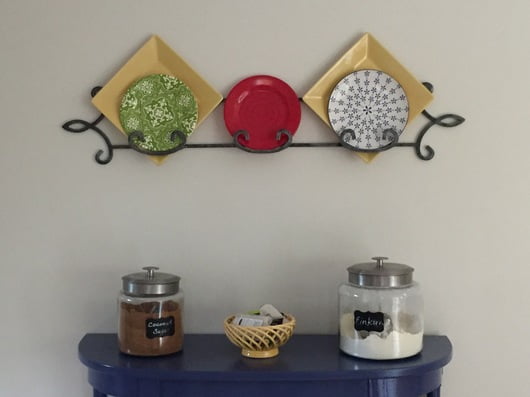 Moving into more fall decor shots…  (And you can see how we had our rocker cover replaced with red cushions — looks fuchsia here but it's red.)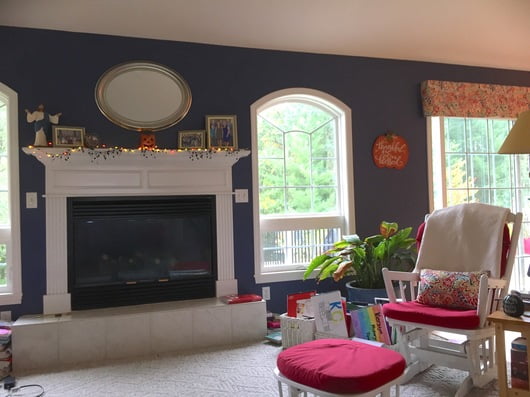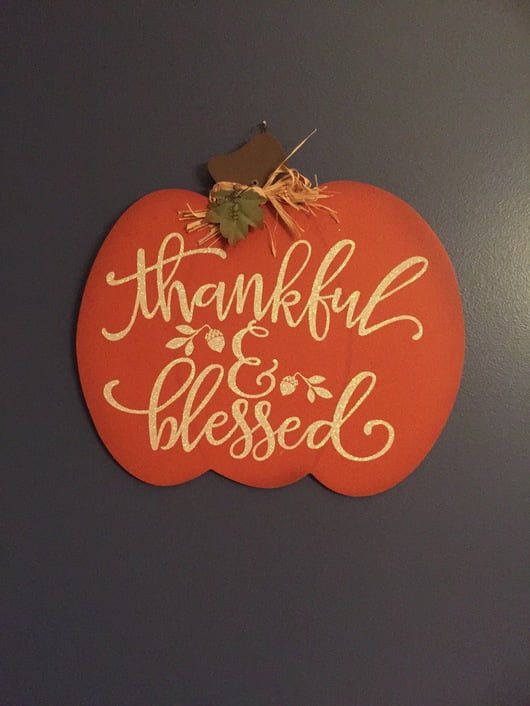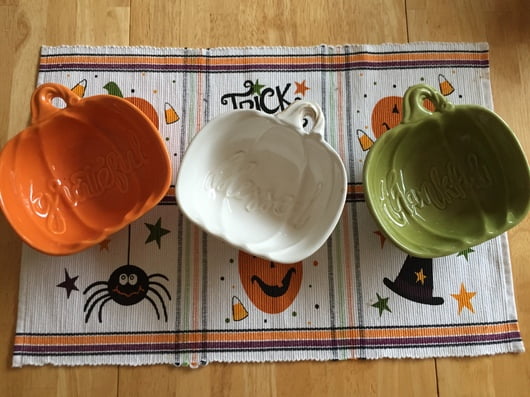 Useful for snacks when entertaining: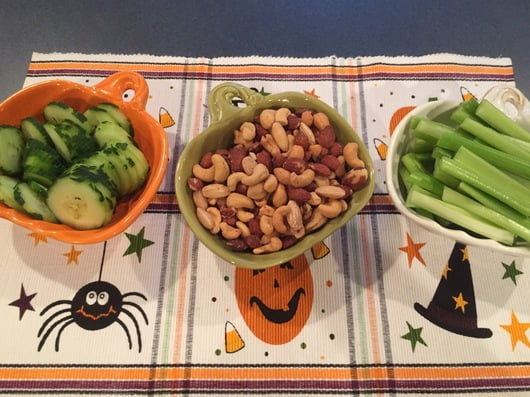 More favorites: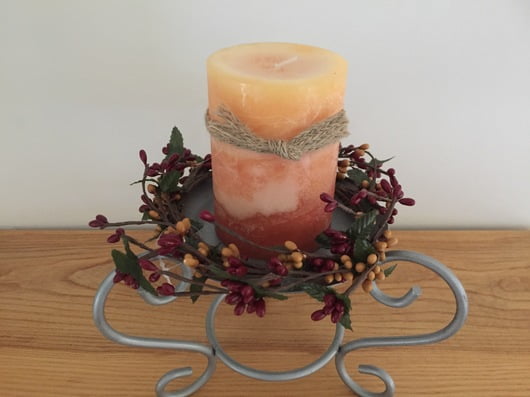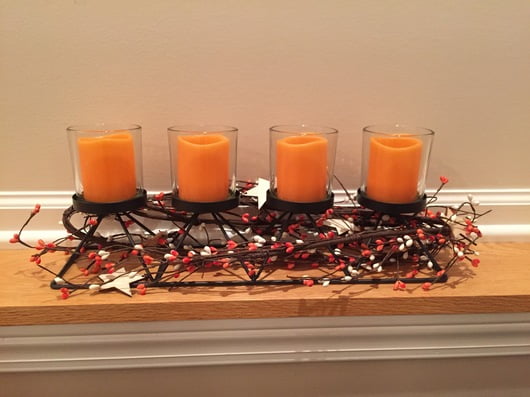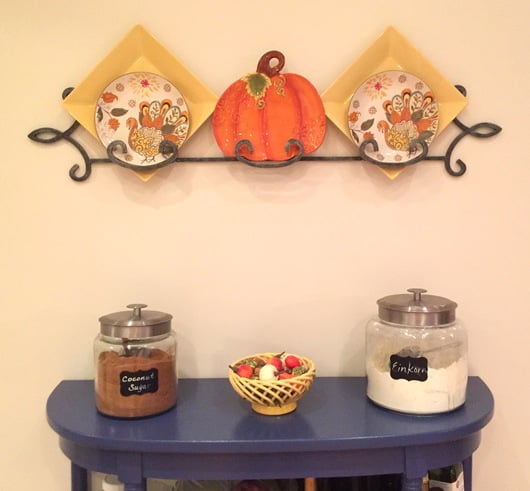 Spider lights on the porch: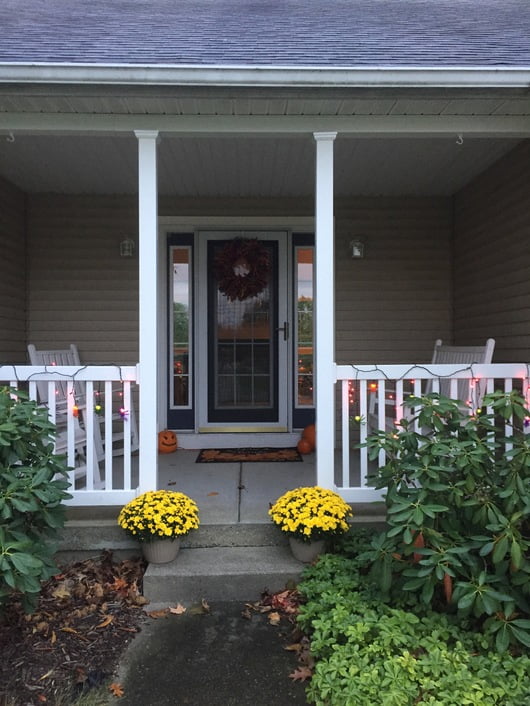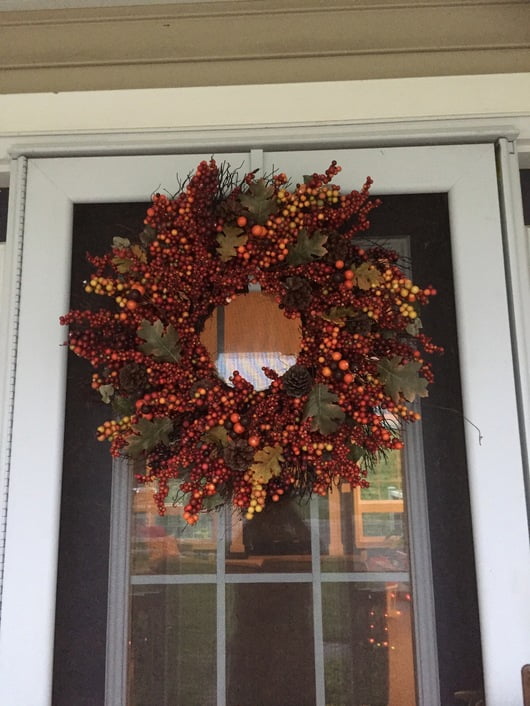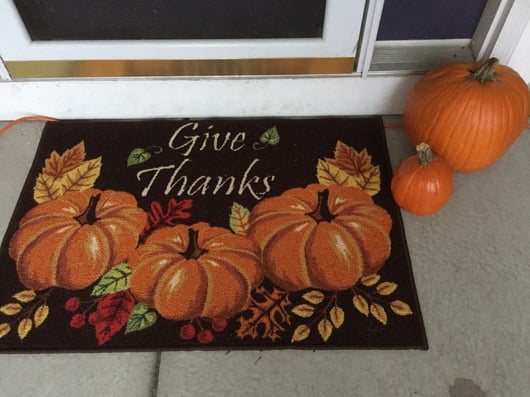 And now just some pretty fall shots — Michigan is a great place to live, especially this time of year!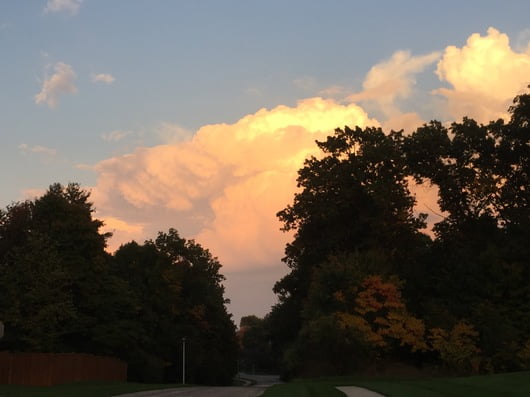 This is down the hill from where we live by the dam in our little town — I took these with my iPhone!: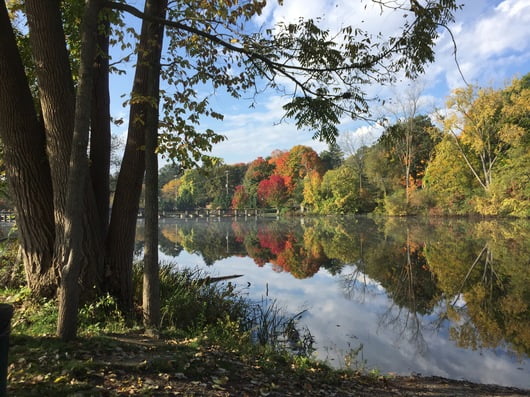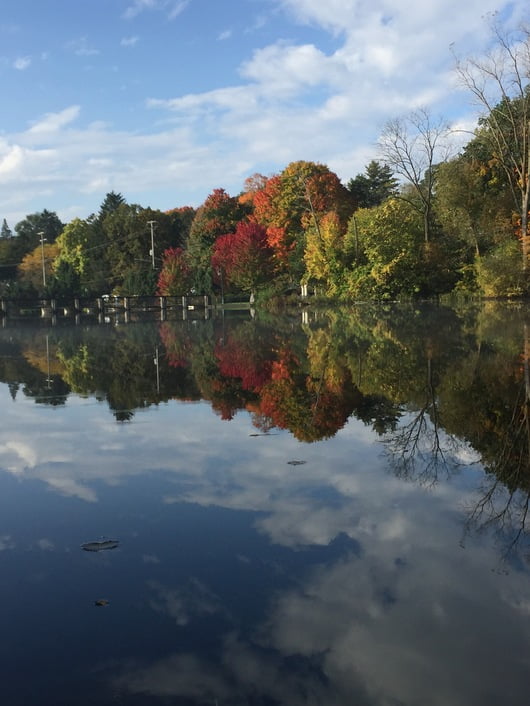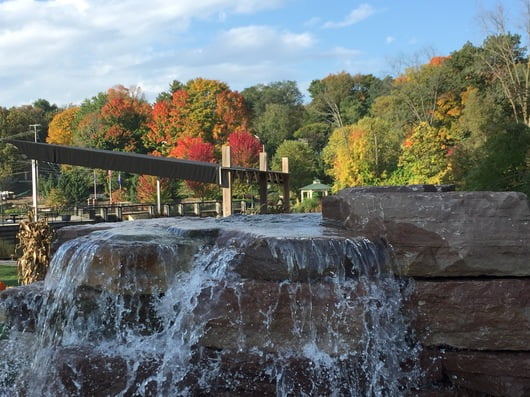 Here's Kasey being a goof when we visited the apple orchard recently: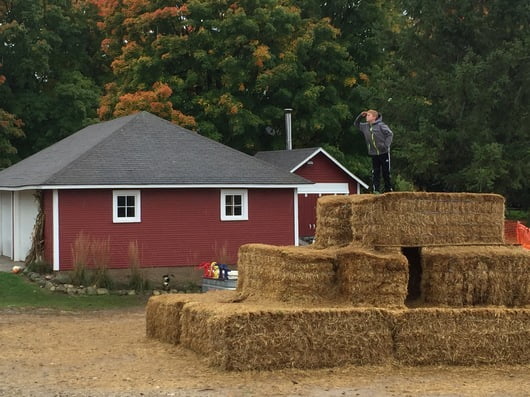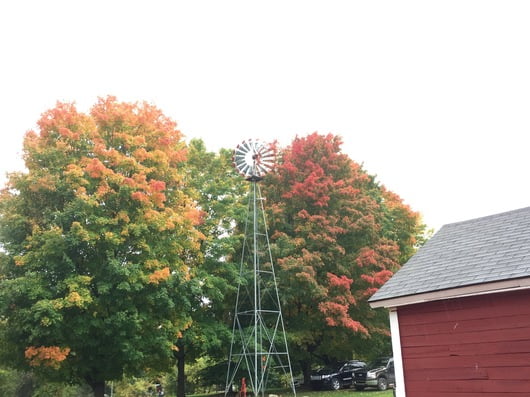 Kasey made a spider cake for a Halloween party he went to last weekend: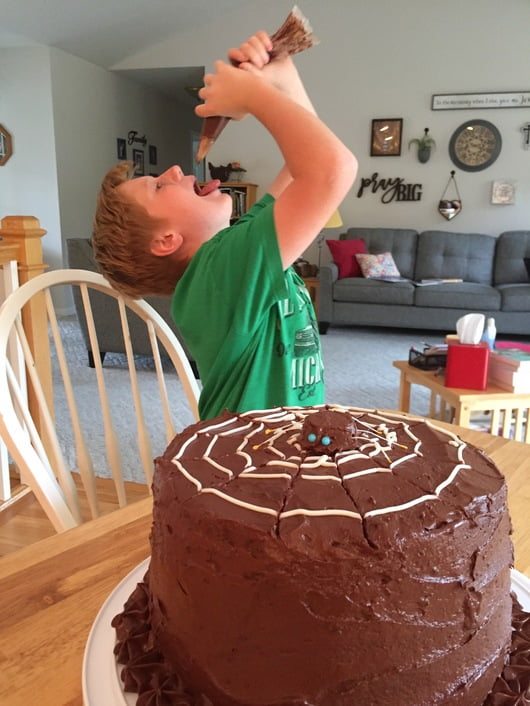 That's all, is anyone still even here???  If so, let me know in the comments, and tell me if you like posts like this?  So that way I'll know if I just spent hours on this post for nothing?!
Have a great Halloween everyone!!!​
More of our remodeling projects you might want to check out: