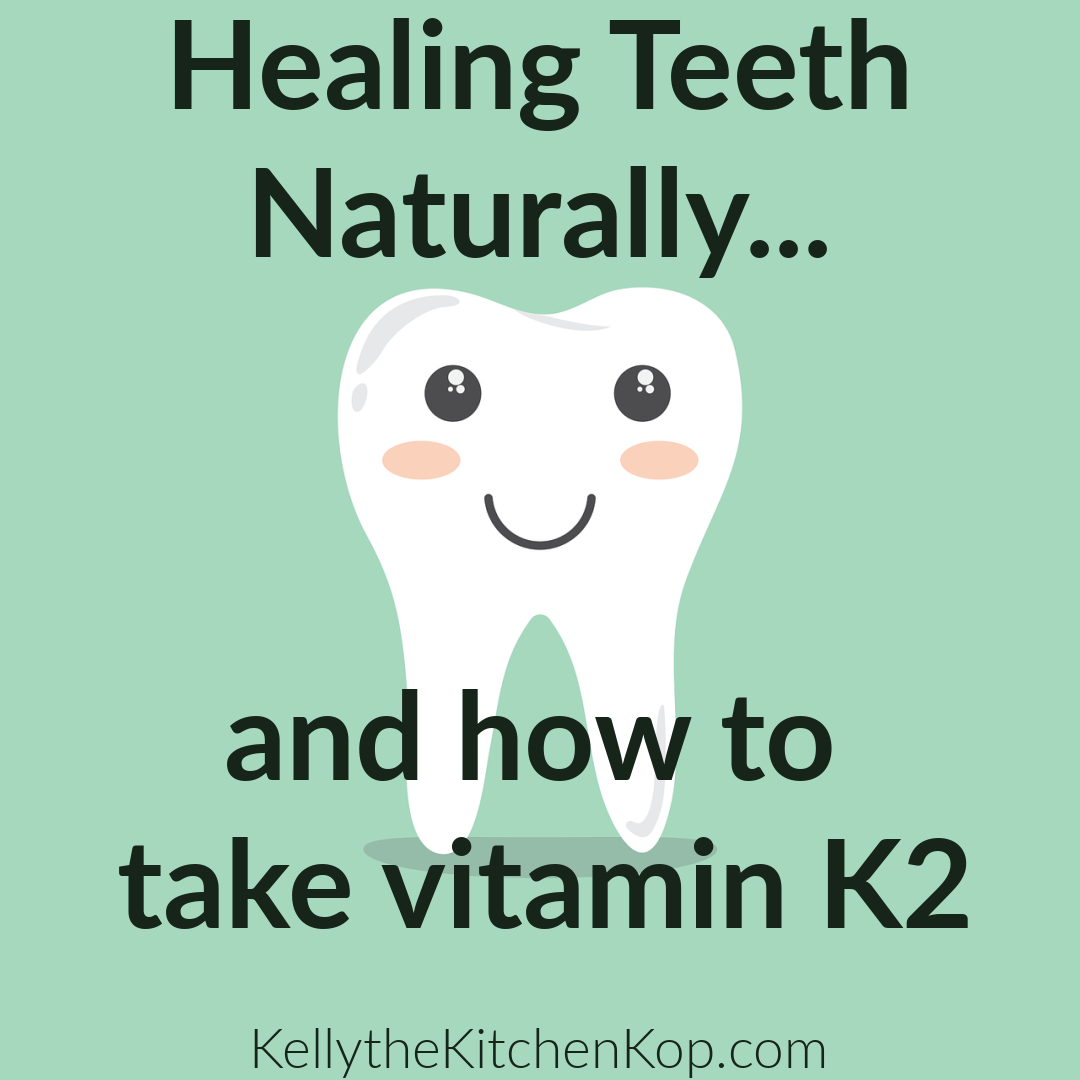 Healing Teeth Naturally (and How to Take Vitamin D and vitamin K2 Safely)

This is a guest post by Joanie Blaxter, founder of Follow Your Gut, but first a disclaimer: neither Joanie nor I are health professionals, use what you read here as part of your own research and then consult with a natural doc or health professional you trust to find what is best and right for YOU.  Read my entire disclaimer here, and also note that there may be affiliate links in this post.

Miracles Happen!  It's official, it's taken me YEARS OF TRYING but I'm 60 years old and just gave birth!
Okay, well, so it's not a human baby, noooo, it's not an alien either, but keep reading to find out about the new life I've given birth to, which traditional doctors would say is impossible.
All my life dental hygienists have said things to me like, "You have the hardest tartar I've ever seen!" These comments are spoken with a cross between amazement and irritation, like somehow I planned it that way to make their job more difficult.
As a result of a lifelong history of extremely difficult-to-remove tartar, my gums have progressively and relentlessly receded over the years. Two years ago I finally found a holistic dentist I liked, so after way too long a hiatus from teeth cleanings, I scheduled a dental exam.
The report wasn't pretty.
The very sweet hygienist told me that there are three stages of gum deterioration; one being the mildest, and I was well into stage two, heading for three. Stage three is like "get all your teeth pulled" stage.
So, knowing the work HAD to be done, I agreed to the process of getting my teeth scaled, which basically means they get out the chisel and "big girl" tools to scrape up by the gum line to remove hidden plaque.
Somewhere in the middle of this grueling series of appointments, I attended the Weston A. Price national conference in Santa Clara, CA and was lucky enough, as part of my work exchange, to be assigned as the room monitor for Dr. Natasha Campbell-McBride's day long talk.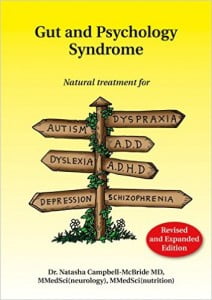 Campbell-McBride, or Dr. Natasha as she prefers to be called, is an international probiotics expert. She has written a book called The Gut & Psychology Syndrome (GAPS) in which she describes how an imbalance of gut microflora leads to "a river of toxicity from the gut into the bloodstream" that causes systemic inflammatory reactions all over the body, but most troublingly, the brain.
Unfortunately, imbalances in the gut microflora due to modern diet, lifestyle, and medical care have become the norm.
This new "norm" has resulted in an epidemic of disastrous psychological and autoimmune conditions. Dr. Natasha came to this understanding through the process of curing her own son of autism.
Somewhat on a fluke, I asked Dr. Natasha if she knew anything about unusually hard tooth tartar and the sheer force of her immediate answer rocked me back!
"You have a vitamin K deficiency," she announced authoritatively to the room.
She went on to explain that specific strains of microflora normally found in a healthy gut will make vitamin K. When those strains are missing, and particularly when the diet does not also include enough vitamin-K-rich animal fat, the body becomes deficient.
Vitamin K is the "calcium police," meaning K directs the body to use calcium appropriately, which, for the most part, is to build sturdy bones and teeth.
When K is "missing at work," the body starts putting calcium in all kinds of bizarre places it shouldn't be like:
Plaque in the arteries of the heart
Bone spurs
Kidney or liver stones OR
Tartar in the teeth!
About ten years ago there started to be a shift in the natural foods industry to encourage customers to replace calcium with more magnesium.
At the time the medical mainstream was figuring out that while we have an epidemic of weak bones in this culture, simply taking calcium did not seem to be helping. In fact, consuming supplementary calcium appeared to be making heart disease worse (see #1 above "plaque in the arteries)!
The piece the medical model totally missed at the time, and still hasn't really understood, is the role of vitamin K in this process.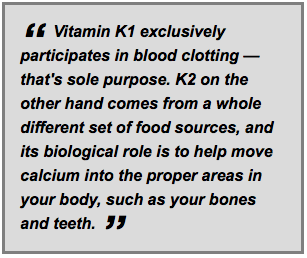 Just to clarify – I learned that what most doctors are familiar with is actually K1, which is found primarily in plants and functions to clot the blood.
What Dr. Natasha was referring to (and Dr. Price studied) was K2, which is found almost exclusively in animal food and is associated with strengthening bones.
The study of vitamin K2 is, in fact, the critical piece to Dr. Weston Price's seminal research on how to heal cavities.
Unfortunately, he died having never identified the mystery nutrient found abundantly in spring grass-fed butter that helped make cod liver oil so much more effective in the cure of various diseases, and which he dubbed "Activator X."
So, back when Dr. Natasha stated I had a vitamin K2 deficiency, I jumped right into action taking high levels of vitamin K2. (Here is my K2 favorite – it has high potency, theraeutic levels of K2 in combination with nutrients to make it more absorbable. Also, turns out K-2 is extremely difficult to manufacture and degrades very quickly. According to testing most brands lose a majority of their potency, often before purchase. But this one is pharmaceutical grade, extremely stable and has been tested at 100% potency two years post manufacture. )
Knowing I had been extremely deficient for years, I assumed I would need a therapeutic dose, quite possibly for a long time. I also incorporated the GAPS approach into my traditional foods diet and regularly ate both fermented foods as well as probiotic capsules.
Continuing my research on the subject, I then chose to stay at that high dose after reading an interview by Dr. Mercola with a vitamin K expert named Dr. Kate Rheaume-Bleue in which she says, "The good news is that vitamin K2 has no toxicity. No toxic effects have ever been demonstrated in the medical literature." 
(Side note from Kelly:  Read the interview synopsis, it's very interesting and is LOADED with good info on calcium, vitamin D and vitamin K2!  I also want to read this author's book, "Vitamin K2 and the Calcium Paradox:  How a Little Known Vitamin Can Save Your Life".)   
According to Rheaume-Bleue, although K2 is put in the same classification as oil-soluble A and D, which can be toxic if taken in too high doses for too long, K2 has no designated toxicity because "… all vitamin K2 does is activate K2 proteins… And if they're all activated and you take extra K2, it simply won't do that."
This means the body uses what vitamin K2 it needs and simply discards the extra.
The reason K2 is designated as an oil-soluble vitamin is that it won't work without the presence of an oil in the system. So, when I take my vitamin K2, I also take my dose of cod liver oil.
Knowing that I have considerable bone loss in my jaw (and therefore, I assume, elsewhere in my body), I've continued on that program for the past year and half: high K2 and lots of good probiotics, particularly the bifido family.
And it's official. I've had two checkups by the dentist where she has said the same thing each time:
You're a dental anomaly!
According to my dental history, my dentist should see gum redness, swelling, bleeding, signs of infection and most likely, sore, loose teeth.
Instead, my gums are pink, strong and healthy, my teeth stable and pain-free.
And here's the best part:  I now produce virtually no dental plaque! Each visit there has been next-to-no plaque on my teeth, despite the fact that my previous visit was nine months ago and not the usual six (my dentist moved her office which delayed scheduling).
Unfortunately, my gums have not grown back… yet!  My own practitioner, Theresa Vernon, told me that her receding gums did not start to grow back until she removed a copper toxicity from her system (very common for those with fatigued adrenals).
So that's next on my agenda. I'll let you know how that goes!
I know it will take a long, long time, but my goal is to provide enough nutrients and healthy gut flora that my body will begin to reverse the bone loss. And I have no doubt that I am well on my way down that path.
I fully expect my bones to strengthen with age, not weaken.
Vitamin K2, by the way, is a profound "activator" for cod liver oil. K2 is necessary for the cod liver oil to work its miracle healing cavities (see How to Save $2600 in Dental Bills).
I must also admit that I simply adore my sonic toothbrush (click here for the one I have). It was sold to me by a dental hygienist (who owns the company that makes them) who said that sonic toothbrushes removed plaque better than electric toothbrushes. I use my electric toothbrush in the morning and my sonic one at night, and my teeth do feel cleaner after the sonic brushing.
And, no, using the sonic toothbrush doesn't explain my clean dental bill of health since I wasn't using the sonic brush nine months ago when I got my first check up. In my mind, it's due to the lack of plaque on my teeth which has allowed my gums to stop harboring bacteria.
Do you take vitamin D?
Sally Fallon Morell, President of the Weston Price Foundation, has long warned that taking vitamins D or A in isolation, will increase the need for its complementary oil-soluble vitamin.
For example, when Sweden put isolated A in their milk, they saw an increase in bone fractures.
This is because increasing A in the diet increases the need for D. Without enough D, people's bones softened and broke more easily.
Most unfortunately, Sweden misinterpreted this and began warning against the addition of vitamin A in the diet. Big mistake!
Similarly, many people, at the suggestion of their health professionals, are now taking anywhere from 5,000-10,000 iu of isolated vitamin D.
Also potentially a big mistake if done without concurrently increasing vitamins A and K.
See 10 Important Facts about Vitamin K You Need to Know for the latest information on the correct, therapeutic dosing of and proportion between the critically important, interconnected oil-soluble nutrients, A, D and K.
(Another note from Kelly:  so this is the only vitamin D I take, and this is the vitamin K2 supplement Joanie and I both take — if you order 3 or more at that link with the code KOP, it's an even better deal than their auto-ship option + you'll get free shipping!)
Do you have stories of healing your teeth too?  Please share!
Related/More Information: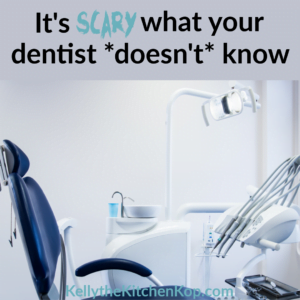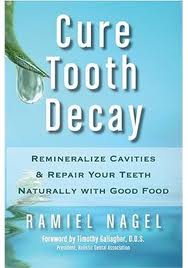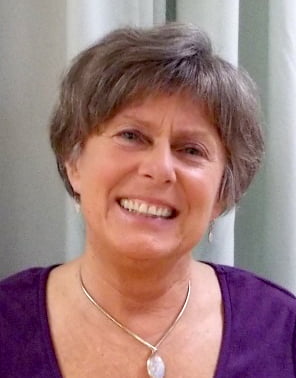 This was a guest post by my sweet friend, Joanie Blaxter, who is now a regular writer around here!  She's been the Ventura County, California chapter leader of the Weston A. Price Foundation since 2010.  Also, find her past guest posts here.