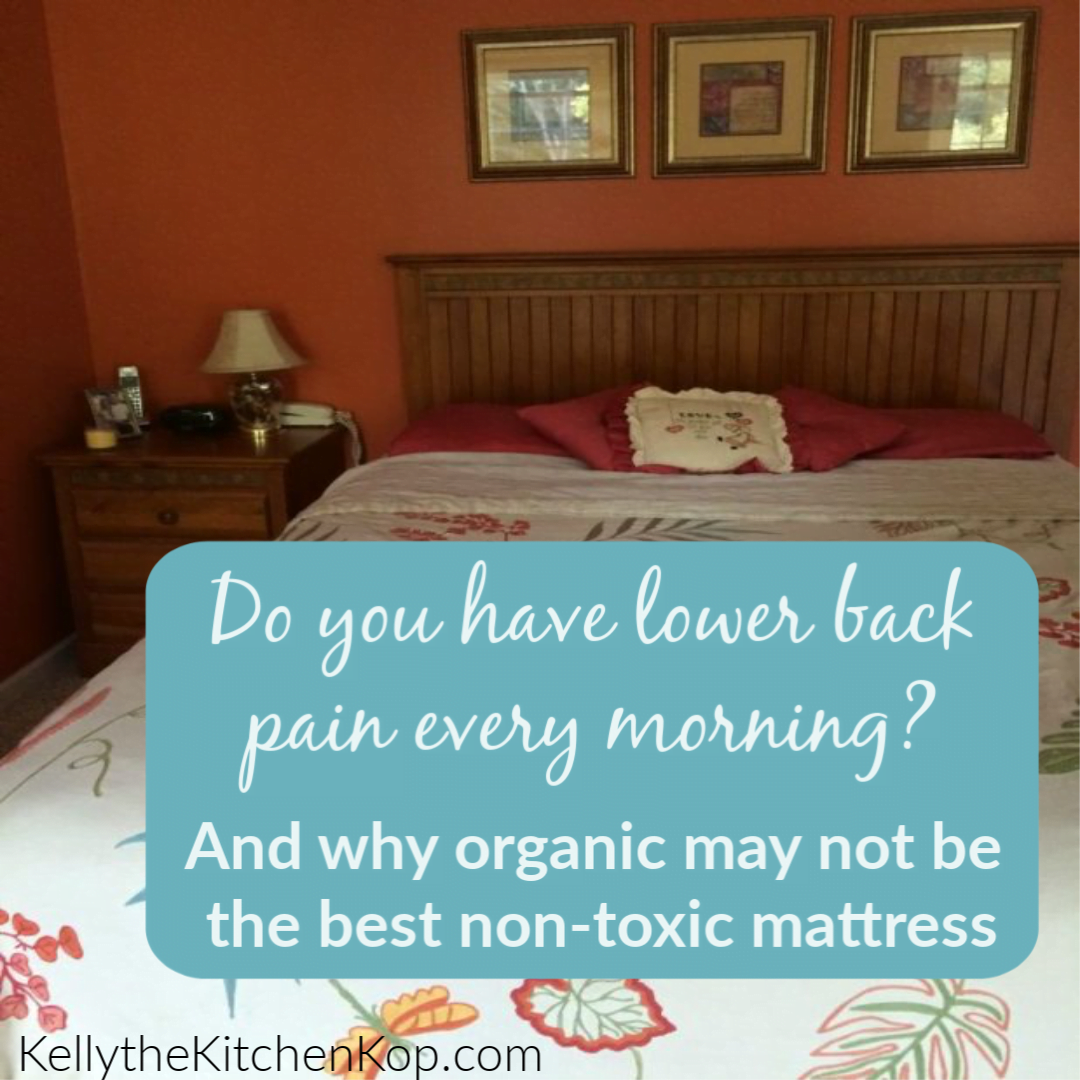 Do you have lower back pain every morning like Kent did?
For me a mattress is no big deal, I fall asleep within 5 minutes after my head hits the pillow and often don't move at all for 7-9 hours.  I know I'm blessed, because some of you out there really struggle with sleep; and I've been so much better about getting to bed earlier the past few months — I've realized how important sleep is to our overall health and I don't want to get sick because I'm up late working on my health and nutrition blog!  (Read more here:  How to find the time for what's important and get more peace in your life.)  However, a few months ago I found out that apparently Kent had been having a lot of back pain — I knew he'd been using an extra pillow to try and get comfortable at night, but I didn't realize how bad his pain had gotten, because he never complains.  So when this company gave us a new mattress to try, he was happy to give it a go.
Here's what happened after we got the new bed…
He went to sleep before I did and when I crawled in next to him a little later, I freaked out because he was so quiet — as in, not snoring — I had to shake him to make sure he was okay!
In the morning he got out of bed, stretched a little and just said, "Wow."  I asked, "What?  Does your back hurt?"  He said, "Actually, NO."  He said that was the first time in weeks that he woke up without back pain.  I thought it would take at least a few days to notice a difference!  And it did take a few days to get used to it overall, which they told us was normal, but when he woke up with no pain, we were hooked.  (Actually, they told us that some may even have more back pain for a few days, I guess it's like walking around all slumped over, then all of a sudden you have good posture — it could cause some sore muscles until they adapt into a healthy alignment.)
Nowadays it's not like his back never hurts, it'll definitely still bother him now and then, especially if he's in the car a lot, it he's sitting too much at work, or if he sits in a weird shaped chair at a restaurant like we did a few weeks ago, but at least we know now that his time in bed is restorative sleep, and not causing problems like our last mattress.  (Also Joette helped him find the right homeopathic remedies for when he does have any lingering back issues.)
What about a "pillow-top" mattress?
We had a pillow-top mattress but found out how quickly those go bad, and they're not cheap either!  A few years ago these were all the rage (maybe they still are?), and when you first lie down on them they are really comfortable, but we've found that they just don't hold up well.  When it's time for bed, you'd better just plan on crawling into your crater for the night and keeping that same position.
What about a "Sleep Number" bed?
Many people go this route because they've seen the commercials and assume this is their only hope for a good night's sleep and the only way to deal with their chronic pain, but this video compares two mattresses:
Also, here is an image of someone laying on their side on different technologies. The red is increased pressure on an x-sensor pressure mat that is in between them and the bed they are laying on: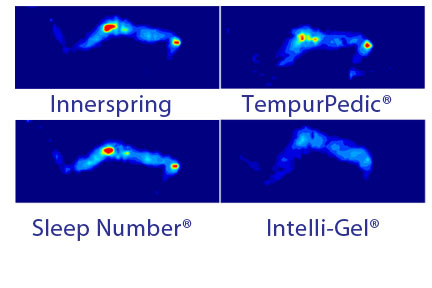 Are these organic beds?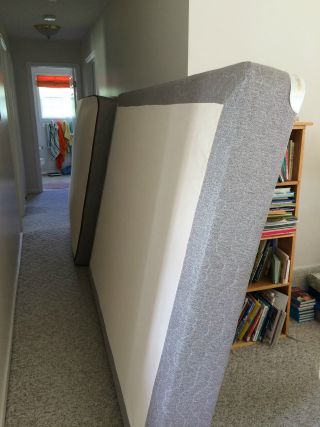 When Caroline shared a guest post here a few years ago I learned that newer mattresses can be dangerous because of how they "off-gas", which means that all the fumes from the fire-retardant chemicals that are sprayed on the bed can be breathed in, and her story shows how terribly these toxins can screw up your health.  Read that story here:  Is Your Mattress Toxic?!  One girl's scary story and how she finally got better.  (And if it's harmful for adults, imagine what that could mean for your newborn sleeping on a new mattress!)  By the way, here's the answer to a question I'm asked about often:  Caroline found in her research that it takes 3-4 years for a sprayed mattress to "out-gas", that's a loooong time.
But here's why organic isn't the best option:
Her answer was to buy an organic bed, but if you start asking around, you find out that organic beds don't hold up well either.  Almost all material that is considered organic breaks down fairly quickly when you put pressure on it, such as from tossing and turning, and especially when it's combined with moisture (people tend to sweat at night).  So you'd spend all that money and end up only getting a couple good years out of it.  (The one we have has an organic cover though, plus it comes with free organic sheets!)
We've been very happy…
Here are a few points on why
these beds
are a great, safe choice, and we've been very happy with it:
The gel is made with food grade mineral oil that doesn't off-gas and is hypoallergenic.
The government requires a fire-blocker, but it's not regulated to make sure it's safe!  This one is silica based and basically goes on like a sock, so there are no bio-available chemicals and it's not sprayed on.
Their technology was first used in the medical field, for burn patients or those with body sores, to relieve pressure and increase blood circulation.
They have a 30-year warranty, so no worries about craters or sagging.  (There are 4 therapeutic models and all have a 30 year warranty. Most companies consider it a warranty issue if it sags 1.5 – 2" — but they says it's a warranty issue if it sags 0.75", they can do that because the gel doesn't break down.)
We've had our mattress for a few years now and still love it.  No weird smell, I know that it will last, that it has all the best technology and research behind it so it's the most supportive — and you've heard it before, we spend a huge chunk of our lives on our mattress, so it's a worthy investment for sure.  Now we're saving up to get new mattresses for the kids too.