Is Your Mattress Toxic??
Recently I introduced you to a spunky 18 year old, Caroline, in her guest post, Are You Gutsy Enough to Be the Weirdo?   Today, she's sharing the story of something scary that happened to her recently.  Here's Caroline…
A mattress. What do you think of when I mention that word? Soft, fluffy, sleepy, comfy, warm, safety, and bedtime stories. I used to correlate these words with a mattress too, but not anymore. Do you know what I think of when I hear the word mattress? TOXIC!
That's right, my mattress is toxic.  It literally made my brain go into a toxic mess for a few weeks. Let me explain my scary story…
My Toxic Story
My mattress is passed down from my grandma's old guest room to my room. Who knows how old that thing is? It squeaks every time you touch it, and it gets really annoying. So, my parents think it would be nice to buy me a new mattress. They take me to the mattress store and I jump from bed to bed laying down on each one trying to figure out the best fit for me. Now that I look back, I can't believe I even did this! Good thing my dad said that the memory foam mattresses are too expensive. I later find out that they are filled with the most toxins compared to regular mattresses.
Blurred vision
We bring home the mattress that day and I sleep on it for 12 days. On the 12th day, I am driving home from a GAPS class at my local chiropractors office. My vision starts to get blurry, so much so, I thought my eyes were watering. It is dark and all the car lights keep blurring out. I just keep driving telling myself 2 more minutes. This was a bad idea; next time I am calling my mom to pick me up!
The crash
No, thank goodness I did not get into a car crash, but it does get pretty bad from here on out. I get home at about 8:00 pm and crash onto my new bed. I am feeling so nauseous and tired that I just go straight to sleep. I sleep until 11:00am the next morning (that's 11 hours!). I normally only need 9 hours of sleep when I'm feeling well. Obviously something is already wrong. I wake up feeling like I'm drunk. I have never drunk before, but I am guessing that is what it feels like to drink too much.
I'm toxic
I walk (or should I say sway) down the stairs. My eyes are still blurry and it feels like I have a stack of books on my head and 20 more pounds added to my body. Everything just feels so heavy and slow. By this time in my life, I am used to getting sick frequently due to my low immune system. Whenever I get sick, I always review the past few days to try and figure out if it is from a reaction, if it is a bug going around, or die off from the GAPS diet. No one that I knew of was sick at this time, so it must be die-off or a reaction.
It is not a surprise, since I am a research maniac, that I start to panic about the latest thing I read, toxic mattresses. How coincidental is that? I thank God every day that I caught it this fast, and didn't let it go on any longer!
Yep, my new comfy mattress is toxic. I start to cry and as clearly as I can get the words out (my speech is slurred too) I tell my mom…"I'm toxic. It's my mattress."
Bad Mattress!
It takes a few hours to wrap our heads around the situation and to fully understand that new mattresses are toxic. Our biggest challenge to overcome is why do "they" sell or even make something you sleep on toxic? But then again, think about what is in Doritos and Fruit Loops. These are not banned from grocery store shelves, and people eat that stuff!
My mom and dad get on the computer and do what I would have done if I weren't totally toxic. While I lie curled up on the floor useless, they research like all angry parents do! Did you know what they find? Let me show you some of the information, you will be shocked!
The new flameproof mattress regulation (July-07 National, Jan-05 California) requires all mattresses now withstand a severe open flame test. This requires known acutely toxic and cancer causing chemicals in or next to the surface of all mattresses. It is proven we will absorb these chemicals every night.

There are no labeling requirements for these chemicals. Many major mattress manufacturers have admitted to news media they are required to use, and do use these chemicals in their mattresses. But then these same and almost all mattress manufactures deny using chemicals to their customers, even ones who have gotten sick.

Organic mattresses often claim to use wool to pass the open flame test. Wool burns at 600 degrees and the open flame test is 2,000 degrees for over a minute. It is scientifically impossible for untreated wool to pass this test. Since there are no labeling requirements for these chemicals even the wool and other fire barrier suppliers often tell mattress manufacturers their systems contain no chemicals. Unfortunately, many mattress manufacturers and consumers want to believe this.

Antimony (a heavy metal almost identical to Arsenic), Boric Acid (yes, the Roach Killer), Silicon (Silica Glass, a known respiratory hazard and carcinogen), Melamine, Formaldehyde, Decabromodiphenyl Oxide, and Ammonium Polyphosphate are the main chemicals being used by mattress manufacturers to meet the new state and federal flammability standards.

The government has proven these chemicals leach to the surface of our mattresses and are absorbed by our bodies. They have proven we will absorb .8 mg of Antimony, and .08 mg of Boric Acid every day. We know Antimony accumulates in our bodies, is acutely toxic, and also causes cancer.

Many doctors say this is not safe. Many people do not want to absorb poisons nightly to avoid a one in 1.111 million mattress fire risk. Many people have already gotten sick. Dr. Lawrence A. Plumlee, MD, says: "How many are intolerant who don't know why they can't sleep or feel bad?"

There are now no mattresses that are free of toxic chemicals.  (Source)
Now what?
So, immediately my angry dad calls the mattress company. He is mad but wants to test the company. He asks them if their mattress have toxic chemicals on them, and they deny it.
This makes him very upset that his daughter is intoxicated from a place that claims they are safe! With in an hour, my dad calls up his buddy to help him take the mattresses out of the house. Good-bye toxic beds!! So in the mean time I have no bed and I am so sick that I am falling over when I try to stand for more then 10 minutes.
A long healing journey
I have to admit, this is one of the hardest things to overcome so far in my life. To this day, any mattress freaks me out. It takes me about 4 weeks to finally sleep in a bed again. I sleep on the bathroom floor for many nights.
My eyes are dilated for 2 weeks straight, even in bright lights. My speech is slurred for several days. My brain is just all jumbled up. Sometimes I cannot connect a thought to an action, like I try to pour a glass of water but I actually will pour the water on the counter.
I cannot walk or run for about 1 week without constantly falling over. My face swells up like I have an allergic reaction. Eczema spreads all over my body. I do not even dare drive anywhere because my coordination is so off.
Now I have learned more about what happens to my body. The cortex of my brain (coordination part) is really affected when I have a reaction. I am able to start doing normal activates again after about 3 weeks. Though it take a little over 2 months to be totally better from the exposure to the toxins.
Detox:
So in these 3 weeks where I am pretty much a vegetable, I detox. I have just started GAPS 4 months before this happens. I go back to intro, but the broth makes me so nauseous that I cannot even look at it. Cooked and fermented veggies do the same thing.
I pretty much eat protein, fat, and raw vegetables. I really am not hungry, but I force myself to eat at least something every day. I also do not have my own Infrared sauna at this time, so I drive (actually my mom drives me) to Minneapolis 2 times a week and we pay $25 for a 1-hour session. This is probably the best thing I do for my body!
I do not sweat the first 5 times I go, and the temperature is easily 120 degrees. This shows how plugged up my detox pathways are. After the 6th time, I pour sweat, and this is about the time I start healing. On the days I do not go to the sauna I take a hot Epson salt bath or clay bath to soak up the toxins. I religiously chug bentonite clay morning and night, as well as apply my magnesium oil so I don't get a migraine. Good thing I know what to do, because I have no energy to research. Life is pretty miserable, but I get over it.
What about my old mattress?
So you are probably wondering, why not just put my old mattress back? Well we gave it away, and there is no way of getting the same one back. The old one didn't make me sick because it was so old that it had plenty of time to outgas. Also, the mattress was made before 2007 so there is a possibility that there were not even flame-retardants on it, or at least not full strength ones like now days.
The solution
After a big dispute about returning the mattresses, my dad just goes all out and buys my 2 sisters and I new mattresses. My parents and brother have old mattresses, so they are safe. I have to say, it is not cheap, though for our situation, we have no choice.
Is your mattress toxic?  Here are the options I would recommend:
Me today
So we got a new non-toxic mattresses. Even though I am allergic to latex, it is covered and I do not get an allergic reaction. I cannot be happier with this choice!  There are natural mattress stores out there or even people who make natural hand made mattresses. You just have to do a little research.
I still look back at this situation and it freaks me out. I have overcome my mattress fear, enough to sleep only on my organic mattress. It is very unfortunate that this had to happen to me, but it is also a blessing because now I get to tell you all about it and warn you before it is too late.
My words of wisdom to you, don't buy a new mattress! I am also extra sensitive, so if this happens to someone else, they may not have a full-blown reaction like me. It is always better to be safe than sorry. I hope I didn't scare you all too much; I just want to share my story to make people aware of the scary stuff that our country allows.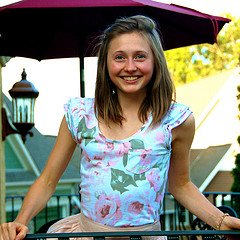 Has this ever happened to any of you?  Or something similar?
Stop by Caroline's Gutsy blog and check out her yummy GAPS recipes!
mattress photo credit, and another, blurred vision photo credit