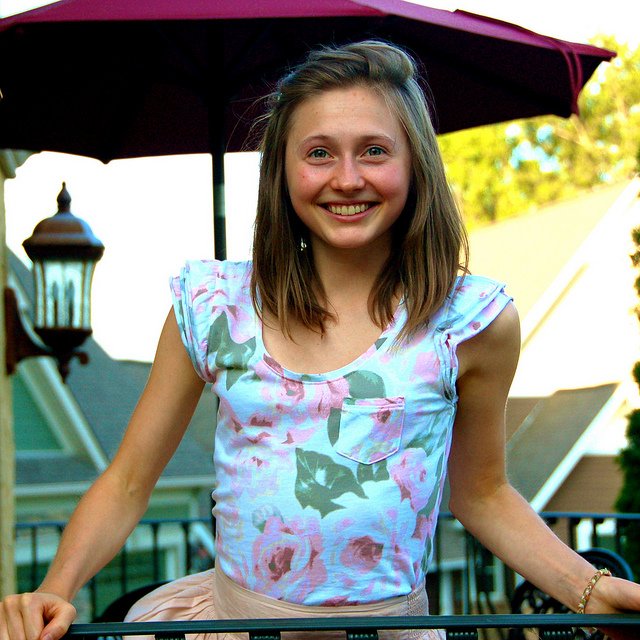 Today I'm excited to introduce you to Caroline, an 18 year old mover and shaker!  She's going to tell you a little about her journey and how it has given her the courage to proudly live out her Real Foodie lifestyle!
Hi Kelly the Kitchen Kop readers! My name is Caroline and I write for the blog Gutsy!
First let me introduce myself. I am a spunky 18 year old who loves real food and nutrition. I actually like to research and cook food more then I like to eat it. I know, it's a little weird, but there is so much more that goes into food than just eating it!
What is Gutsy?
I started my blog, Gutsy, because my whole life revolves around being different. Ever since a young age, I have been sensitive. I was always the child with allergies and the one who couldn't eat the birthday cake or go to the movies because it was too loud. Being this way taught me to accept myself for who I am, and just be different. It was harder then, but now that I have found my passion, I want to go all out!
I am passionate about being gutsy in life. I don't care if you catch me picking out the eyeballs of a fish or fishing around in the stockpot for the last chicken heart. You are probably thinking…um… gross! But that is partly what it means to be gutsy!
Now, You don't have to go to those extremes, but even just the little things like earthing in the sand or drinking raw milk is gutsy. The biggest challenge is, are you afraid to be this way in front of family or friends? Why should we feel embarrassed for doing something that is so good for us? Is it because we don't always want to be the one who is "different" or "weird"?!
Well, once you have had a pretty serious health problem, one so big that it takes away all of the fun in life…then you don't care what others think as much. I have had many experiences that make me realize that I cannot live how the rest of society does.
I'll tell you more about one of those experiences in another upcoming guest post here on Kelly's blog, so stay tuned.  🙂
Also, please stop by my Gutsy blog and check out my yummy GAPS recipes!
So what about it, reader friends?  ARE you gutsy enough to be the lone weirdo in a room now and then?  If you've found yourself in that situation, tell us how you've handled it?