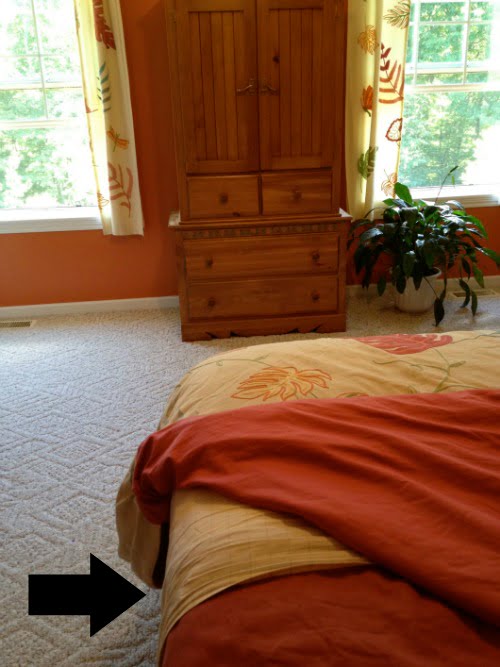 Why is earthing important for our health? What IS "earthing" or "grounding"?
Did you know that we should all make time to connect to the earth? Or that we can get the benefits of being grounded to the earth even if you're not outside enough, or if it's winter where you are and you can't go barefoot? And that this can help your body feel less of the negative effects of the increased exposure to electronics in our world, and also improve your sleep and decrease chronic pain?!
At first I thought it sounded too "new agey" for me, or a little "woo woo", until I learned more. If you wonder why is earthing important for our health, check this out: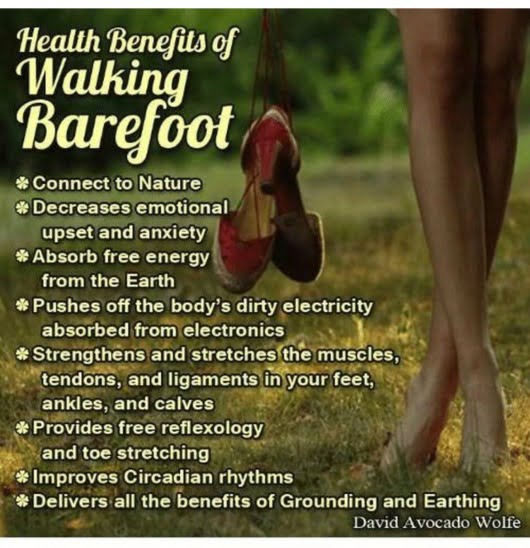 Think of it as "dirt therapy"!

This whole concept was completely new to me until I was given an Earthing book at a Wise Traditions conference and have been fascinated ever since.
So why is earthing important and what is Earthing? (Or it's also sometimes called: Grounding.)
Basically, it's a way to get the benefits of walking barefoot on the grass or on the beach, without going outside.
We all feel better after we're outside and connect to the earth in these ways, right?
By sitting or sleeping with your bare skin touching special conductive mats (connected via a grounded outlet), many feel better, sleep better, experience healing from inflammatory issues, and have more energy. From the kinds of shoes we all wear now to the fact that most of us rarely touch our bare feet to the ground anymore, we've lost our connection to the powerful healing energy in the earth itself.
And I'm not talking about a 'new age' type of 'spiritual energy', because true spiritual energy comes straight from God who created the earth, I'm just talking about actual energy from the earth, which is how God designed it, and it's powerful.
Recently I spoke with Norm from Radiant Life and asked him a few questions…
Is the danger from cell phone/cell phone tower radiation the same as the danger of exposure to electro-magnetic fields (EMFs)?
Norm: No, these are two different things. Both are dangerous, and both affect the body differently. We should be protecting ourselves the best we can from both.
EMFs are sometimes referred to as "dirty electricity". Even your lamp or clock radio by your bed that is turned off can be problematic for those who are extra sensitive. It's the electricity right in the wires that can find its way outside of the wires. If you want to see how strong the EMFs may be in your own home, you could use a Gauss meter. It will beep a lot behind the frig, or near the microwave, especially when it's on, and even near a wall with live wires. We are bombarded, night and day, in some places of our homes worse than others.
When we connect to the earth, or practice earthing using these products, does it protect us against harmful EMFs?
Norm: Earthing products like Earthing sheets or Earthing mats are not an EMF shield and do not block EMFs, but because they are plugged into the earth's energy, they allow the body to absorb current from the earth, and can mitigate the effects of EMFs by acting as an antioxidant in the body to attack free radicals.
Those who are young may not feel like they are affected by EMFs, but they will have an effect over time. Free radicals will build up. Grounding is a way to counteract or minimize these effects.
Here's where to buy earthing sheets (see ours above) or earthing mats (see mine below) so you can get the benefits even if it's winter where you are!
(Note: Make sure that when you or your kids are working on any handheld or portable devices while they're charging, that it is plugged into a grounded outlet. It will have 3 prongs instead of 2 where it's plugged in, and use an outlet checker to make sure it does have the ground wire in the wall. OR just have them use the devices with battery power.)
Norm: The jury is still out on how dangerous those are because they haven't been around all that long yet. To be safe, these should not be held close to your head and for SURE not close to your kids' heads. Sleeping with it completely off or far away from you is also a very good precaution. (Note: We use these DefenderShield products to block the dangerous radiation from cell phones, tablets and laptops! Read my DefenderShield review here.)
When we connect to the earth, or practice earthing using these products, does it mitigate the effects of cell phone radiation as well?
Norm: Yes, earthing actually mitigates the effects for both of these dangers. Studies have shown that if you're talking on your cell phone, it at least helps to be earthed to guard against the negative effects of the radiation. Now, it's just like your food sources. There's good, better, and best. Best would be not using a cell phone at all, but since most of us aren't going to do that, better is to take precautions.
What about cordless phones connected to a land line in our homes?
Norm: With these you also have the added concern of a different type of EMF because of the phone's battery – electromagnetic radiation. Again, there aren't enough studies yet to show that these are better or worse than cell phones and what effect they'll have on the human body.
If we connect to the earth, can we not worry at all about cell phone radiation or EMFs or cordless phones?
Norm: No, earthing shouldn't give you a false sense of security. It doesn't take away these health risks. It's just BETTER, especially for someone on the computer a lot or plugged in in other ways. It's better to talk on the phone while your feet are barefoot on the ground or while they're on an earthing mat. We live in the 21st century, so the best most of us can do is to minimize the impact with earthing or using grounding products. (I took his advice and ordered a mat for when I'm working on my computer. –>)
Here's a good clarification from Claus in the comments:
I am distributing the products in Denmark and have a comment in regards to EMF's. It is said above that Earthing does not protect against EMF's. Well, it does protect against ELF's (low frequency radiation – 50/60Hz) coming from ordinary electrical wires, lamps and appliances. In other words, you connect to the earth, you are part of the earth and are 'bypassed' by this radiation."
Still not sure what to think? Still wondering why is earthing important or want to learn more?
Check out these articles with more information:
ESD Journal – Conclusions: "The important finding of this study is that the human body when grounded is naturally protected from static electricity and the weak electric currents created in the body by radiated electric fields. The benefits of grounding the body are: sleep significantly improves, muscles relax, chronic back and joint pain subsides and general health improves."
Get earthing products here to get

the

benefits even if it's winter where you are:
Also, have you seen my other posts on how to connect to the earth to get the benefits?
More you might like:
Water filtering posts: